Archer and Black could escape Lords ban
Plan to expel peers in wake of cash scandal may not be retrospective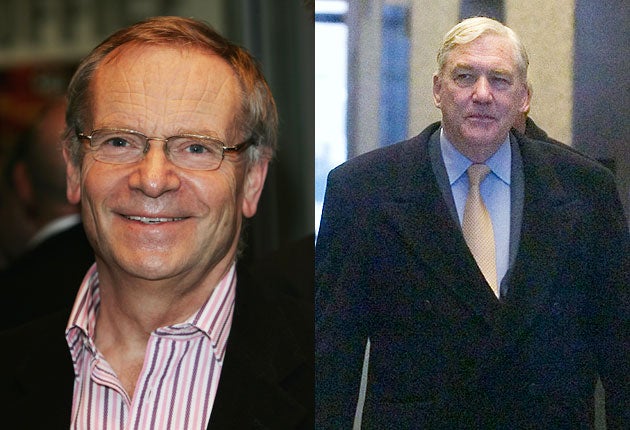 Peers already found guilty of serious criminal offences could escape expulsion from the House of Lords because a proposed ban might not be retrospective.
Jack Straw, the Justice Secretary, admitted that a crackdown on peers in the wake of the "cash for amendments" scandal might not allow the removal of Lord Archer of Weston-super-Mare, who was convicted of perjury, and the press baron Lord Black of Crossharbour, who is serving a jail sentence in America for fraud.
Mr Straw confirmed yesterday he intends to bring in legislation under which peers sentenced to more than a year in prison could be expelled. The punishment could also be imposed for "grossly improper conduct" not involving a criminal offence, and Lords would be allowed to resign for the first time. Archer was sentenced to four years and Black was given six and a half.
The moves will form part of a Constitutional Renewal Bill to be introduced this spring and far-reaching reforms to bring in a mainly elected second chamber will be shelved until after the general election. The Bill could also allow the removal of peers who avoid paying tax in Britain by being "non-residents" or enjoying "non-domicile" status.
However, experts doubt whether all the measures could be imposed retrospectively, casting doubt over whether Archer and Black would be kicked out. The four Labour peers being questioned in relation to "cash for amendments" might also escape expulsion, in the event that they were convicted of any wrongdoing, although they could be suspended under a parallel plan to tighten the Lords' disciplinary code.
Mr Straw said: "We will certainly pass a law to ensure that if you have been convicted of a serious criminal offence, you could not sit in the House of Lords.
"There is a separate issue about whether any change of the law which is adverse to individuals could or should apply retrospectively. So leave aside those individuals who have indeed been convicted of serious offences in the past."
Some ministers want the Government's drive to restore the reputation of Parliament to include a plan to curb MPs' outside jobs, disclosed by The Independent last July. Labour MPs believe it could embarrass David Cameron, who has backed down over plans to ban his Shadow Cabinet from holding outside jobs after a rebellion led by William Hague, the shadow Foreign Secretary. But the Tories pointed out that a clampdown on outside jobs could also affect at least 10 former Labour ministers who now earn up to £165,000 a year from work outside parliament. They include Patricia Hewitt, Alan Milburn, David Blunkett and John Reid.
The Sunday Times, which revealed the "cash for amendments" affair last week, said yesterday that Lord Truscott, one of the four Labour peers, met the then energy minister Malcolm Wicks without disclosing he was paid by a lobbying firm whose clients included Russia's state-owned gas firm Gazprom. Lord Truscott was not available for comment yesterday.
The Liberal Democrats will ask the Metropolitan Police to investigate allegations against four other peers with outside jobs who tried to amend Bills. They have insisted they acted within the rules.
Join our commenting forum
Join thought-provoking conversations, follow other Independent readers and see their replies