Government to introduce 5-year limit on prosecuting armed forces for human rights abuses
Bill halves timeframe for litigation as critics claim confusion over definition of 'vexatious litigation' is being used to block legitimate attempts at investigations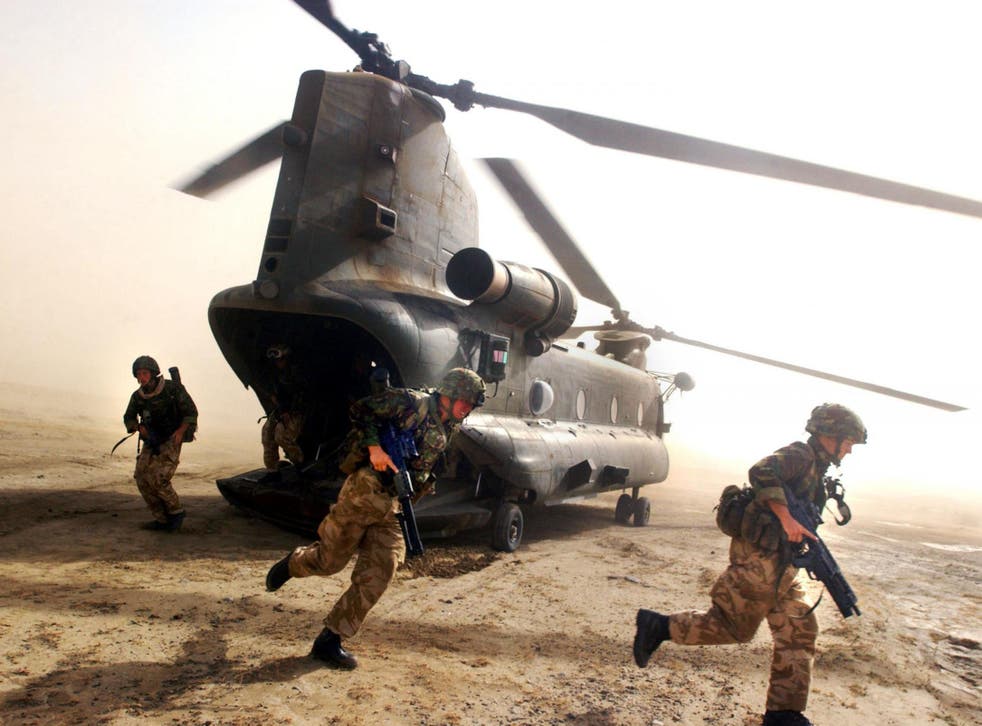 The British government is due to bring in legislation setting up a time limit of five years for members of the armed forces to be prosecuted for human rights abuses while serving in conflicts abroad, The Independent has learned.
The bill, set to be introduced next week, halves the timeframe for litigation from a previously proposed 10 years – a restriction which had already been the subject of controversy with criticism from human rights groups, lawyers and politicians.
The Ministry of Defence stated that the "legal protection bill … will help to prevent vexatious prosecutions after five years when no new evidence has emerged", adding that it does not offer a blanket immunity to the armed forces and the government will stand by its obligation under international law.
But there is confusion over what "vexatious litigation" means in this context, with critics claiming it is being used to try and block legitimate attempts at investigations and, in any case, there are already safeguards under existing laws to stop legal action which can be proved to be vexatious.
Boris Johnson, the prime minister, pledged to end prosecution of veterans during his election campaign. The bill will be brought in by Johnny Mercer, the armed forces minister in the Ministry of Defence, who has declared that the days of lawyers "trying to rewrite history to make money are over … This government is going to go to war on lawfare."
UK news in pictures

Show all 50
The House of Commons Defence Select Committee had urged that a 10-year "qualified statute of limitations" should be introduced to protect veterans and serving armed forces personnel from reinvestigation for alleged crimes. It also called on the government to amend the Human Rights Act to provide a "presumption against prosecution" for historical offences.
Defence officials hold that five years was deemed to be adequate time by government lawyers for evidence to emerge about suspects in a given incident. It will mean, however, that the missions in Iraq and Afghanistan, Operations Telic and Herrick, which ended in 2009 and 2014 respectively, will fall outside the time limit.
The government shut down IHAT, which investigated war crimes allegations in Iraq and Operation Northmoor, with Afghanistan, three years ago after Phil Shiner, a solicitor who had taken a thousand cases to IHAT, was struck off from practising law after being found guilty of malpractice.
Securing justice for victims in Northern Ireland is part of the terms of the Good Friday Agreement and, as politicians in the province and London have pointed out, stopping prosecutions of former service personnel may mean having to give the same deal to members of the republican and loyalist paramilitaries.
John Larkin QC, the attorney general for Northern Ireland, has proposed that a judge should examine allegations against soldiers before authoring charges. He added that the prime minister's commitment on curbing prosecutions would only work with a change of law.
Steve Crawshaw, the policy and advocacy director of human rights group Freedom From Torture, said: "It was worrying enough that the government wanted to grant effective impunity for torture and other war crimes after 10 years. To reduce the time limit for justice still further is shocking, and an insult to survivors.
"The government claims it believes in the rule of law. These proposals, from what we know of them so far, suggest on the contrary that it is ready to follow [Donald] Trump and others down the path of attacking the global torture ban which Britain helped to build. We urgently need a change of direction."
Mr Crawshaw pointed out that the UK is bidding to be elected to the UN Human Rights Council, adding: "The British government claims that the promotion of human rights is 'at the top of the list' of their international priorities. But this new legislation doesn't make it look that way, for sure."
Conservative MP Tobias Ellwood, a former army officer and the new chairperson of the Commons Defence Committee, said: "What constitutes vexatious litigation is a good question. In my mind it is a situation where something has been properly and thoroughly investigated and then another set of lawyers come along and want to open up the whole thing again.
"This is aimed at Iraq and Afghanistan, but Northern Ireland is particularly difficult, it'll be up to the devolved government. You can't just offer immunity to soldiers, Sinn Fein are going to say 'what about our side?'"
A senior Tory MP, who asked to not be named, said: "I have full sympathy for people in the services who had bravely served their country abroad and then found themselves being hounded by false, spurious accusations. But that is very different from allegations of war crimes which warrant proper investigation.
"The overwhelming majority of our service personnel will have nothing to fear. They do their job with professionalism and dedication. But a war crime does not stop being a war crime after 10 years. If there is serious evidence it needs to be looked at whether it comes after 10 years or 50 years."
Legal opinion obtained by Freedom from Torture holds that the proposed legislation may put the UK in breach of the Convention against Torture and Other Cruel, Inhuman or Degrading Treatment or Punishment (CAT) and leave service personnel open to be tried abroad.
The QC's advice, provided by Matrix Chambers, said: "If an alleged offence by a member of the Armed Forces had been identified which involved torture or other ill-treatment and would amount to a war crime or a crime against humanity, but the UK declined to prosecute based on the application of the presumption against prosecution, it is possible that: 1. another State Party to the CAT could request the extradition of the alleged perpetrator (a request to which the UK would be obliged to accede under Article 7); or 2. the ICC [International Criminal Court] may find that it had jurisdiction in respect of the alleged offence because the UK was unwilling to prosecute.
"This would, of course, undermine the MoD's objective of providing Armed Forces personnel with 'protection' against prosecution, as well as exposing the UK to censure on the international stage."
Defence officials said the British government intended to comply with ICC requirements on soldiers who had served abroad and faced abuse allegations.
On Northern Ireland, a government spokesman said: "The prime minister has been clear that we will end the vexatious prosecution of veterans, including bringing forward legislation to address the legacy of the past in Northern Ireland. As the PM said, we will implement the Stormont House agreement in such a way as to provide certainty for veterans and justice for victims."
Register for free to continue reading
Registration is a free and easy way to support our truly independent journalism
By registering, you will also enjoy limited access to Premium articles, exclusive newsletters, commenting, and virtual events with our leading journalists
Already have an account? sign in
Register for free to continue reading
Registration is a free and easy way to support our truly independent journalism
By registering, you will also enjoy limited access to Premium articles, exclusive newsletters, commenting, and virtual events with our leading journalists
Already have an account? sign in
Join our new commenting forum
Join thought-provoking conversations, follow other Independent readers and see their replies