Arron Banks faces fresh claims of misleading parliament over Brexit
Report comes days after it was announced donor is being investigated by National Crime Agency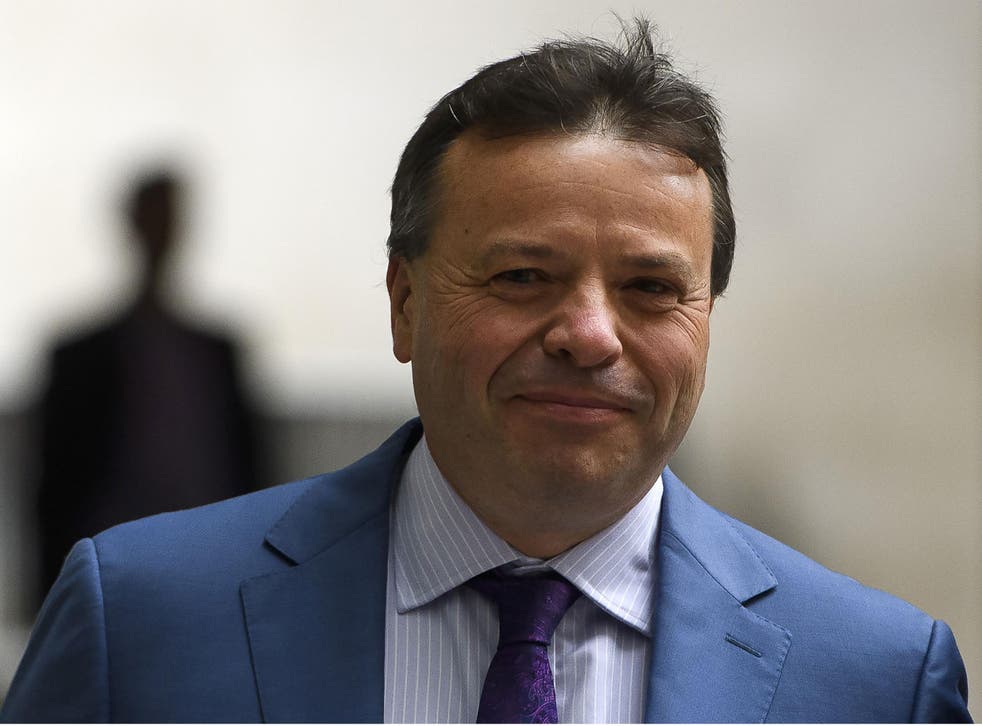 Businessman Arron Banks is facing claims that he may have misled parliament over the links between his pro-Brexit campaign and his insurance company during the EU referendum.
Ahead of a controversial appearance by Mr Banks on the BBC's Andrew Marr Show on Sunday morning, leaked documents from former employees at Eldon Insurance and Rock Services to The Observer and the website Open Democracy appear to show that some workers from the two companies had a part to play in the Leave.EU campaign from their offices.
Any such work in the months before the election should be declared under electoral law and Mr Banks has repeatedly denied any such work taking place.
When appearing before parliament's inquiry into fake news in June, Mr Banks specifically said that Eldon Insurance and Leave.EU were completely differently companies with different staff and there was no link. He has also repeatedly denied any improper links between any of his businesses and the Leave.EU campaign.
Some emails suggest that Rock Services employees were involved in collection of images apparently for use in the Brexit campaign. One email chain that appears to have come originally from a Rock Services employee to staff at the stock photo agency Getty Images, dated 10 March 2016, shows the insurance company's staff member requesting the right to use a series of photographs of refugees walking through Europe.
The Rock Services employee explains the image is to be used for an "advertisement talking about the issue of immigration and the refugee crisis". An online advert by Leave.EU appeared in March 2016 showing refugees walking through Eastern Europe below a headline attacking an EU summit on the migrant crisis, the photograph is similar to ones apparently requested by the Rock Service worker, according to The Observer.
A former Eldon employee who worked on Leave.EU material told Open Democracy that there were links between the campaign and the business. "It was the same people involved in everything," they said. "It was totally incestuous. They were all absolutely the same thing. Different heads but the same body. It was basically a giant Hydra."
Damian Collins, chair of Digital, Culture, Media and Sport Committee that runs the fake news inquiry said that the leaked emails appeared to "flatly contradict" what Mr Banks had told his committee, and that he could have "deliberately misled the committee and parliament on an important point".
UK news in pictures

Show all 50
"If Eldon employees were being paid to work on the campaign, it should have been a declared expense. We asked him directly if he'd used his insurance employees to work on the campaigns and he said they didn't," Mr Collins said.
Mr Banks has not responded directly to any of the new allegations.
The report comes days after it was announced that Mr Banks was one of a number of pro-Brexit campaigners being investigated by the National Crime Agency (NCA), centering on an £8m donation Mr Banks reportedly gave the Better for the Country umbrella group which includes Leave.EU.
Responding to the NCA probe, Mr Banks said on Thursday: "I am pleased that the Electoral Commission has referred me to the National Crime Agency.
"I am confident that a full and frank investigation will finally put an end to the ludicrous allegations levelled against me and my colleagues.
"There is no evidence of any wrongdoing from the companies I own. I am a UK taxpayer and I have never received any foreign donations. The Electoral Commission has produced no evidence to the contrary."
The BBC has been forced to defend its interview with Mr Banks on Sunday, amid accusations that the broadcaster coulee be "interfering in an ongoing criminal investigation".
Labour peer and leading Remain campaigner Andrew Adonis announced on Saturday that he had written to Tony Hall, director-general of the BBC, accusing the corporation of "a very serious editorial misjudgement, influenced by a culture of accommodation of extreme Brexiteers now deeply embedded in the BBC".
In response, the BBC said in a statement: "There is strong public interest in an interview with Arron Banks about allegations of funding irregularities in Leave.EU and the 2016 EU Referendum".
Register for free to continue reading
Registration is a free and easy way to support our truly independent journalism
By registering, you will also enjoy limited access to Premium articles, exclusive newsletters, commenting, and virtual events with our leading journalists
Already have an account? sign in
Register for free to continue reading
Registration is a free and easy way to support our truly independent journalism
By registering, you will also enjoy limited access to Premium articles, exclusive newsletters, commenting, and virtual events with our leading journalists
Already have an account? sign in