EU negotiator pushed to stop Theresa May withdrawing Article 50 before Brexit
The European Parliament included the assertion in negotiating guidelines formalised on Wednesday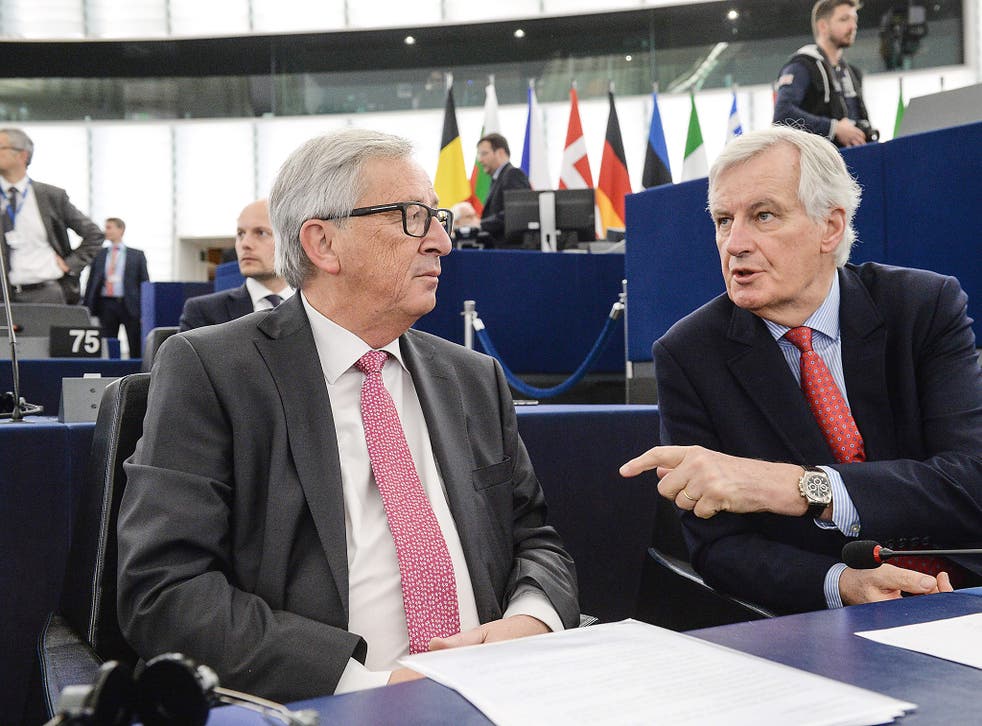 Chief EU negotiator Michel Barnier pushed for the EU to ensure the UK cannot pull back from the Article 50 Brexit process without the consent of other European countries.
Mr Barnier successfully pressed for the European Parliament's formal negotiating stance to include a line clarifying that Britain cannot halt the process without the approval of the 27 member states.
It came amid concern that the UK may temporarily halt the two-year countdown to Brexit, started by the triggering of Article 50, in order to create more time to settle a deal.
The Commission has stated that EU treaties would not allow the UK to unilaterally halt Brexit, but the issue is as of yet untested in court and Lord Kerr, the British author of Article 50, has suggested the process is reversible.
Socialist group leader Gianni Pittella told reporters at a dinner in Strasbourg that Mr Barnier had asked for the wording on revocation. A spokesman later said MEPs had always been in full agreement with Mr Barnier on the issue.
Asked about Mr Barnier's alleged request, a European commission source told The Guardian: "Article 50 does not provide for the unilateral withdrawal of notification. In any dealings with the European Parliament, Michel Barnier reiterated the above principle."
The European Parliament resolution, passed last Wednesday, said: "A revocation of notification needs to be subject to conditions set by all EU27 [states] so they cannot be used as a procedural device or abused in an attempt to improve the actual terms of the United Kingdom's membership."
Brexit talks: PM welcomes Tusk to Downing Street
The motion is not legally binding, but the guidelines will feed into the overall mandate adopted by Mr Barnier and the institution has a veto over any future deal between the UK and the EU.
Campaigners, led by the barrister Jolyon Maugham, filed papers to the high court in Dublin earlier this week, asking for the question of Britain's ability to act unilaterally to be referred to the European Court of Justice.
They want to empower the Prime Minister to revoke Article 50 in the event of the House of Commons rejecting a poor deal when it goes to a vote of MPs in 2019.
Brexit Secretary David Davis has admitted the Government does not know for sure whether Article 50 is revokable. Theresa May has said she "does not intend" to reverse it.
During debate on Article 50 in the House of Lords, Lord Kerr told peers: "During that period, if a country were to decide, 'Actually we don't want to leave after all,' everybody would be very cross about it being a waste of time.
"They might try to extract a political price, but legally they couldn't insist that you leave."
Register for free to continue reading
Registration is a free and easy way to support our truly independent journalism
By registering, you will also enjoy limited access to Premium articles, exclusive newsletters, commenting, and virtual events with our leading journalists
Already have an account? sign in
Register for free to continue reading
Registration is a free and easy way to support our truly independent journalism
By registering, you will also enjoy limited access to Premium articles, exclusive newsletters, commenting, and virtual events with our leading journalists
Already have an account? sign in
Join our new commenting forum
Join thought-provoking conversations, follow other Independent readers and see their replies