Article 50 rebel David Lammy publishes written warning from Labour whips
The Tottenham MP was one of 52 Labour MPs to rebel against the three line whip and so receive a formal warning from his party's whips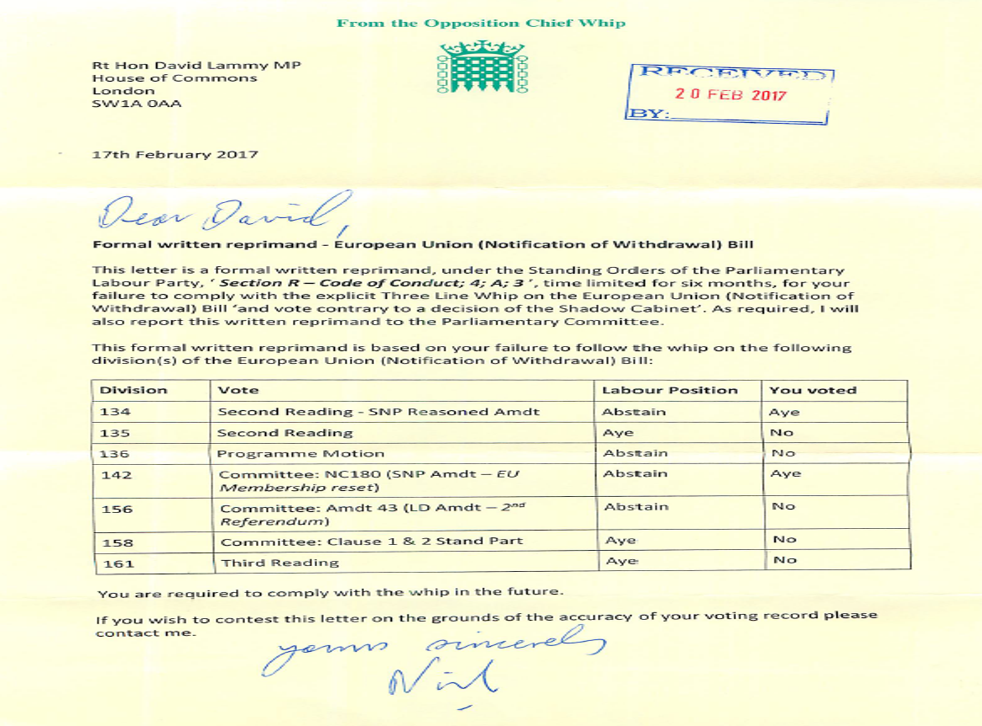 David Lammy has published the formal warning he has received from the Labour whips office over his decision to rebel on the Article 50 bill, saying "it was a matter of conscience" and that he would "do it again without hesitation."
Mr Lammy, the MP for Tottenham and defiant Remainer, was one of 52 Labour rebels over in the Article 50 vote two weeks ago. Among them were 13 of his front bench team, including three whips, who Jeremy Corbyn decided would receive no further punishment beyond the written warning.
The letter, published on Mr Lammy's Facebook page, is described as a "formal written reprimand" for "failure to follow the whip" on various votes and amendments pertaining to the Article 50 Bill, which formally granted Prime Minister Theresa May the power to trigger Article 50 and begin Britain's exit from the European Union. The government notoriously lost a case in the Supreme Court when it was challenged over its claim that it was the Prime Minister, not Parliament, who had the power formally to notify the EU of the UK's intention to withdraw.
Mr Lammy's Tottenham constituency voted overwhelmingly to remain in the European Union.
Register for free to continue reading
Registration is a free and easy way to support our truly independent journalism
By registering, you will also enjoy limited access to Premium articles, exclusive newsletters, commenting, and virtual events with our leading journalists
Already have an account? sign in
Register for free to continue reading
Registration is a free and easy way to support our truly independent journalism
By registering, you will also enjoy limited access to Premium articles, exclusive newsletters, commenting, and virtual events with our leading journalists
Already have an account? sign in
Join our new commenting forum
Join thought-provoking conversations, follow other Independent readers and see their replies