As the first minister to take maternity leave, I know how difficult it can be
Yvette Cooper explains why everyone would benefit from making life easier for new mothers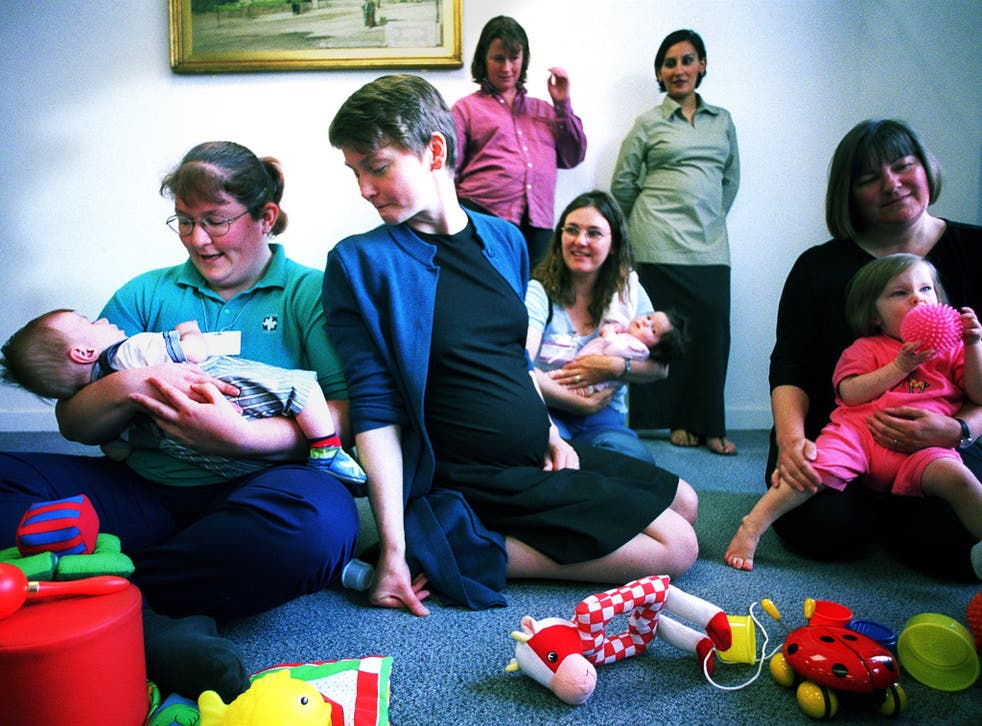 Mothers make up around a fifth of the workforce. Hundreds of thousands of women take maternity leave or time out to look after children each year. So why is it still made such an ordeal for so many women?
Businesses and the economy depend on the work women do. Families depend on mums being able to spend time with their newborn. Yet the evidence shows that too often new mothers are let down at an incredibly important time.
From maternity discrimination to family finances and child care, new families are not getting the support they need, and the Coalition Government is making it worse. It's time the raw deal for mothers was challenged because it's bad for the economy, families and women's equality too.
For a start, the scale of discrimination during maternity leave is a hidden disgrace. Labour's new figures show up to 50,000 women don't have a job to go back to – often because employers think they don't have to take new mothers as seriously. Many find their job changed with no consultation; many miss out on pay rises, too. Half of returning mothers say the job they returned to was worse than the one they had before.
My experiences of maternity leave were mild compared to many. When my second child was born in 2001, it was a shock to discover no minister had ever taken maternity leave before. Not once in the whole of the 20th century had a government minister become a new mother. But civil servants were supportive and keen to make it work.
However, three years later, with my third child, senior civil servants in a different department treated maternity leave with hostility, making it hard to keep in touch, and trying to change my job and working arrangements while I was away.
It was sorted eventually, but it shouldn't have been a battle. As any mother knows, the last thing you feel up to in the final hot and bothered weeks of a summer pregnancy, or the baby's early sleepless months, is another argument about your job.
Many mothers have it far worse. One friend of mine was made redundant twice while on maternity leave – from blue-chip companies who should have known better.
It is illegal to treat staff unfairly while on maternity leave. But most women don't know the law and don't feel able to challenge. So experienced and skilled women are pushed out of jobs or lose pay when they feel least able to disagree. That's bad for the economy too.
The employment disadvantages women face in those early months grow – making it harder to find quality part-time work, harder to get promotions later, or harder to return to work after time at home looking after small children. Anyone serious about tackling the gender pay gap should take a long hard look at the way the economy treats new mothers.
Far from helping, the Government is making it worse – charging women £1,200 in future to go to take a maternity case to an employment tribunal. The Beecroft report called for ditching flexible parental leave. And last week a Ukip MEP called for businesses to be allowed to sack women if they get pregnant too. David Cameron's Government is hitting new families harder financially too. Living standards are falling every month as wages aren't keeping up with prices, and tax credits are being cut. New House of Commons research shows that the Government policies are hitting new parents particularly hard – because of cuts to maternity pay and pregnancy grants.
Mothers (or fathers) who stay home to look after small children are hard-hit too. One-earner families are losing an average of £4,000 a year, according to the IFS.
This growing pressure on new parents has gone on for long enough. Labour is consulting now on the action we need to help new parents and especially new mothers get a better deal.
David Cameron's cabinet only includes one mother. Little wonder we get such short shrift. We know the Prime Minister has a problem with women, but he should be put under more pressure to stop undermining family living standards. Ministers need to support all families and show that they value motherhood and women's equality.
We need national action to deal with maternity discrimination, including tackling irresponsible employers who are breaking the law. That requires leadership from government and work between employers and trade unions too.
We need more affordable childcare and support for flexible working for mothers and fathers – so both can spend time looking after their children. Making it easier for dads to take paternity leave, as Labour proposed before the election, can help, but more is needed. And the Government must not ignore growing midwife shortages and the decimation of Sure Start.
Every parent knows, the early months of your new baby's life are special. They shouldn't be clouded by worries about whether you have a job to return to or how to manage if you're staying home. Too many women have to deal with maternity challenges alone. It's time we stood up for motherhood and women's equality together. That's good for families and the economy too.
Join our new commenting forum
Join thought-provoking conversations, follow other Independent readers and see their replies