At least David Cameron kept his kit on... unlike Winston Churchill: The surprising history of the prime minister as host
After David Cameron takes the French President to the Swan Inn in Oxfordshire, we look at other ways British PMs have entertained visiting dignitaries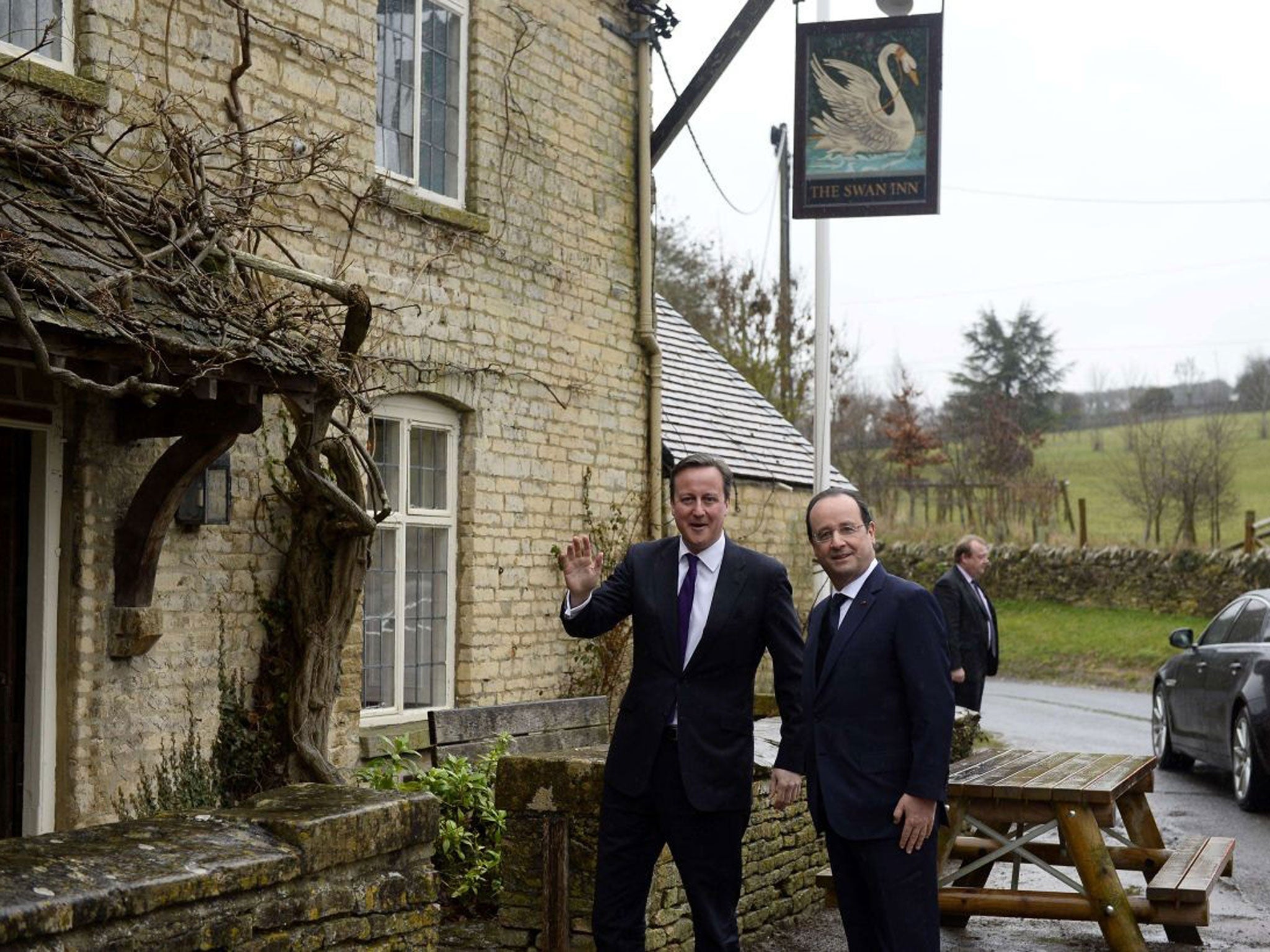 Winston Churchill used to do it in the bath. Tony Blair was fond of taking them for fish and chips, while Harold Wilson's beer and sandwiches became legendary.
For any prime minister, meeting a visiting dignitary can be fraught with political risk. If there's no fancy banquet, will that be viewed as an insult? And what will the public make of too much pomp?
David Cameron's decision to take the French President, François Hollande, to the Swan Inn in Oxfordshire may have seemed casual, but it followed weeks of planning. And, according to a political historian, it was a choice that exploited the relatively informal status of prime minister to good effect.
One venue that officials considered but discarded was Blenheim Palace, named after a famous victory over the French in 1704. Heading down the Swan was clearly wiser, but it still had the potential for trouble. "Anglo-French relations hit new low as PM and President Hollande opt not to share a pint in pub," BBC News Channel's Norman Smith tweeted as the leaders chatted to the publican.
Crisis was averted when the two men each had half a pint of local brew Hook Norton with lunch of potted shrimp, trout and Bramley apple and raisin crumble.
A French diplomatic source said the pub had gone down "quite well". "It gives the impression of seriousness and austerity – we need that. It was not our choice, but it's a good choice. Honestly that was my impression. It's not propaganda," he said.
A British official at the meeting confessed to some nervousness about the lunch given Mr Hollande's lack of enthusiasm for renegotiating the European Union treaty and a question about his love life at the press conference. But the "quite humorous" Mr Hollande was on good form, sharing "lots of anecdotes and stories" with Mr Cameron and his advisers. "I wouldn't go as far as to say they are 'good mates' … but there was a warm and convivial, friendly atmosphere," she said.
The mood music is definitely important. Harold Wilson deployed a "beer and sandwiches" charm offensive to persuade union leaders to call off a national rail strike. This attracted ridicule in sections of the press, but it worked. Tony Blair – accused by some of adopting a presidential style – was fond of taking world leaders to pubs in his Sedgefield constituency. George W Bush sampled fish, chips and mushy peas at The Dun Cow, while Jacques Chirac supped beer in The County.
Andrew Blick, a politics and history lecturer at King's College London, said if the meeting had been between two heads of state, there would have been some significant ceremony. The "informal" nature of British prime minister allowed Mr Cameron to host a more relaxed event. "In many ways, it's a strength. The Prime Minister can deal with circumstances in the way they see fit and not be so bound by formal protocol," he said. "Harold Wilson was someone who decided he was going to be a sort of cheeky chappie, a regular guy, contrasting himself with [the aristocratic] Alec Douglas-Home, who had come before him."
But few had the chutzpah to be as informal as Sir Winston Churchill. "He used to talk to visitors while he was in bed and in the bath – sometimes quite important people," Mr Blick said. During a Christmas visit by Churchill to the United States in 1941, President Franklin D Roosevelt called on Churchill in his White House quarters and found him naked after his bath, pacing about the room giving dictation. The President made to leave, but Churchill stopped him with the line: "You see, Mr President, I have nothing to hide from you."
It was a diplomatic coup. FDR's secretary, Grace Tully, spoke of the President later "chuckling like a small boy" over the sight of Churchill "pink and white all over".
Join our commenting forum
Join thought-provoking conversations, follow other Independent readers and see their replies