British arms sales to Bahrain total £45m since Arab Spring - while claims of torture and oppression continue
Violent repression of pro-democracy movements in kingdom has led to complaints about complicity fuelled by trade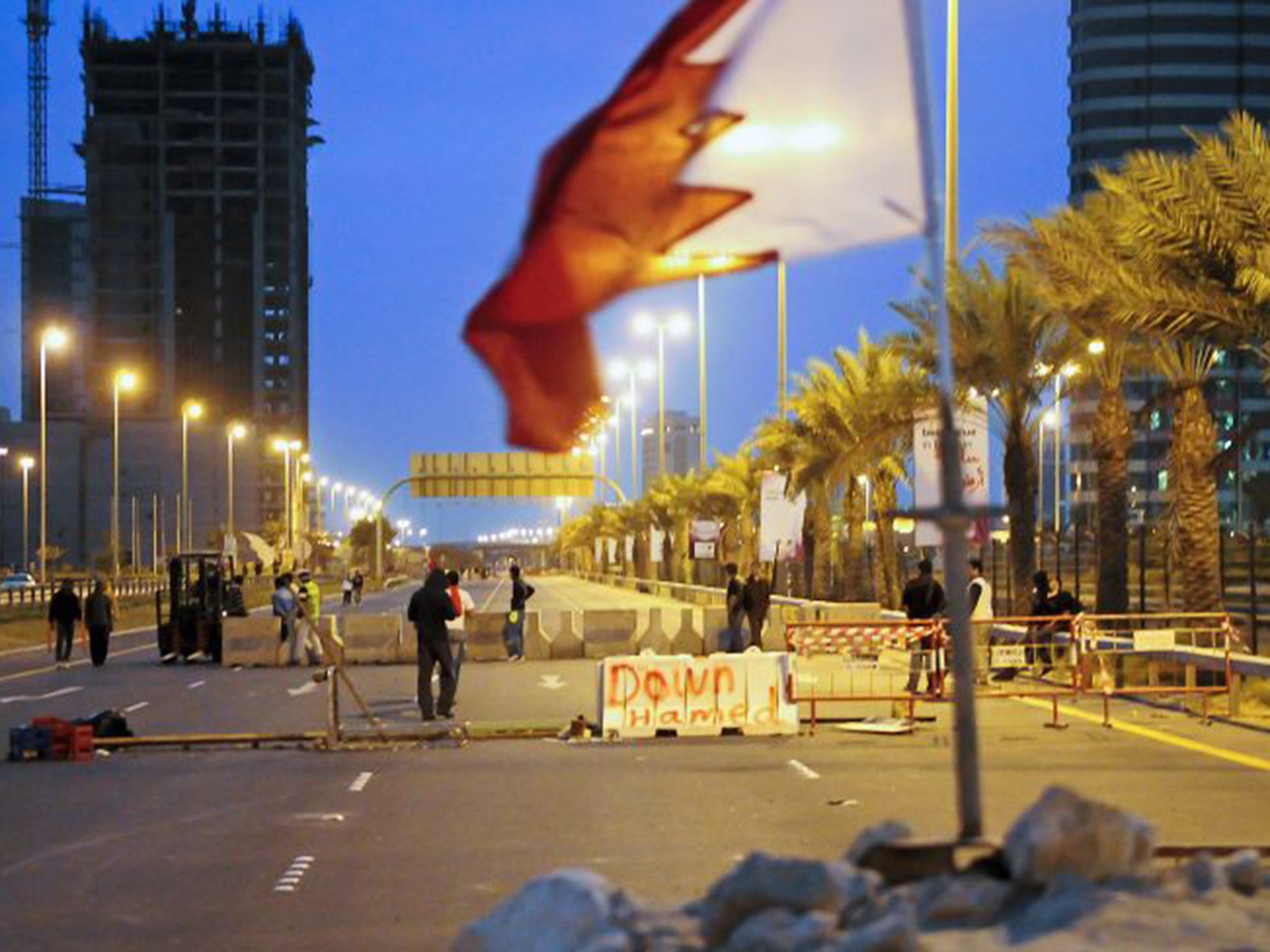 The UK has drawn even closer to Bahrain, despite years of crackdowns, torture and oppression in the Gulf state, according to human rights campaigners. On the fifth anniversary of uprisings in the kingdom, activists in Britain held several events last week to remember victims of the brutal crackdown during the Arab Spring of 2011 that led to dozens of deaths and thousands of people being imprisoned.
British arms sales to Bahrain have increased significantly over the past five years, while in the background abuse claims have continued. Between February 2011 and September 2015, the UK has done deals with Bahrain worth £45m, covering arms such as machine guns, assault rifles and anti-armour ammunition, according to the Campaign Against Arms Trade (CAAT) organisation. The total for the three years prior to the uprising was £6m.
Saudi Arabia also sent UK-supplied armoured vehicles to Bahrain to safeguard infrastructure, allowing the Bahraini monarchy violently to repress the pro-democracy opposition movement, led by the country's Shia majority. Doctors who treated protesters were tortured.
Bahraini dissident Isa Haider Alaali was finally granted asylum in the UK last August after the High Court overturned a Home Office order to deport the then teenager.
"I lost two years of education because of my arrest and torture," the 21-year-old told The Independent on Sunday. "We are now in 2016, five years after the first protests, and many teachers and students are still in prison. They need all of your support.
"I have a second chance to study but I am just one of hundreds of students whose studies were cut short, and who are without a future in Bahrain."
Mr Alaali said he was beaten so badly by police following his arrest in 2013 that he was unable to walk, eat or sleep. The authorities also refused to let him see a doctor or take a shower. Three months later he was finally released.
In 2014, the UK agreed to open a naval base in Bahrain as a result of a defence agreement. Construction began last November, with Philip Hammond, the Foreign Secretary, celebrating the deal in a photocall with the Bahraini foreign minister, Sheikh Khalid bin Ahmed Al Khalifa. The pair held brand new shovels as they laid the cornerstone of HMS Juffair, the first major naval base east of the Suez Canal opened by Britain since 1971.
As business boomed, so did further human rights violations. A report by Amnesty International last year accused Bahrain of overseeing "rampant abuses including torture, arbitrary detentions and excessive use of force against peaceful activists and government critics".
The British government claimed it was helping to initiate reform in Bahrain by sending £2.1m in taxpayers' money to a police watchdog, which has been accused of failing to investigate torture claims.
Tom Brake, the Liberal Democrats' Foreign Affairs spokesperson, recently asked Foreign Office minister Tobias Ellwood about the effectiveness of the programme in preventing the use of torture in Bahraini police stations and prisons. Mr Ellwood replied that the government of Bahrain "has previously committed to consider ratifying the optional protocol of the Convention Against Torture" which the UK "strongly" supports. He also said the Government has "shared best practice on torture prevention methods".
But campaigners say the reforms are a sham.
In pictures: Bahrain's F1 protest
Show all 5
"Despite the crackdown and the repression, the UK government has put arms sales ahead of human rights," CAAT's Andrew Smith said. "It has spent the past five years cosying up to the Bahraini authorities and providing cover for their abuses.
"In politics you need to take sides. It is impossible to stand up for the rights of pro-democracy campaigners at the same time as arming the regime that is locking them up and torturing them. If government ministers really care about the rights of Bahraini people and campaigners like Isa, then they must finally stop arming the regime and end the political support that is bolstering it."
Even the world of football has become embroiled in controversy relating to Bahrain's ruling family. Last week, a Bahraini human rights group lodged a complaint with the Organisation for Economic Cooperation and Development (OECD) against Fifa over Sheikh Salman al-Khalifa's candidacy for the football governing body's presidency.
In the complaint, which was filed on 11 February, the campaign group Americans for Democracy and Human Rights in Bahrain (ADHRB) alleged that Sheikh Salman committed numerous human rights abuses while president of the Bahrain Football Association. The central allegation concerns the persecution and arrest of footballers who took part in pro-democracy protests. In 2011, Sheikh Salman reportedly chaired a special committee that led to the jailing of more than 150 athletes, coaches and referees.
The group argues that his alleged abuses violated the OECD's "Guidelines for Multinational Enterprises" and make him ineligible to lead Fifa, itself mired in controversy for years under Sepp Blatter's leadership.
"All the evidence suggests that Sheikh Salman was involved in the government crackdown on free expression and human rights," said Husain Abdulla, executive director of ADHRB.
"This raises serious concerns about his ability to protect the athletes who would be under his care as president of Fifa."
Sheikh Salman has previously denied accusations made against him, saying they were "entirely false", and has accused those bringing the complaints against him as having an "agenda".
Further protests are planned in London and across Bahrain on 14 February.
Sayed Alwadaei, the director of Advocacy for Bahrain Institute for Rights and Democracy (Bird), a UK-based organisation that works with Bahrainis in the UK, told the IoS that security forces in his home country are already trying to prevent pro-democracy protesters from entering villages where events are planned.
"Security forces are already being deployed in the days leading up to the protests. They are trying to crack down on people entering these areas," he said.
"We're also protesting in London, at Marble Arch, so locals and tourists can learn what is really going on in Bahrain. The two countries really are more united than ever before, despite the ongoing abuses."
Mr Alwadaei said he was disappointed that despite a recommendation from the Foreign Affairs Select Committee in 2013 to designate Bahrain as a "country of concern", recognising a severe deterioration of human rights, the Foreign Office had failed to do so.
A Foreign Office spokeswoman said: "We don't shy away from raising issues of concern, including human rights, at all levels within the government of Bahrain. We believe that UK support to Bahrain's reform programme is the most constructive way to achieve long-lasting and sustainable reform in Bahrain.
"We take our arms export responsibilities very seriously and operate one of the most robust arms export control regimes in the world. Risks around human rights abuses are a key part of our assessment for granting export licenses, and we do not export equipment where we assess there is a clear risk that it might be used for internal repression."
Join our commenting forum
Join thought-provoking conversations, follow other Independent readers and see their replies