Barack Obama says UK will go to 'back of the queue' for US trade deals if Britain leaves EU
President Obama has used his two-day visit to the UK to speak in favour of its continued membership in the EU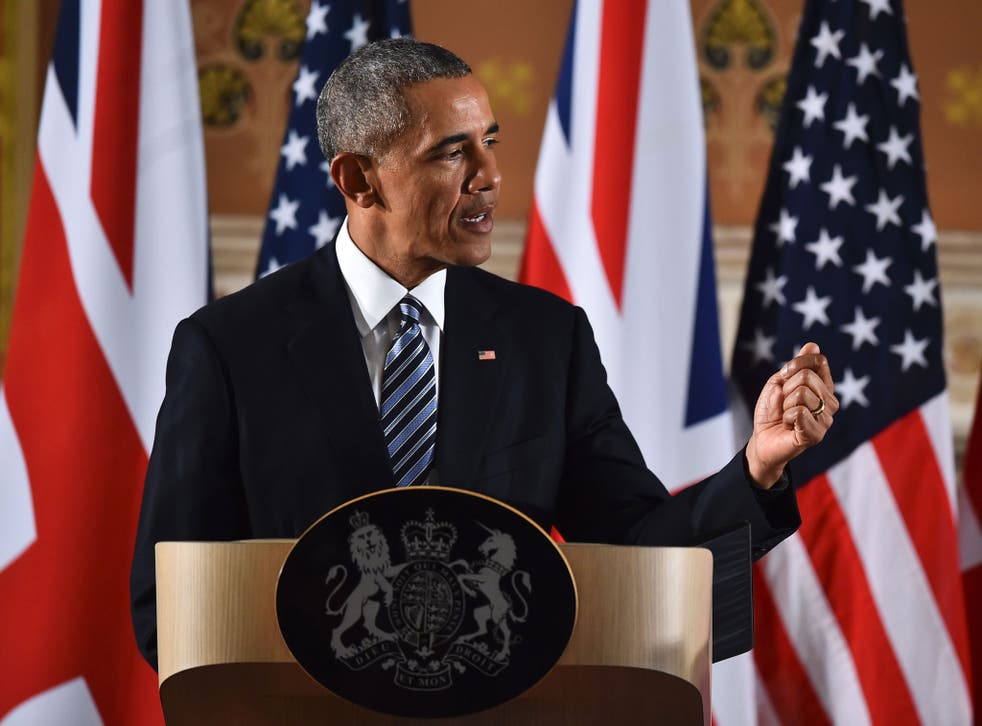 The UK will go to "the back of the queue" for trade deals with the US if Britain votes to leave the EU, Barack Obama has said.
President Obama also said a US-UK trade deal is "not going to happen any time soon," as the White House will be focusing its attention on reaching an agreement with the EU.
He suggested the US would focus on trade deals with the EU and big trade blocs.
What has the EU ever done for us?

Show all 7
The US President was speaking after Downing Street talks with David Cameron, during a two-day visit which he has used to speak out in favour of continued UK membership in the EU.
However, he stressed that the referendum was a "decision for the people of the United Kingdom" and said he was "not coming here to fix any votes".
But he defended his right to offer an opinion, saying: "In democracies everybody should want more information, not less, and you shouldn't be afraid to hear an argument being made - that's not a threat, that should enhance the debate."
Outlining the choice facing the UK, the president said: "If, right now, I have got access to a massive market where I sell 44 per cent of my exports and now I'm thinking about leaving the organisation that gives me access to that market and that is responsible for millions of jobs in my country and responsible for an enormous amount of commerce and upon which a lot of businesses depend - that's not something I would probably do."
Independent version- Should Obama intervene in the EU referendum?
He also said the UK's membership of the EU "enhances the special relationship," because it means Washington has a trusted partner in Europe on issues including the fight against terrorism.
"Precisely because I have a confidence in the UK, and I know that if we are not working effectively with Paris or Brussels then those attacks are going to migrate to the United States and to London, I want one of my strongest partners in that conversation.
"So it enhances the special relationship, it does not diminish it."
Commenting on Barack Obama's speech, Leave.EU co-founder Richard Tice said:
"We don't have a trade deal with the United States now because we're members of the European Union.
"The proposed EU-US trade deal, TTIP, would be disastrous for British workers.
"Obama doesn't have the authority to deny us a deal, as he will be long gone before any such proposals are on the table."
Additional reporting by Press Association
Register for free to continue reading
Registration is a free and easy way to support our truly independent journalism
By registering, you will also enjoy limited access to Premium articles, exclusive newsletters, commenting, and virtual events with our leading journalists
Already have an account? sign in
Register for free to continue reading
Registration is a free and easy way to support our truly independent journalism
By registering, you will also enjoy limited access to Premium articles, exclusive newsletters, commenting, and virtual events with our leading journalists
Already have an account? sign in
Join our new commenting forum
Join thought-provoking conversations, follow other Independent readers and see their replies