Baroness Warsi sparks a Tory rebellion over Gaza conflict
First Muslim cabinet minister slams PM for "morally indefensible" policy
Nigel Morris
,
Oliver Wright
Thursday 07 August 2014 07:23 Comments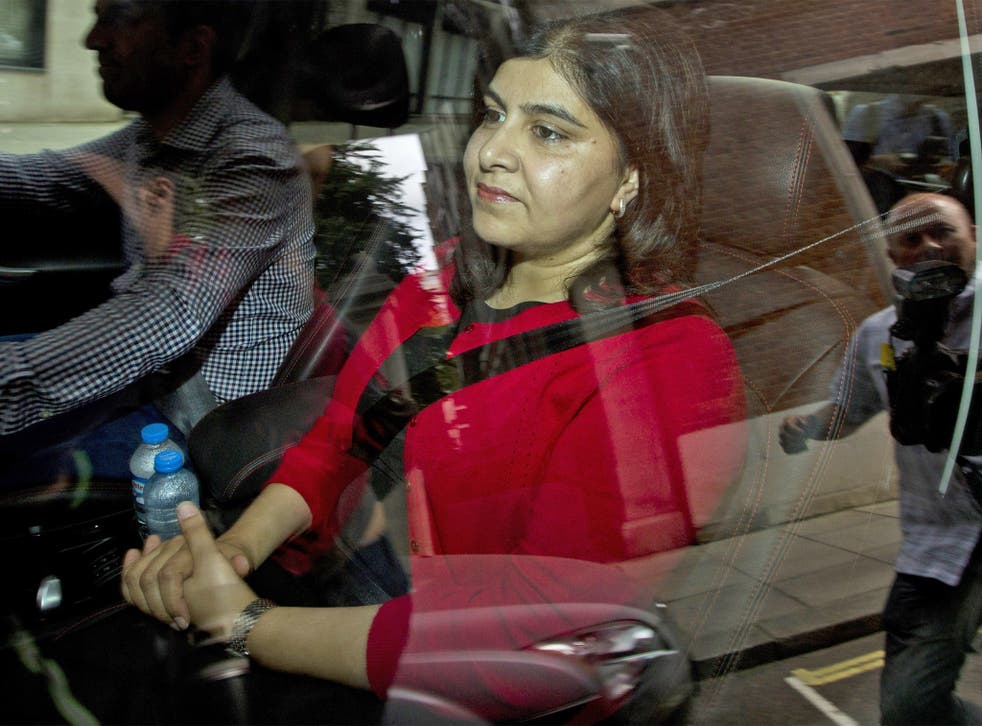 David Cameron was facing mutiny among senior Tory MPs last night as they lined up to condemn his handling of the Gaza crisis and to warn his stance was alienating millions of British Muslims.
The rebellion was triggered by the resignation of Baroness Warsi, the first Muslim cabinet minister, over his refusal to take a tougher stance on the Israeli bombardment during which 1,800 Palestinians have died. Her dramatic departure, in which she warned the Prime Minister's approach was "detrimental" to the national interest and risked radicalising young Muslims, won plaudits from several former Tory ministers. Boris Johnson, the Mayor of London, also appeared to back her.
She called for an immediate arms embargo against Israel and said that the Government's "approach and language during the current crisis in Gaza is morally indefensible". In a swipe at Mr Cameron, she lamented the sacking of moderate ministers such as Kenneth Clarke in last month's reshuffle.
George Osborne, the Chancellor, responded by describing her departure as "disappointing and frankly unnecessary" when a tentative ceasefire was in place. Her resignation is a major headache for the Prime Minister, who resumed his Portuguese holiday yesterday after attending the First World War commemoration events.
His discomfort was compounded by prominent Conservatives breaking ranks to support Lady Warsi's comments. Alistair Burt, the former Foreign Office minister responsible for the Middle East, said: "There is a concern that Israel's attempts to protect itself and destroy terrorist tunnels is at such dreadful expense of human life. That's there, not only on the Conservative benches, but throughout Parliament."
The former Justice minister, Crispin Blunt, praised her decision as "brave and principled", Damian Green, the former immigration minister, said she was a "brave woman who always speaks her mind" and the former Environment Secretary Lord Deben said: "She is a significant loss on a real matter of principle."
Sir Nicholas Soames, a former defence minister, tweeted: "The Government needs to note and learn from the resignation of Sayeeda Warsi she was right to leave over a matter of such great importance."
Her departure will be a blow to Tory efforts to reach out to Muslim voters, just 12 per cent of whom backed the party at the last election.
The Tory MEP Sajjad Karim, who became the first British Muslim in the European Parliament, said: "There is quite clearly a directional shift in Government today and that goes against the grain of what the majority of British people will want to see."
"I think there is a growing awareness amongst many people that our Government's position is out of step with what people are seeing on their screens. Much more needs to be done to ensure Israel is held to restraint."
Mohammed Amin, the chairman of Conservative Muslim Forum, said: "She has been an inspiring advocate for religious freedom around the world. Her work needs to continue."
Lady Warsi had long urged Mr Cameron and senior Tories to reflect the concern of Muslim voters in a drive to make the party more inclusive.
She pointed out that while polls showed many Muslims shared "conservative values", very few actually voted for the party.
But she has become increasingly frustrated at what she sees as the increasingly anti-Muslim rhetoric in parts of Government - in particular over the "Trojan Horse" affair.
She is understood to have been concerned at the appointment of Peter Clarke, a former senior anti-terrorism policeman, to lead the inquiry into allegations hardline Islamists infiltrated Birmingham schools. She raised her worries with Mr Cameron but was overruled.
Click HERE for full-size version of Baroness Warsi's letter
The London mayor, Boris Johnson, also appeared to back her and in marked contrast to Mr Cameron described events in Gaza as "utterly horrifying and unacceptable".
"I would certainly say it [the way Israel is behaving] is disproportionate," he added.
Mr Cameron only learned of her decision moments before she broke the news to her 59,000 twitter followers. She tweeted: "I can no longer support Govt policy on #Gaza."
In a fiercely worded resignation letter, she wrote: "My view has been that our policy in relation to the Middle East Peace Process generally but more recently our approach and language during the current crisis in Gaza is morally indefensible, is not in Britain's national interest and will have a long-term detrimental impact on our reputation internationally and domestically."
She told Mr Cameron there was "great unease across the Foreign Office amongst both Ministers and senior officials, in the way recent decisions are being made".
She signalled her dismay over moves in the ministerial reshuffle, including the "inspirational" William Hague's replacement as the Foreign Secretary by Philip Hammond and the departures of Mr Clarke and Dominic Grieve, the former attorney general, who are both seen as strong upholders of international law.
In pictures: Israel-Gaza conflict

Show all 124
Mr Cameron replied: "I understand your strength of feeling on the current crisis in the Middle East - the situation in Gaza is intolerable.
"Of course, we believe Israel has the right to defend itself. But we have consistently made clear our grave concerns about the heavy toll of civilian casualties and have called on Israel to exercise restraint, and to find ways to bring this fighting to an end."
Mr Osborne said: "The British Government is working with others in the world to bring peace to Gaza and we do now have a tentative ceasefire which we all hope will hold."
Deputy Prime Minister Nick Clegg said: "The Prime Minister must speak for himself. He's been clear that he regards the violence in Gaza as appalling and has called repeatedly for a humanitarian ceasefire.
"The Government's position has been, has argued consistently in favour of peace rather than conflict and ceasefire rather than violence. We've done that at all levels, regardless of what party we're from in the coalition.
"There are differences of emphasis, longstanding differences of emphasis about how forceful the Government should be, and how forceful Britain should be in seeking to bring the two sides together."
Register for free to continue reading
Registration is a free and easy way to support our truly independent journalism
By registering, you will also enjoy limited access to Premium articles, exclusive newsletters, commenting, and virtual events with our leading journalists
Already have an account? sign in
Join our new commenting forum
Join thought-provoking conversations, follow other Independent readers and see their replies