Lyra McKee's partner calls on government to legalise same-sex marriage at rally in Belfast
'We pay our taxes, we are governed by the same laws, we live deeply and we love dearly – why should we not be afforded the same rights in marriage?'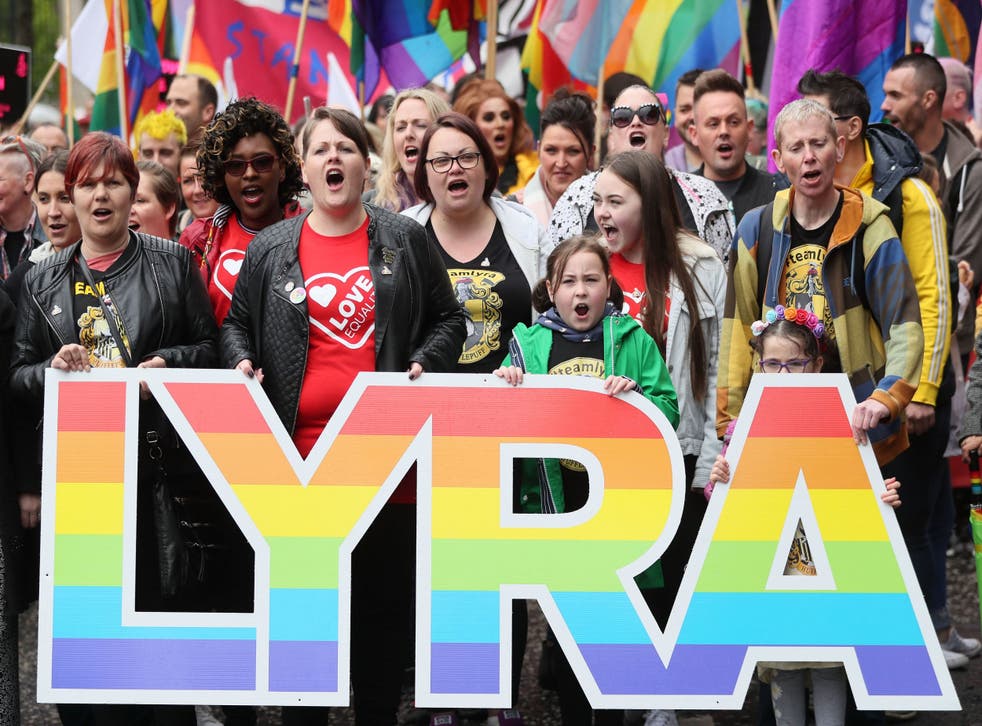 It is time for Prime Minister Theresa May to take action and legalise same-sex marriage in Northern Ireland, the partner of murdered Northern Irish journalist Lyra McKee has said.
At a noisy and colourful rally through Belfast, attended by an estimated 8,000 people, Sara Canning called upon Ms May to ignore the objections of the Democratic Unionist Party (DUP), which opposes same-sex marriage, and introduce legislation to allow LGBT+ couples to get married.
After a warm welcome to the stage, Ms Canning questioned why same-sex couples were treated differently in Northern Ireland to the rest of the UK, where same-sex marriage is legal.
"We pay our taxes, we are governed by the same laws, we live deeply and we love dearly; why should we not be afforded the same rights in marriage?" she asked.
"Same-sex couples come from every single political, religious, cultural, and racial background. A vote passing on equal marriage would not be a 'win' for any one side, it would be a win for all sides," she said.
Taiwan Same Sex Marriage

Show all 10
Northern Ireland is the only part of the UK where same-sex marriage remains illegal and it is within Ms May's power to enforce a law change; however, so far she has resisted taking action.
The DUP is firmly opposed to any redefinition of the law, insisting marriage should be between a man and a woman. Its 10 MPs have propped up Ms May's minority Conservative government since the 2017 general election.
Ms McKee, a 29-year-old journalist and author, was killed as she reported on riots in Derry on 18 April by a New IRA gunman who opened fire on police lines. She was a prominent journalist and vocal member of the LGBT+ community in Northern Ireland.
In a letter to her 14-year-old self, which went viral in 2014, she wrote: "Life is so hard right now. Every day, you wake up wondering who else will find out your secret and hate you. It won't always be like this. It's going to get better."
Ms McKee's death has injected fresh impetus into calls for change.
The event was organised by the Love Equality campaign – an umbrella group made up of organisations such as Amnesty International and the Rainbow Project.
John O'Doherty, director of the Rainbow Project, kissed his partner on stage and warned UK political leaders they will be judged by their actions.
"We will not stop until we achieve a Northern Ireland that is underpinned by equality and human rights," he said, addressing Ms May and Karen Bradley, the Northern Ireland secretary, directly.
"Our message is simple; human rights should not be based on postcodes. This is now happening on your watch."
On Friday, ahead of the march, Nicola Coughlan, the actor who plays Clare Devlin in the popular Channel 4 series Derry Girls, added her voice to calls for same-sex marriage to be legalised.
"In Derry Girls I play the wee lesbian," she said. "Since the show has come out, I've received so many messages from people from all over the world to say how much [having an] LGBTQ character in the show has meant to them.
"However, what a lot of these people don't realise is that Clare Devlin would still not be allowed to be married in her own country in 2019."
At the rally on Saturday, Ms Canning said the time has come for change. "Northern Ireland deserves better," she said. "We deserve better. And that's why we're here today; to demand better."
Register for free to continue reading
Registration is a free and easy way to support our truly independent journalism
By registering, you will also enjoy limited access to Premium articles, exclusive newsletters, commenting, and virtual events with our leading journalists
Already have an account? sign in
Register for free to continue reading
Registration is a free and easy way to support our truly independent journalism
By registering, you will also enjoy limited access to Premium articles, exclusive newsletters, commenting, and virtual events with our leading journalists
Already have an account? sign in
Join our new commenting forum
Join thought-provoking conversations, follow other Independent readers and see their replies