Benefit cuts 'will leave mothers £13bn worse off over course of current Parliament'
Labour described the figures as a 'disgrace'
Tom McTague
,
Ian Johnston
Saturday 05 March 2016 23:28 Comments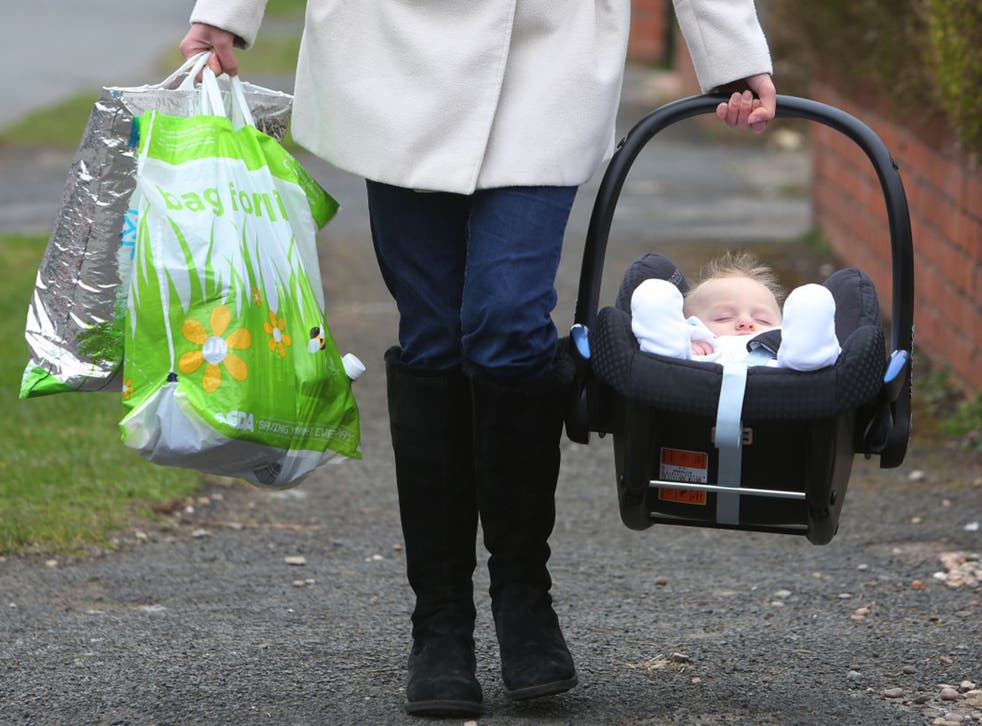 Mothers will be £13bn worse off under the current Government as a result of policies announced over the past year, according to a new analysis.
Labour described the figures – produced by the House of Commons Library – as a "disgrace", saying mothers played a key role in society but had been hit with a "stonking great bill".
The research looked at the effects on women with dependent children of a number of changes announced by Chancellor George Osborne, since last year's general election.
It found that cuts to universal credit, the four-year freeze on child benefit and other welfare payments, reductions in housing benefit and other policies outweighed increases to the personal income tax allowance and extra money for childcare.
The overall impact meant mothers will be £13bn worse off over the course of the current parliament, from last year until 2020. The Labour MP Yvette Cooper, who commissioned the research, said: "These figures are a disgrace. On Mother's Day, the whole country celebrates just how much mums do to hold families together, communities together and even hold our economy together too.
"Yet what thanks do mums get from George Osborne and David Cameron? Only a stonking great £13bn bill."
Last month the Children's Society urged the Government to reconsider the benefits freeze if ministers were "genuinely concerned about child poverty".
UK news in pictures

Show all 50
The charity calculated that a 23-year-old single mother, who works as a primary school teacher and rents her home, would be more than £2,800 a year worse off as a result of the changes. And a nurse and her partner, living in a rented house in London with three children, would be £5,100 a year worse off.
In a report, the society found that seven million children in low-income families would be affected by the four-year benefits freeze, while others would be pushed into poverty as a result.
A government spokesperson said: "We are determined to deliver a new settlement for the British people, one that will create a higher wage, lower tax and lower welfare economy.
"The reality is that our welfare reforms are helping more people into work and offering a strong safety net for those who can't.
"With a record number of women in work, our reforms to extend free childcare and flexible working are giving more women the security of a regular wage with the National Living Wage set to boost pay even further."
Responding to the Children's Society report last month, the Department for Work and Pensions said: "We are bringing welfare spending under control, while – crucially – helping people into work, and through universal credit helping them to earn more."
Departments are still waiting to hear what they are likely to get in the Budget, but the Department for Education is hopeful that plans to alter the funding formula for schools will be revealed before Mr Osborne's political showpiece. A consultation on what is known as a "fairer funding" formula is planned shortly, so that it can be in place by 2016-17.
Many London boroughs have received additional funding for years, because the previous Labour government was keen to help struggling pupils in the capital catch up with those elsewhere in the country. London Councils, which represents the capital's local authorities, has estimated that changes could slash school budgets in some areas by 14 per cent, but Tory MPs have been frustrated that schools in their shire constituencies have been relatively underfunded.
The consultation is likely to recommend phasing in the changes so that angry London head teachers do not suffer immediate large cuts.
Register for free to continue reading
Registration is a free and easy way to support our truly independent journalism
By registering, you will also enjoy limited access to Premium articles, exclusive newsletters, commenting, and virtual events with our leading journalists
Already have an account? sign in
Join our new commenting forum
Join thought-provoking conversations, follow other Independent readers and see their replies