Benefits reform under threat after IT glitch
National roll-out of flagship policy delayed by at least a year as costs soar and key personnel quit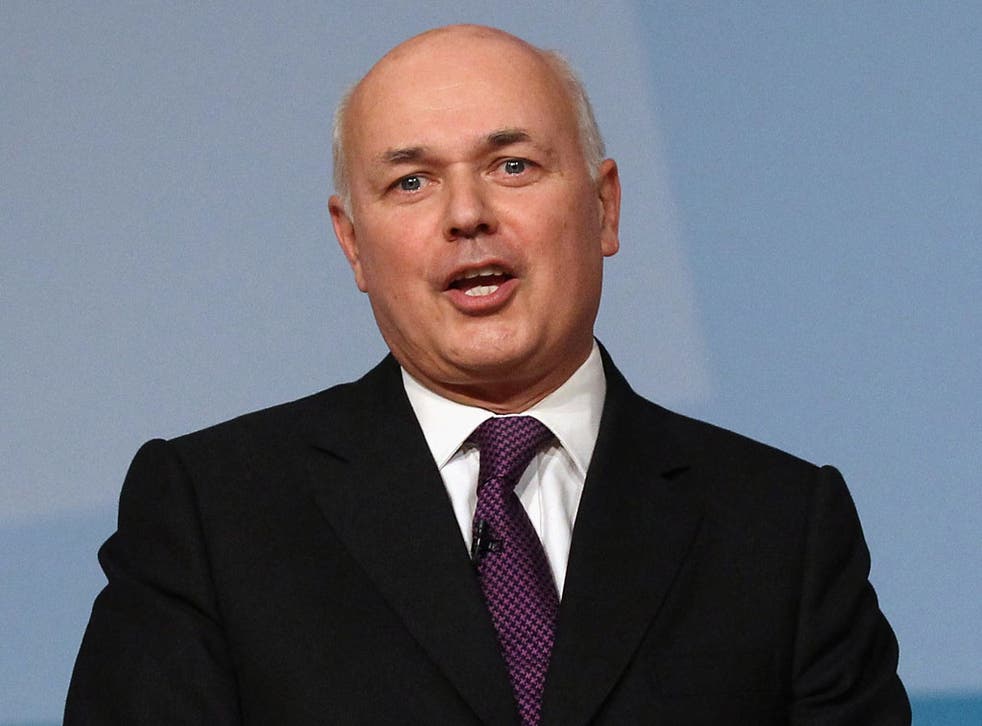 The Government's flagship reform of Britain's welfare system, which is being piloted by the Secretary of State for Work and Pensions, Iain Duncan Smith, has been placed on a Treasury list of projects in crisis, The Independent on Sunday has learned.
Despite assurances from the Department for Work and Pensions (DWP) that universal credit will be rolled out on time and on budget, its national launch – scheduled for October next year – will now be limited to small regional projects. Sources within the DWP have told The IoS that a realistic national roll-out – regardless of the department's public assurances – is already a year behind schedule amid fears that "technical issues over computer software" could push that back further.
Senior DWP staff working on the project are understood to have reported concerns to their Treasury counterparts. The issue was a factor in Mr Duncan Smith remaining at the DWP during the recent Cabinet reshuffle.
A government adviser on information technology said: "IDS, like other ministers before him, has been hypnotised by promises of what an online system can deliver. Warnings were given to him more than a year ago. They were ignored."
Universal credit has a development budget of £2bn. It is supposed to be a paperless online IT system for claimants that would bridge the DWP's data with the Treasury. Six separate benefits are to be combined into one payment.
However, the project, according to senior Whitehall sources, is already suffering a £100m overrun. There are also concerns that a further £300m is being hidden by rising costs reallocated to child support payments.
A reorganisation of the complex IT system, following the departure this month of key senior civil servants in charge of universal credit, could mean an overrun of £500m by next spring.
Universal credit potentially affects 19 million people in the UK. Failure to deliver the reforms because of expensive IT errors and design flaws will be deeply embarrassing for David Cameron.
The last Labour government was estimated to have wasted £26bn in botched IT projects, which included the national programme for the NHS and the fiasco over the national identity card scheme. Mr Cameron – when in opposition – promised a move away from big IT projects.
Mr Duncan Smith has claimed the current benefit system was broken, trapped people in welfare dependency, and was not fit for purpose. In its place, the former leader of the Conservative Party wanted a system that claimants will manage themselves through online accounts. Those without computers or internet skills would use high-street outlets or telephone services.
The programme's director, Malcolm Whitehouse, and the DWP's head of IT, Steve Dover, last week announced they would be leaving the department. The senior civil servant on the project was described as being "on extended sick leave". Other key personnel have also left.
Six pilot projects that are currently testing direct payment of benefits to tenants in housing associations have reported errors including the wrong amount of money being sent on the wrong date. The IoS has been told that one project involving just 400 claimants initially proved chaotic. When fully implemented, universal credit would need to deal with almost five million housing-benefit claimants a year.
The staff changes were played down by a DWP spokeswoman. She said: "The programme is moving from design to delivery and these personnel changes are quite normal." However she did not know if Mr Whitehouse or Mr Dover and others were hired knowing they would ask to leave in late 2012. "I have no idea what their contracts were," she said.
Fears that the project was over budget were also dismissed. "Universal credit is on time and on budget. It will be delivered in a controlled way, starting in April 2013 in Manchester and Cheshire, to ensure it is fully tested before being rolled out nationally from October 2013."
Labour's work and pensions spokesman, Liam Byrne, said yesterday: "Universal credit is in danger of descending into total chaos. Iain Duncan Smith's flagship scheme is late and over budget, top officials are heading for the hills and no one seems to believe the massive IT system is on track. Ministers must take urgent action before it becomes a multibillion-pound disaster."
Join our new commenting forum
Join thought-provoking conversations, follow other Independent readers and see their replies