Read the full list: Companies, councils and charities who used benefits claimants as unpaid labour
Some of the companies and charities pulled out after strong criticism of the Coalition government's Mandatory Work Activity scheme
Jess Staufenberg
Saturday 30 July 2016 14:01 Comments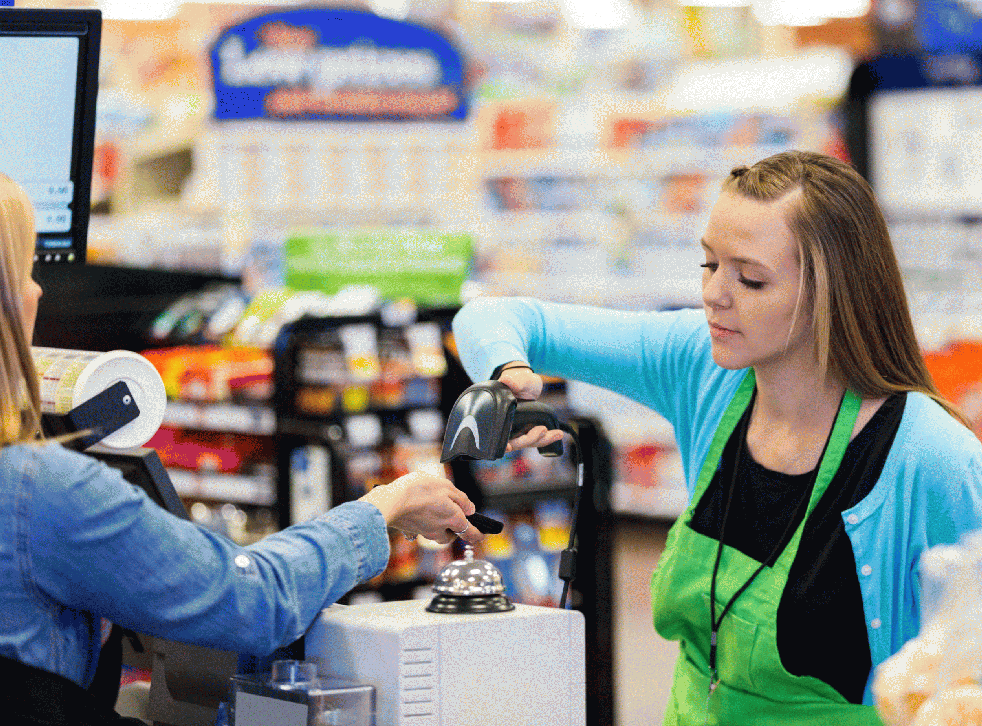 The names of more than 500 companies involved in a controversial scheme to make people work without pay for their benefits have been released after a court over-ruled the Government's attempt to keep them secret.
Major high street companies and well-known charitable organisations are included in a list made public by the Department for Work and Pensions, four years after it blocked a legal bid to make the information openly accessible.
The 534 organisations were signed up to a scheme which required jobseekers' allowance and other benefit claimants to work unpaid for 30 hours a week in order to receive their weekly welfare payment, which could be as little as £73.
It is not yet clear under what circumstances the organisations joined the Mandatory Work Activity scheme, and whether they believed it was an employment rehabilitation programme.
But Tesco, and charities including Cancer Research, PDSA, Age UK and the British Heart Foundation, have said they pulled out after it was widely criticised. The scheme was eventually scrapped in 2015.
The full list is:
African Childrens Fund
Abacus Children's Wear
ABCAL
Ability
Ace of Clubs Charity Shop
Acorns
Action for Disability
Action Housing
Active Community Team
Advocacy Support
Afro Caribbean Centre
Age Concern
Age UK
Agnew Community Centre
Air Ambulance
Aire Valley Recycling Ltd
Airedale Computers,
Al-Khair Foundation
All Aboard
Allied Healthcare
Almadene Care Home
AMF Torquay Bowling Alley
Amicus Horizon Housing Association
Animal Krackers
ARAS German Shepherd Inn
ARC
Archer Project
Arthritis Research UK
Arthur Rank
Arts Factory
ASAN
Asda
Asha Charity Shop
Ashgate Hospice
Aspire Community Enterprise Ltd
Auchinleck Talbot F.C.
Autism Plus
Aylestone Park Boys Football Club
Babygear
Back2Earth
Bangladesh People
Bangladeshi ass sangag centre
Barnardos
Basic Life Charity
B'Dwe
Beaumaris Hostel
Bedfordshire Education Academy
Belgrave Hall Museum
Bernicia Group (Social housing provider)
BHF
Blaby & Whetstone Boys Club
Blue Cross
Bluebell Wood
Bookers
Boots
Botanical Gardens
Bottle Rescue Aireworth Mill
BR Environmental
Bradford Autism Centre
Bradford Community repaint
Breaking Free
Brian Jackson House
Briardale Community Centre
Bright House
Brighton and hove wood recycling
Britannia College
British Heart Foundation
British Red Cross
British Waterways
Brockhurst Community Centre
Bryncynon Strategy
Bryncynon Strategy
Butterwick Hospice
Cancer Research
Cancer Uk
Capability Scotland
Care & Repair
Carers Centre
Caribbean Centre
Caribbean Restaurant (Streatham)
Carlisle Park
Carr Vale Allotments
Cash Convertors
Castle Gresley Community Centre
Cat Haven
Cats Protection League
Cauwood day services
CCA Furniture Outlet
Cerebal Palsey Care
Changing Lives in Clevedon
chapletown youth community centre
Chesterfield FC Community Trust
Chestnut Tree House Shop
Children in Distress
Children Scrapstore Reuse Centre
Children Trust
Childrens Society
Chopsticks North Yorkshire
Circulate
Citizen Advice Bureau
Claire House
Clic Sargent
Comfort Kids
Community Association - Trefechan
Community Re-Paint
Community Resource Centre
Community Voice
Complete Professional Care
Compton Hospice
Congburn Nurseries
Cooke Computers
Cooke E - Learning Foundation
Co-op
Corby Boating Lake
Cornerstone
Cornwall Hospice Care
County Durham Furniture Help Scheme
Croydon animal samaritans
CSV Media
Cusworth Hall
CVS Furniture
Dan's Den Colwyn Bay
Dapp UK
DC Cleaning
Deans
Debra
Demzela
Derbyshire Timber Scheme
DHL
Dial Intake
Didcot Railyway Museum
Disabled Childrens Services
Discovery Community Cafe
Dogs Trust Glasgow
Dogsthorpe Recycling Centre
Doncaster College
Doncaster Community Centre
Dorothy House Hospice
Dorset Reclaim
Dovehouse Hospice Shop
Dragon Bands
Durham Wildlife Trust
E Waste Solutions
Earl Mountbatten Hospice
East Anglia Childrens Hospice Shop
East Cleveland Wildlife Trust
East Durham Partnership
East Midlands Islamic Relief Project
East West Community Project
Ecclesbourne Valley Railway
eco Innovation Centre
Elleanor Lion Hospice
ELVON
Encephalitis society
English Landscapes
Enhanced Care Training
Enterprise UK
Environmental Resource Centre
Essex County Council
Extra care Charitable Trust
Fable
Family Support
Fara
Fare share Malmo Food Park
Featherstone Rovers
Fenland District Council
First Fruits
FN! Eastbourne
Foal Farm
Food Cycle
Fops Shop
forget me not childrens hospice
Foundation for Paediatric Osteopathy
Fountain Abbey
Fox Rush Farm
FRADE
Frame
FRESCH
Fresh water christian charity
Friends of St Nicholas Fields
Furnish
Furniture for You
Furniture Project
FurnitureLink
Gateway funiture
Genesis Trust
George Thomas Hospice - Barry
Geranium Shop For The Blind
Glasgow Furniture Initative
Glen Street Play Provision
Goodwin Development Trust
Govanhill Baths Community Trust
Greenacres Animal Rescue Shop
Greenfingers
Greenscape
Greenstreams Huddersfield/ environmental alliance
Grimsby District Health care charity
Ground Work
Hadston House
Happy Staffie
Harlington Hospice
Hart Wildlife Rescue
Hartlepool Council
Hartlepool Hospice
Hartlepool Prop (Mental Health)
Hartlepool Trust Opening Doors
Hastings & Bexhill Wood Recycling Project
Havens Childrens Hospice Shop
Havering Country Park
headway
Healthy Living Centre
Hebburn Community Centre
Help the Aged
helping hands
High Beech Care Home
High Wycombe Central Aid
Hillam Nurseries
Hinsley Hall Headingley
Hobbit Hotel
Holmescarr Community Centre
Home Start
Homemakers
Hope central
Hospice of hope
Hounslow Community Transport Furniture Project
Hull Animal Welfare Trust Hull
Humanity at Heart
I Trust
Indoamerican Refugee and Migrant Organisation (IRMO)
Intraining Employers
Ipswich Furniture Project
Iranian Association
Islamic Relief
Jacabs Well Care Center
Jesus Army Centre
JHP
Julian House Charity Shop
K.T. Performing Arts
Kagyu Samye Dzong London
Keech Hospice Care Shop
Keighley & District Disabled
Kier Services – Corby
Kilbryde Hospice
Killie Can Cycle
Kingston Community Furniture Project
Kiveton Park & Wales Community Development Trust
LAMH
Leeds & Moortown Furniture Store
Leicester City Council
Leicester Riders
Leicester Shopmobility
Leicestershire Aids Support Services
Leicestershire Cares
Lifework
Lighthouse
Linacre Reservoir
London Borough of Havering
London College of Engineering & Management Woolwich
Longley Organised Community Association
Lyme Trust
Lynemouth Resource Centre
Mackworth Comm. Charity Shop
Making a Difference
Marie Curie
Mark2 (marc)
Martin House Hospice
Mary Stevens Hospice
Matalan
Matchbox
Matthew25 Mission
Mayflower Sanctuary
MDJ Lightbrothers
Meadow Well Connected
MEC
Mental Health Support
Midland Railway Trust
MIND
Miners Welfare community centre
Mistley Place Park
Monmouthshire & Brecon Canal Regeneration Partnership Scheme
Moore Cleaning
Morrisons
Muslim Aid
Myton Hospice
Nandos
Naomi Hospice
National Railway Museum
National Trust
NDDT
Neath Port Talbot County Borough Council
Necessary Furniture
Neighbourhood funiture
Neterlands Dog Rescue
New Life Church
Newham Volenteers Group
Newport City Council
Nightingale House
NOAH enterprise
North East Lincs Motor Project
North London Hospice Shop
North Ormesby Community Shop
Northumberland County Council
Norwood
Old Nick Theatre
One 0 One
Open Secret
Overgate Hospice
Oxfam
Papworth Trust
Partner Shop
Paul Sartori Warehouse
Paws Animal Welfare Shop
PDSA
Pegswood Community Centre
Pennywell Community Association
Peterborough Streets
Pheonix Community Furniture
Pilgrim Hospice
Placement Furniture Project
Platform 51 Doncaster Womens Centre
Playworks
Plymouth Food Bank
Plymouth Play Association
Plymouth Volunteer Centre
Pound stretcher
POW Shop
Powys Animal Welfare Shop
PPE Paving
Preen Community Interest Company
Primrose
PRINCE & PRINCESS OF WALES
Prince of Wales Sherburn in elmet
Princess Trust
Queen Elizabeth Foundation
Queens Walk Community
Queensland Multi-Media Arts Centre
Rainbow Centre
Rainbows End Burngreave
Real Time Music
Recycling unlimited
Red Cross
Refurnish
Regenerate Community Enterprise
Remploy
Restore
Rhyl Adventure Playground Association
Right Time Foundation
RNID
Rochford Council
Rosalie Ryrie Foundation
Rosliston Foresty
Royal Society for Blind.
Royal Wotton Bassett Town Council
RSPB
RSPCA
Rudenotto
Rudyard Lake
S & S Services
Saffcare
Sainsburys
Salvation Army
Santosh Community Centre
Sara
Save the children
Savera Resource Centre
Scallywags
Scarborough Council
SCD Fabrications
School of English Studies
Scope
Scottish Cancer Support
Scottish International Relief
Scunthorpe Central Community Centre
Seagull Recycling
Seahouses Development Trust
Second Chance
Second Opportunities
Sedgemoor Furniture Store
Sense
Sesku Acadamy Centre
Shaw Trust
Sheffield Reclamation Ltd - Reclaim
Shelter
Shooting Stars
Shopmobility & Community Transport - Access
Slough Furniture Project
Smythe
Sneyd Green
Somali Community Parents Association
Somerfields
Somerset Wood Re-Cycling
South Ayrshire Council
South Bucks Hospice Warehouse
South Wales Boarders Museum
Southend United Football Club
Spaghetti House
Spitafields Crypt Trust
Splash fit
St Barnabas
St Catherines Hospice Trading
St Chads Community Centre
St Clare's Hospice
St Davids Foundation
St Elizabeth Hospice Charity Shop
St Francis Hospice Shops Ltd
St Gemma's Hospice
St Georges Crypt
St Giles
St Helens House
St Hughs Community Centre
St Lukes Hospice
St Margarets Hospice Scotland
St Oswald's Hospice
St Peters Church
St Peters Hospice
St Raphaels hospice
St Vincents
St. Catherines Hospice
St.Theresa's Charity Shop
Stages Café
Stannah Stair Lifts
Stef's Farm (Education Farm)
Step Forward
Stocking Farm Healthy Living Centre ( Sure Start)
Stockton Council
Stone Pillow
STROKECARE
Strood Community Project
Strut Lincoln
Sudbury Town Council
Sue Ryder
Sunderland Community Furniture
Sunderland North Community Business Centre
Superdrug
Swindon 105.5
Sycamore Lodge
sydney bridge furniture shop
Sypha
T&M Kiddy's Kingdom
Tara Handicrafts
Teamwork
Teesside Hospice
Tendring Furniture Scheme
Tendring Reuse & Employment Enterprise
Tenovus
Tesco
Thames Hospicecare
Thames Valley Hospice
Thanet District Council
The Ark Shop
The Art Organisation
The Charity Shop
The Childrens Society
The Childrens trust
The Crossing
The Good Neighbour Project
The Greenhouse
The Harrow Club
The Hinge Centre Ltd
The Isabella Community Centre
The Island Partnership
The Kiln Cafe
The learning community
The Linskill Centre
The Listening Company
The Octagon Centre Hull
The Old Manor House Riding Stables
The Princess Alice Hospice
The Range
The Reuse Centre
The Rising Sun Art Centre
The Rock Foundation Ice House
The Shores Centre
The Spurriergate Centre
The Undercliffe cemetary charity
The Vine Project
The Welcoming Project
The Woodworks (Genesis Trust)
Think 3E,
Thirsk Clock
Thurrock Council
Thurrock Reuse Partnership (TRUP)
TLC
TooGoodtoWaste
Top Draw
Traid
Trinity Furniture Store
Troed Y Rhiw Day Project
True Volunteer Foundation
Tukes
Twice as Nice Furniture Project
Twirls and Curls
Ty Hafan
Tylorstown Communities First
United Churches Healing Ministry
United Play Day Centre
Unity in the Community
UNMAH
Untapped Resource
Urban Recycling
Vale of Aylesbury Vineyard Church Project
Vista Blind
Walpole Water Gardens
Walsall Hospice
Wandsworth Oasis trading Company Limited
Wat Tyler Centre
WEC
Weldmar
Well Cafe
Wellgate Community Farm
Wellingborough District Hindu Centre
Western Mill Cemetary
WH Smith
Wheelbase
Whitby Council
Wildlife Trust
Wilkinsons
Willen Care Furniture Shop
Willington Community Resource Centre
Windhill Furniture Store Shipley
Woking Community Furniture Project
Womens Aid
Womens Centre
Woodlands Camp
Worsbrough Mill & County Park
Xgames
YMCA
York Archaeological Trust
York Bike Rescue
York Carers centre
Yorkshire Trust
Yozz Yard
Zest
Zues Gym
Register for free to continue reading
Registration is a free and easy way to support our truly independent journalism
By registering, you will also enjoy limited access to Premium articles, exclusive newsletters, commenting, and virtual events with our leading journalists
Already have an account? sign in
Join our new commenting forum
Join thought-provoking conversations, follow other Independent readers and see their replies