Bob Diamond says banks across the world were fixing interest rates in the run-up to the financial crisis
Oliver Wright
,
James Moore
Wednesday 04 July 2012 18:33 Comments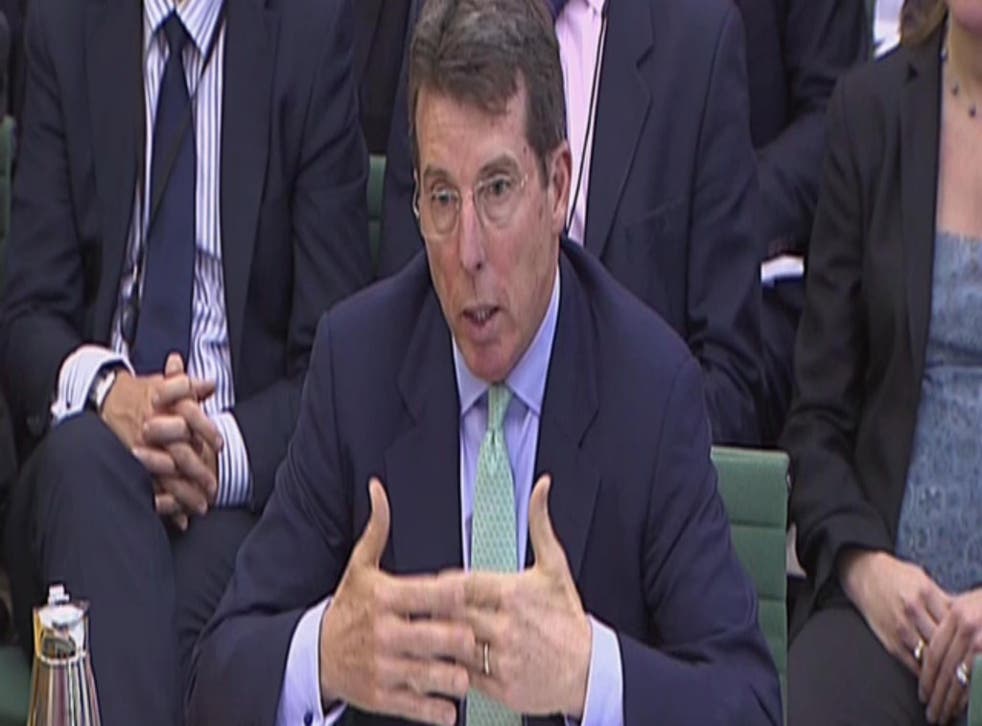 Banks across the world were fixing interest rates in the run-up to the financial crisis but regulators failed to take action to stop it, the former head of Barclays claimed today.
Giving evidence to Parliament Bob Diamond said Barclays had raised the issue of banks 'under-reporting' the true amount they were having to pay to borrow money but were ignored.
He declined to say that the regulators "were asleep at the wheel" but added: "There was an issue out there. (It) should have been dealt with".
But Mr Diamond denied that the Bank of England told him specifically to 'fix' interest rates during a phone conversation during October 2008.
He told the Treasury Select Committee he "didn't believe" he had "received an instruction" from Deputy Governor Paul Tucker about the fixing of interest rates.
However he said that his conversation with Mr Tucker had led him to fear that the Government might attempt to nationalise the bank just days before it was able to secure funding from the Middle East that would allow it to survive as an independent bank.
Mr Diamond said was deeply concerned that 'Whitehall officials' might step in and take drastic action which could scupper the deal because they thought that Barclays Libor rates were too high to be sustainable.
He said it was for that reason that he had written a memo to the chief executive of the bank John Varley describing his conversation with the Mr Tucker about the fixing of interest rates.
He added he did not know for certain who the Whitehall officials, referred to in his memo, were and added it would be "wrong to speculate" about who they might have been.
He said he "did not think" they were ministers and did not think anyone in Government had suggested that Barclays should be fix rates.
"My reaction (of the call with Mr Tucker) was an appreciation of that he was doing his job. Ministers were hearing that Barclays (Libor rates) were high and my first reaction was John (Varley) - you have to get to Whitehall and let them know that we are funding fine."
He added he was concerned that any action by the Government could scupper its Middle East Funding deal.
"We had an equity issue about to settle in two days. This was a very, very pressurised situation."
Looking nervous and sounding contrite Mr Diamond opened his evidence by declaring his "love" for Barclays but added: "At the core of the issues there clearly were mistakes, clearly there was behaviour that was reprehensible."
He said when he read the emails from Barclays traders about the fixing of the Libor rates he felt "physically ill" and did not represent "that the Barclays that I know and that I love".
Mr Diamond said he only learnt that "low balling" - the fixing of the Libor rate - was going on at the bank this month, some four or five days before the practice was publicly disclosed.
He said he had no knowledge that anything untoward was taking place in October 2008, insisting he was never made aware of the issues.
"It wasn't brought to that level and a part of that was that there were ongoing meetings at a level, below that," he told the hearing.
"There was a feeling that it had been resolved."
Asked if criminal punishment for bank chiefs would act as a deterrent, Mr Diamond said: "That is an issue for the regulator".
Pressed further, he said: "People who are doing things they are not supposed to do should be dealt with harshly.
He added: "We've been dealing harshly with our people."
"I'm sorry. I'm disappointed and I'm so angry. There's no excuse."
He added: "This was wrong. I'm not happy about it."
Mr Diamond said he did not know whether Barclays chairman Marcus Agius had come under pressure from regulators to bring about his resignation.
He suggested that over the weekend he had been determined to stay at the helm of the bank.
But he added: "It was clear to me on Monday that the support wasn't as strong and I needed to take this step."
Mr Diamond suggested he and Barclays had been the victims of an "unfortunate series of events", and there had been problems at other banks.
"I think there has been an unfortunate series of events in the last week around Barclays being identified as the first in what was a report that clearly showed very, very bad behaviour by groups of people."
He insisted that senior executives had dealt with the problems "appropriately" and regulators had praised their co-operation with the investigation.
Earlier David Cameron condemned the "spivvy and probably illegal" activity in of banks fixing interest rates.
Mr Cameron said it was "outrageous" that homeowners may have been forced to pay higher interest rates as a result of efforts to rig the benchmark Libor and Euribor rates.
But he refused to back Labour's calls for a judge-led inquiry into the culture of the City saying he believed the matter was better investigated by Parliament. He added that this would be "swift and decisive".
However the Labour leader Ed Miliband said Mr Cameron's reluctance to set up an investigation along the lines of the Leveson Inquiry into media practices showed he did not understand the scale of public concern over the banking scandal.
Register for free to continue reading
Registration is a free and easy way to support our truly independent journalism
By registering, you will also enjoy limited access to Premium articles, exclusive newsletters, commenting, and virtual events with our leading journalists
Already have an account? sign in
Join our new commenting forum
Join thought-provoking conversations, follow other Independent readers and see their replies