Boost for Ed Miliband as union members support his 'opt-in' reforms of Labour-union relations
New poll shows ordinary workers want Labour leader to go further
Andrew Grice
Monday 09 September 2013 07:52 Comments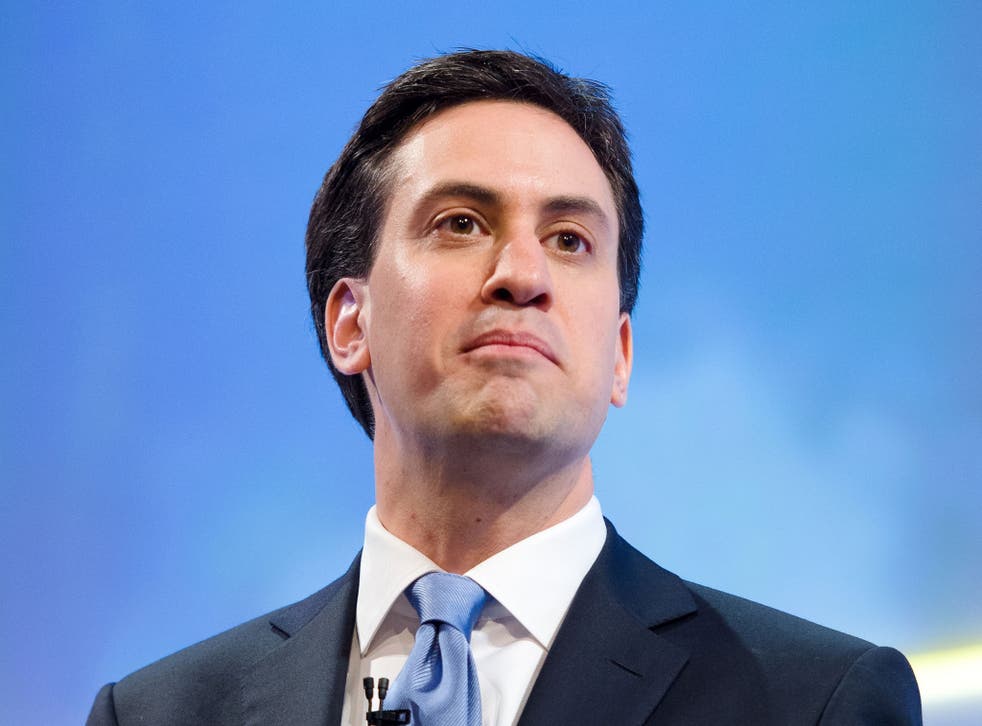 Ed Miliband's plan to recast Labour's relationship with the trade unions enjoys strong support among ordinary union members, fuelling claims that their leaders are "out of touch" for opposing them.
A YouGov survey for the Labour Uncut blog also suggests that Mr Miliband can reap an electoral benefit if he sticks to his guns and forces through his changes. Some 16 per cent of the public say his reforms make them more likely to vote Labour at the next election, with only 4 per cent saying they are less likely to support the party – a potentially significant boost in a close election.
On the opening day of the TUC conference on Sunday, union bosses accused the Labour leader of trying to break the party's link with its union founders.
Mr Miliband shrugged off warnings that his plan could bankrupt Labour as unions warned that only 10 per cent of their members would actively "opt in" to paying money to the party. At present, they have to "opt out" if they do not wish to support it financially.
Mr Miliband, facing his gravest crisis since becoming Labour leader, is adamant that the case for sweeping reform has been strengthened by the collapse of disciplinary action against members of the Unite union over allegations of vote rigging in the parliamentary-candidate selection process in Falkirk, Scotland.
In an embarrassing climbdown on Friday, Labour cleared Unite of breaking party rules. But Labour insiders suggest this happened only because key witnesses were pressurised to withdraw their allegations of vote rigging, although no such evidence has emerged.
Remarkably, the poll reveals that Mr Miliband's plan to make trade unionists "opt in" to giving money to the party is backed by 60 per cent of members of unions affiliated to Labour.
A further 10 per cent say Labour should scrap all links with the unions, while 20 per cent oppose the reform. A majority of the public (56 per cent) backs the proposed shake-up.
The survey suggests trade unionists and the general public want Mr Miliband to go further by diluting the unions' power at the party's annual conference, on its ruling national executive committee (NEC) and when Labour chooses its leader.
Some 61 per cent of members of Labour-affiliated unions want the unions' 50 per cent share of the annual conference vote to be reduced or abolished. A majority (51 per cent) of them wants the electoral college used to choose the party leader to be abolished. Almost two-thirds (63 per cent) also say the unions' allocation of 12 seats on the NEC should be scrapped, with representatives chosen by "one member, one vote".
Such changes would curb the power of union bosses, many of whom oppose them despite this backing among their own members.
According to YouGov, ordinary union members agree with the public that the unions enjoy too much influence over Labour – another sign that their leaders are out of step with them as they battle to maintain their clout.
A majority of members of affiliated unions (53 per cent) says the unions should have not much or no influence over Labour, a view held by 44 per cent of the public. But a majority of these trade unionists and the public believes the unions currently enjoy a great deal or fair amount of influence over Labour.
As the debate over the party-union relationship dominated the TUC conference in Bournemouth, Paul Kenny, leader of the GMB, warned that the Miliband plan could end the link. He described it as an idea dreamt up after "a bad night out". He went on to warn other unions would follow the GMB's lead after it announced a 90 per cent cut in its affiliation fees to Labour.
Dave Prentis, general secretary of Unison, warned that Labour faced an election "meltdown" if it did not "get its act together" and said it should stop washing its "dirty linen in public".
Meanwhile Frances O'Grady, the TUC general secretary, appealed for Labour and union leaders to "shake hands and move on and start talking about the issues that people are worried about, such as poverty pay, zero-hours contracts and jobs."
Len McCluskey, leader of Unite, said his union wanted to move on from the controversy. He dismissed suggestions it had influenced the outcome of Labour's investigation in Falkirk, where he claimed Unite had been "vindicated".
But a senior Labour source replied: "No one should be claiming vindication. The Unite-backed candidate in Falkirk has stood down. We now need to move on and press ahead with reforms to mend the link between Labour and the unions so it is fit for the 21st century."
Addressing the TUC general council dinner on Monday evening Harriet Harman, Labour's deputy leader, will call for an end to hostilities that can only benefit the Conservatives. "This is a dangerous moment," she is expected to admit. She acknowledges unions' concerns about the plans but insists: "The change that Ed is proposing is not to weaken the relationship between Labour and the trade unions – it is to make it a reality."
The Conservatives are being urged to offer free party membership to all union members. David Skelton, director of the Renewal group aiming to broaden the Tories' appeal, said: "The fact that union leaders are often out of touch with their members provides an opportunity for Conservatives to appeal to union members over the heads of their leaders."
YouGov interviewed a nationally representative sample of 1,593 adults online between 30 August and 4 September
Register for free to continue reading
Registration is a free and easy way to support our truly independent journalism
By registering, you will also enjoy limited access to Premium articles, exclusive newsletters, commenting, and virtual events with our leading journalists
Already have an account? sign in
Join our new commenting forum
Join thought-provoking conversations, follow other Independent readers and see their replies