Boris Johnson insists Russia should end 'indefensible' support for Assad regime in Syria
It comes after the Foreign Secretary had previously suggested relations with Russia may be normalised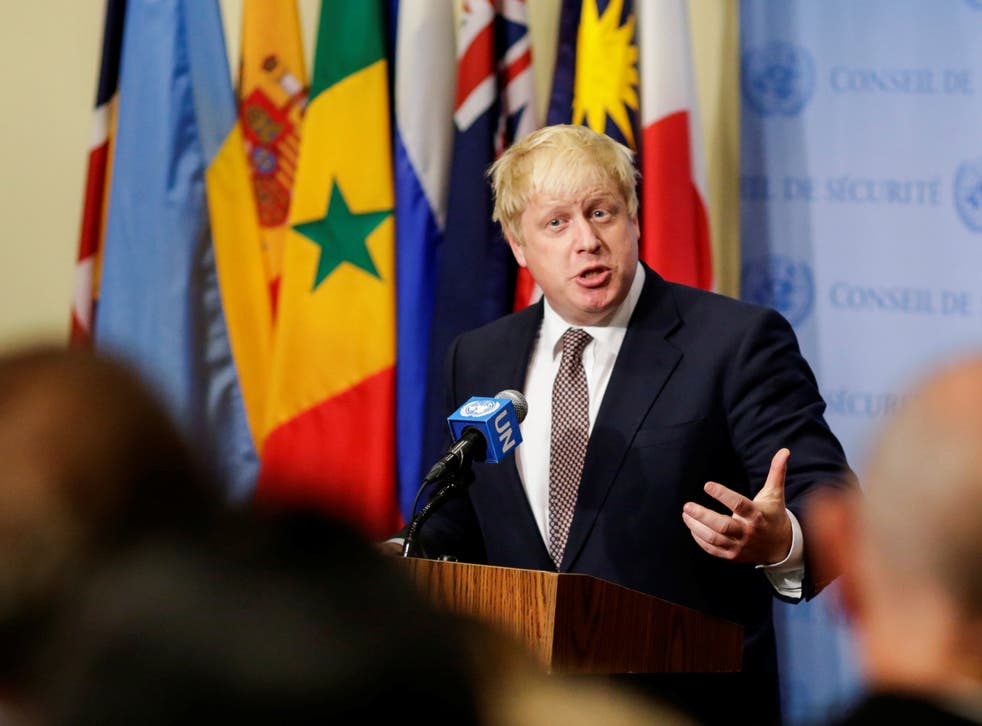 Boris Johnson has launched an attack on Russia's "seemingly indefensible" approach in Syria, just a month after telling the country's foreign minister he wanted normalised relations with Vladimir Putin's regime.
In an article published on Wednesday, the Foreign Secretary said the Kremlin should drop its support for Syrian dictator Bashar Assad whom he branded a "killing machine".
But in August after speaking to his Russian counterpart Sergei Lavrov, it emerged he had expressed hopes that ties between the two countries could "normalise".
The change of tone comes after Theresa May met Mr Putin at the G20 Summit in Hangzhou and rebuffed his overtures for a thawing in trade relations, specifically due to the situation in Syria.
The Syrian High Negotiations Committee will also meet in London Wednesday to try and map out an 18-month transition plan to help end the conflict in the country, though its members are against Mr Assad remaining in place.
Writing in The Times, Mr Johnson said Russia's current approach to the conflict is keeping the Syrian leader in power.
Watch the horrifying aftermath of suspected chemical bomb dropped in Syria
He said: "And when the Russians are asked to explain this seemingly indefensible conduct they reply with one stubborn question. The question with which we began. What then? What follows Assad?"
Indicating that the Russians should end their support for Assad, Mr Johnson said: "There are people meeting in London today who have direct experience of running Syria, but who utterly reject the Assad-style police state…
In pictures: Russian air strikes in Syria

Show all 19
"Their ambition is to ensure a safe space, free from terror, to which migrants can return."
Writing in the Daily Telegraph before he joined the Cabinet in March, Mr Johnson said the mission to build an opposition to Assad "has not worked, not so far".
He added: "If Putin's troops have helped winkle the maniacs [Isis] from Palmyra, then (it pains me to admit) that is very much to the credit of the Russians."
Meanwhile, after Mr Johnson's telephone chat with Mr Lavrov last month the Russian foreign ministry said: "Both sides expressed hope for a normalisation in Russian-British ties and underscored the desire to step up political dialogue."
But after the meeting between Mr Putin and Mrs May in China there was a cooling in tone. The Independent understand the Russian leader tested the ground for improvements in trade but was knocked back by Mrs May, with Syria being the key stumbling block.
Join our new commenting forum
Join thought-provoking conversations, follow other Independent readers and see their replies