Boris Johnson backs Jacob Rees-Mogg leaving notes on civil servants' desks
The minister for government efficiency has launched a crusade against civil servants working from home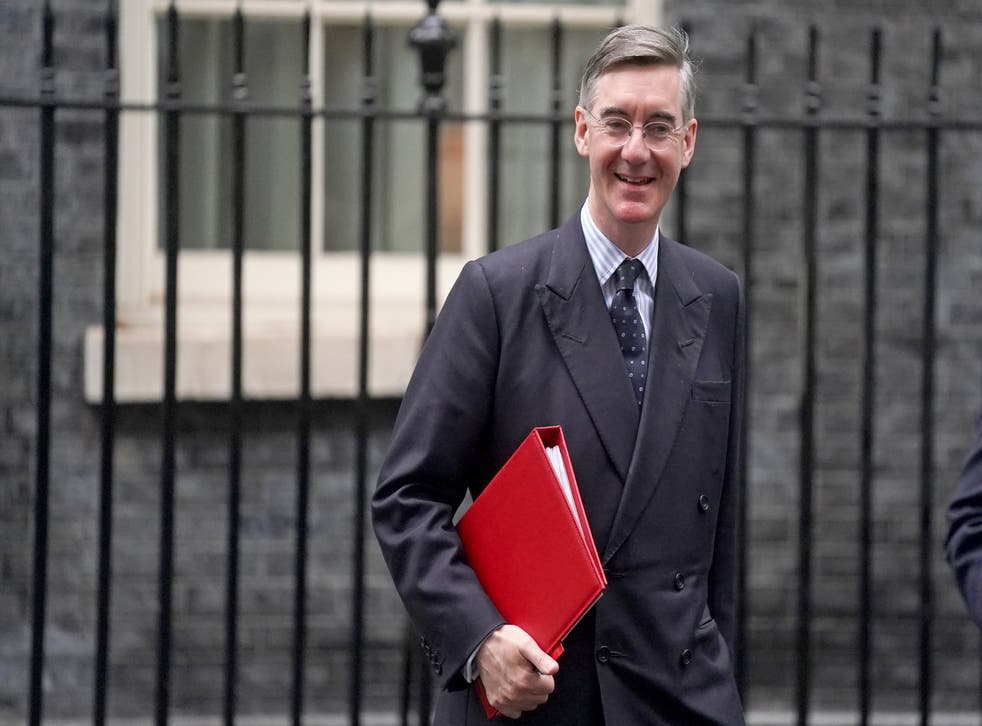 Boris Johnson has backed Jacob Rees-Mogg's policy of leaving ominous notes on the desks of civil servants who work from home.
The government efficiency minister was criticised by unions last week after it emerged he had left "crass" and "condescending" messages for officials who were not at their desks.
Mr Rees-Mogg, a staunch right-winger, has been carrying out spot checks of government buildings on Whitehall, apparently motivated by antipathy to remote working.
Downing Street on Monday said the prime minister supported Mr Rees-Mogg's approach.
"What the minister is seeking to achieve is to do everything possible to get the civil service to return to the pre-pandemic level," Boris Johnson's official spokesperson told reporters at a briefing in Westminster.
"That is what he is seeking to do. That is supported by the Cabinet Secretary and obviously the Prime Minister."
Asked whether the notes left by the minister were helpful, the spokesman said the prime minister "supports any initiative that encourages people to return to pre-pandemic working".
They added: "We are not talking about putting an end to flexible working, which continues to have a place in the modern workplace, we are talking about returning to pre-pandemic use of taxpayer-funded departmental buildings."
A picture emerged last week of a note left by Mr Rees-Mogg, which complete with official government crest reads: "Sorry you were out when I visited. I look forward to seeing you in the office very soon. With every good wish, Rt Hon Jacob Rees-Mogg MP."
Some right-wing newspapers have taken an editorial line against home working, arguing that commercial landlords must not lose out. The antipathy has been more recently taken up by some Tory MPs.
Yet despite Mr Rees-Mogg's personal crusade, actual governemnt departments have generally allowed civil servants to continue doing their jobs flexibly as long as productivity is not impacted.
Dave Penman, general secretary of the FDA union, which represents senior civil servants, said last week: "That a minister would think it appropriate to leave such crass, demeaning notes for civil servants is testament to just how disconnected Jacob Rees-Mogg is from the business of government.
UK news in pictures

Show all 50
"With every pronouncement and display like this, he demonstrates that he has no clue how the modern workplace operates and cares little about the effective delivery of vital public services.
"Instead, he's intent on virtue signalling to his political base, and is either oblivious to or simply doesn't care about the damage he's doing to the morale of civil servants and the reputation of the civil service as an employer.
"Ministers should care about what is being delivered by the civil service, not where someone sits at a particular point in the day.
"It's time Rees-Mogg's Cabinet colleagues stood up for the staff in their departments and ended the harmful culture war that's being waged on the very people tasked with delivering the Government's agenda."
Register for free to continue reading
Registration is a free and easy way to support our truly independent journalism
By registering, you will also enjoy limited access to Premium articles, exclusive newsletters, commenting, and virtual events with our leading journalists
Already have an account? sign in
Register for free to continue reading
Registration is a free and easy way to support our truly independent journalism
By registering, you will also enjoy limited access to Premium articles, exclusive newsletters, commenting, and virtual events with our leading journalists
Already have an account? sign in
Join our new commenting forum
Join thought-provoking conversations, follow other Independent readers and see their replies