Boris Johnson gives glimpse into the Government he wants after Brexit
Unions said Tory claim to be 'party of the NHS' would make staff and patients' blood boil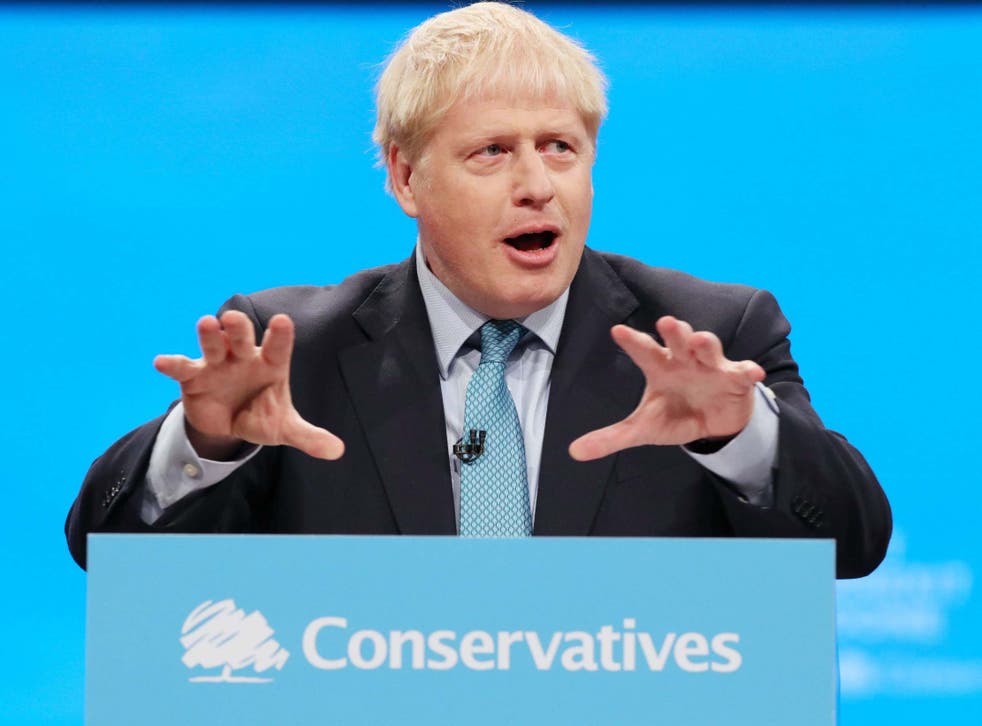 Boris Johnson gave a glimpse into the kind of Conservative government he wants to head after Brexit in a speech which was peppered with references to the party's centrist "one nation" tradition and included a bold attempt to claim the mantle of "the party of the NHS".
But unions said the health claim would "make staff and patients' blood boil" after a decade of Tory austerity.
And he won his loudest applause from the party faithful with a trenchant defence of capitalism and a promise of tax cuts to come.
In an assault on Labour's tax-and-spend approach to services and welfare, the prime minister insisted that it was "dynamic free-market capitalism" which would provide the growth to pay for new hospitals, transport links and broadband connections.
With an election certain within months and his party short of a majority in the Commons, Mr Johnson used the speech to allay voter fears that Brexit has dragged the Tories definitively to the right.
In an apparent sign of recognition that the party risks being dismissed as too extreme, the man seen as a liberal Tory during his time as London mayor ended his address with a promise to "get on with sensible, moderate, one-nation but tax-cutting Conservative government".
Boris Johnson and Brexit merchandise for sale at the Tory conference

Show all 10
Conservative strategists usually do all they to avoid health becoming an issue during an election period, on the grounds that any discussion of the NHS – even a positive Tory announcement – will push voters towards Labour.
But Mr Johnson put the NHS and its principles at the heart of his vision of a future Tory government, citing his mother's teaching about "the equal importance, the equal dignity, the equal worth of every human being".
"The NHS is holy to the people of this country because of the simple beauty of its principle that it doesn't matter who you are or where you come from … everybody pays to ensure that you have the best doctors and the best nurses and the most effective treatments known to medical science," he said.
And he was loudly applauded as he said: "We are the party of the NHS and I claim that title because it is our one-nation conservatism that has delivered and will deliver the economic growth that makes those investments possible."
However union leader Dave Prentis of Unison responded: "The claim that the Conservatives are now the party of the NHS is enough to make staff and patients' blood boil after a decade of damaging Tory austerity."
And shadow chancellor John McDonnell said: "The Conservatives have failed on Brexit, failed on the economy, failed on housing and failed on schools.
"How dare he offer more tax cuts to the rich and corporations, when just yesterday we heard that 726 homeless people died on our streets last year, and there are 4.5 million children living in poverty, with wages below the level that they were at the time of the 2008 economic crash?"
As well as promising 40 new hospitals over the next decade – only six of which are so far funded – Mr Johnson claimed that the Tories would "solve the problem of social care", in an apparent pledge to end the two year-plus wait for a government policy paper on the subject.
And he said he would address the concerns of disadvantaged towns around the country which voted Brexit because they felt "left behind and ignored" due to "a lack of love and investment".
Mr Johnson said a one-nation Tory government would not only back police use of stop-and-search and tough action on 'county lines' drug gangs, but would also invest in the youth clubs and further education colleges whose cutbacks during the austerity years have been blamed by many for the rise in violent crime.
Without committing himself to specific new policies, he said a Tory government led by him would invest in trains and buses and new houses.
And he claimed that Brexit would allow the government to offer business "bigger tax breaks for investment in capital", create free ports and enterprise zones and ban the shipment of live animals.
In stark contrast to the gloomy picture of the UK's post-Brexit economic prospects painted by most economists, Mr Johnson said his vision was of a country that is "open, outward-looking, global in mindset and insisting on free trade … a high-wage, low-tax, high-skill, high-productivity economy, with incomes rising fastest for those who are lowest paid".
He said he aimed to use better education, infrastructure and technology to "level up" the UK.
And – in an indication that he will resist pressure to move away from the equal rights and environmentalist agenda of the Cameron "modernisers" – he said he wanted a country where people can "love whomsoever you choose" and which would lead the world in reducing greenhouse gas emissions.
Join our new commenting forum
Join thought-provoking conversations, follow other Independent readers and see their replies