Boris Johnson dismisses Brexit 'hysteria' and compares to Princess Diana death reaction
Former London mayor says public cannot wait until September and the appointment of a new Prime Minister for reassurance on key points
Charlie Cooper
Whitehall Correspondent
Monday 04 July 2016 08:46 Comments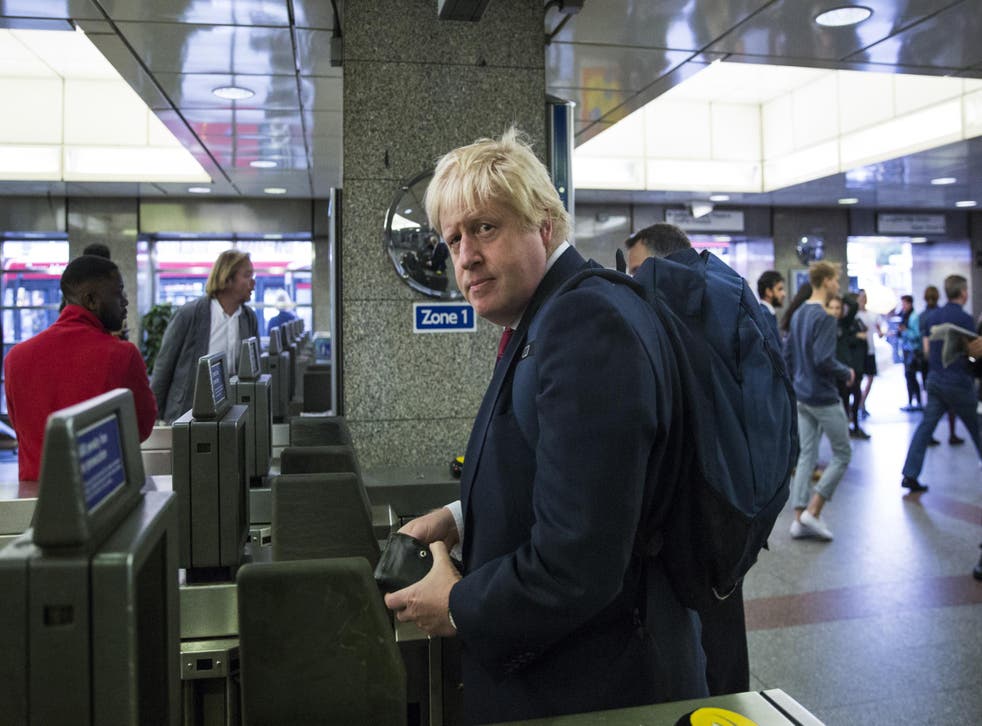 Boris Johnson has dismissed Remain voters' fears over the consequences of Brexit as "hysteria" and called on the Government to restore calm by ruling out deportations of EU citizens and setting out how Britain will flourish outside the bloc.
In his first major intervention since dropping out of the Conservative leadership race, Mr Johnson used his weekly Daily Telegraph column to say the public could not wait until September and the appointment of a new Prime Minister for reassurance on key points, including the likelihood of a free trade deal with the EU.
Meanwhile, Mr Johnson's former campaign manager, the Wyre and Preston North MP Ben Wallace, suggested Michael Gove could be unfit to be Prime Minister because of what he called "an emotional need to gossip, particularly when drink is taken".
Boris heckled leaving home
In an excoriating article, also published in the Daily Telegraph, Mr Wallace said Mr Gove, whose last-minute entry in the Tory leadership contest torpedoed Mr Johnson's chances, had given the Johnson campaign team no indication he was planning to run until moments before he declared.
The former London mayor's weekly newspaper column, for which he receives £266,000 a year, has become the main platform for his public statements since the Brexit vote.
Last week's column played a part in his downfall, spooking Conservative right-wingers by appearing to play down the importance of controlling immigration.
In this week's column, Mr Johnson said the Government needed to make a clear statement that Britain would be likely to achieve a free trade deal with the EU and other countries, adding that there should be no risk to the status of EU nationals now resident in the UK, after Tory leadership frontrunner Theresa May indicated that the their future status would be "a factor" in negotiations with the EU over Britain's new relationship with the bloc.
Mr Johnson said that Tory leadership candidates should seek to counter the claim that Brexit would be bad for the young.
The favourites in the Tory leadership race

Show all 5
"There is, among a section of the population, a kind of hysteria, a contagious mourning of the kind that I remember in 1997 after the death of the Princess of Wales," he writes.
"It is not about the EU, of course; or not solely. A great many of these protesters – like dear old [Bob] Geldof – are in a state of some confusion about the EU and what it does."
"When Geldof tells them that the older generation has 'stolen your future' by voting to Leave the EU, I am afraid there are too many who still believe it," he adds.
"It is time for this nonsense to end. It was wrong of the Government to offer the public a binary choice on the EU without being willing – in the event that people voted Leave – to explain how this can be made to work in the interests of the UK and Europe. We cannot wait until mid-September, and a new PM. We need a clear statement, now, of some basic truths."
In his own article, Mr Wallace said that Mr Gove's decision to run for the Tory leadership had come as a total shock to Mr Johnson's team, of which Mr Gove had, till then, been a key member.
"Michael hadn't said anything or hinted at any frustrations over the previous four days so I presumed it was just another story from the 'rumour mill' that accompanies leadership campaigns," he said, describing how he first heard the news from a journalist.
"I walked round the corner to see [campaign strategist] Lynton Crosby, ashen white, taking a call from someone who turned out to be Michael Gove. 'He has done the dirty on us, mate,' were the words I remember most afterwards. Boris was at his home rehearsing for his speech unaware that the press knew before him."
The Northern Ireland minister suggested that Mr Gove's propensity to leak information to the press could be a security risk if he became Prime Minister.
"When I was a government whip and Michael was the chief whip, the office leaked like a sieve," he writes. "Important policy and personnel details made their way to the papers. Michael seems to have an emotional need to gossip, particularly when drink is taken, as it all too often seemed to be."
He adds: "UK citizens deserve to know that when they go to sleep at night their secrets and their nation's secrets aren't shared in the newspaper column of the prime minister's wife the next day, or traded away with newspaper proprietors over fine wine."
Asked to comment, a spokesperson for Mr Gove's campaign said only: "We wish Ben Wallace well."
Register for free to continue reading
Registration is a free and easy way to support our truly independent journalism
By registering, you will also enjoy limited access to Premium articles, exclusive newsletters, commenting, and virtual events with our leading journalists
Already have an account? sign in
Join our new commenting forum
Join thought-provoking conversations, follow other Independent readers and see their replies