Boris Johnson says he will defenitely run for office at Swiss Economic Forum
Boris Johnson prepares UK for no-deal Brexit as he leads race to replace Theresa May
Prime minister announces she will leave by summer in tearful statement on doorstep of No 10
Boris Johnson has set the scene for a high-risk no-deal Brexit, as he kicked off the race to succeed Theresa May in explosive style.
Just hours after a tearful Ms May bowed to pressure from her own party and announced she will stand down as Conservative leader on 7 June, the former foreign secretary declared he would take the UK out of the EU on 31 October, whether or not a withdrawal agreement has been reached with Brussels.
Mr Johnson has been installed as hot favourite to take over as prime minister in July, with one member of his campaign team telling The Independent he was attracting support from MPs across the different wings of the party.
Mr Johnson did not hesitate to throw himself into the fray, telling an economic conference in Switzerland: "We will leave the EU on October 31, deal or no deal. The way to get a good deal is to prepare for a no deal."
But moderate Tories warned that a new leader taking power on a no-deal platform risked splitting the party, and former attorney general Dominic Grieve said it may not survive in its current form.
Theresa May gets emotional during her resignation

Show all 13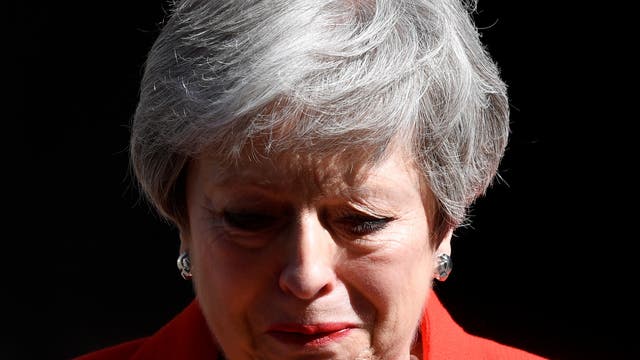 Foreign secretary Jeremy Hunt set himself up as Mr Johnson's heavyweight rival for No 10 by confirming he will stand, and there was a surprise declaration from 1922 Committee chair Sir Graham Brady, while hard Brexiteer Steve Baker said he was "taking soundings".
Also expected to throw their hats in the ring in the coming days were health secretary Matt Hancock, environment secretary Michael Gove and former Brexit secretary Dominic Raab, adding to a swollen line-up already featuring Andrea Leadsom, Esther McVey and Rory Stewart.
After months of phoney war, the contest was triggered in earnest by Ms May's emotionally-charged statement on the steps of 10 Downing Street. Watched by her husband Philip, the prime minister's voice broke as she set out plans to leave office before parliament breaks up for the summer in July.
Struggling to hold back her tears, Ms May, who is the 35th person to quit government over Brexit in 23 months, said that after three unsuccessful attempts to pass her Brexit deal, she now accepted it was "in the interests of the country" for a new PM to take over the process.
In an apparent warning to the party not to choose an intransigent no-dealer as her successor, she said the new leader would need to seek consensus and be willing to compromise to deliver a Brexit which protects jobs, security and the Union.
And her voice broke as she concluded: "Our politics may be under strain, but there is so much that is good about this country. So much to be proud of. So much to be optimistic about.
"I will shortly leave the job that it has been the honour of my life to hold – the second female prime minister but certainly not the last. I do so with no ill will, but with enormous and enduring gratitude to have had the opportunity to serve the country I love."
Theresa May's full speech as she announces her resignation
Speaking a day after European elections in which the Conservatives are believed to have slumped to their worst performance in their history, Ms May insisted the party "can renew itself in the years ahead".
She cited progress in reducing the deficit, rising jobs figures, the introduction of an industrial strategy, housebuilding, funding for mental health, the race disparity audit, and action to tackle plastic waste as the legacy of the "decent, moderate and patriotic" government which she led.
The manner of her departure was praised by those seeking to replace her, with Mr Johnson hailing her "stoical service to our country and the Conservative Party" and Mr Raab describing her as "a dedicated public servant, patriot and loyal Conservative".
But Labour leader Jeremy Corbyn said Ms May had shown herself unable to govern and her administration had "utterly failed the country". He challenged her successor to call an immediate general election.
Jeremy Corbyn talks about Theresa May's resignation and calls for a general election
US president Donald Trump, whose state visit to the UK Ms May will host in the final days of her premiership, said he "feels badly" for the departing PM but her decision was "for the good of her country".
Tory grandees announced that the process to find a replacement for Ms May would begin in the week after her resignation as leader, with MPs whittling the field down in a series of votes before the final decision is made in a ballot of 125,000 party members around the country.
Boris Johnson's vow not to seek a new Brexit extension beyond the Halloween deadline set at the April European Council summit leaves the would-be leader with a perilously tight timetable to negotiate an alternative to Ms May's rejected deal.
Defence minister Tobias Ellwood voiced unease: "If the Brexit experience to date has taught us anything, it's to avoid making promises and drawing red lines you may later regret or cannot honour."
And Mr Grieve warned that the election of a PM on a no-deal platform could cause the government to collapse. Warning against a shift to the hard Brexit right, he said: "People have to listen to one another about finding a way through this crisis or the party will not survive in its current form... Speaking personally, I believe that the party on such a foundation and base – particularly if it starts to cosy up to Farage – will find itself in huge difficulty and will not be able to win elections."
Former Tory minister Anna Soubry, who quit the party over Brexit to join Change UK, denounced the deal-or-no-deal pledge as "careerist, self-seeking and dangerous", and said the former London mayor was "not fit to be our prime minister". "If we are to get the prime minister we are crying out for, it is not Boris the clown on the zip wire," she said.
Veteran Tory backbencher Sir Roger Gale said Ms May's removal "solves absolutely nothing – the same problems exist and will continue to exist".
Sir Roger cast doubt on Mr Johnson's following among MPs and questioned whether he would make it through to the final ballot, telling The Independent: "Even if he wins, it will be an interesting question whether or not he can form a government, because there are people I know who would not be willing to serve under a Johnson leadership. I would be surprised if there weren't more than a dozen."
Prominent Brexiteer Anne-Marie Trevelyan, who is working on Mr Johnson's campaign, said he was winning support from MPs from all wings who recognise him as the only candidate with the potential to bring together the party and the country.
"Many colleagues who a few months ago might have been saying 'Boris is such a Brexiteer' are now saying he's the one with the magic stardust that wins elections," she told The Independent. "These people come along every so often and he is one of them."
Join our new commenting forum
Join thought-provoking conversations, follow other Independent readers and see their replies