Boris Johnson should be in prison over Brexit referendum claims, says David Davis' former chief of staff
'Let's be honest, if we had an effective electoral law leading Brexiteers would now be in jail'
Chris Baynes
Thursday 10 August 2017 09:51 Comments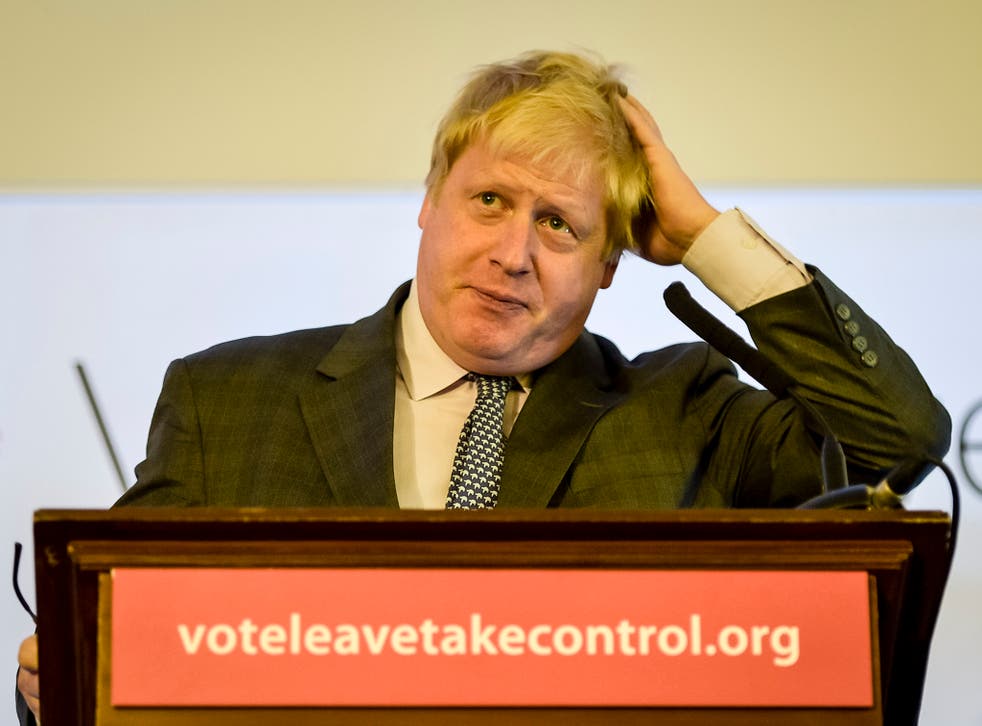 Boris Johnson should be jailed over claims made before the EU referendum, Brexit Secretary Davis Davis' former chief of staff has suggested.
James Chapman, who quit the role in June, said "leading Brexiteers" would be behind bars over campaign mistruths "if we had effective electoral law".
Referring to Foreign Secretary Mr Johnson by name, he cited Vote Leave's claim that the UK leaving the EU would free up an extra £350m for the NHS.
Mr Chapman, former political editor of the Daily Mail and spin doctor for George Osborne, delivered an ominous forecast on Brexit in a series of tweets this week.
First he described quitting the EU as a "catastrophe" and called for "sensible MPs" to form a new party to reverse to result of the referendum".
He then took aim at Mr Johnson, saying: "Let's be honest, if we had an effective electoral law leading Brexiteers would now be in jail #wheresmy350maweekboris."
His comments on Twitter provoked responses from politicians on both sides of the Brexit divide.
Labour MP Wes Streeting said they were a "striking warning from a notable source", while Liberal Democrats leader Vince Cable wrote: "I agree with David Davis' ex chief of staff. The public should have a chance to exit from Brexit."
Former Ukip leader Nigel Farage asked which side Mr Chapman had been "really working for in the Brexit department".
The former journalist, who now works for a public relations firm, responded: "Not yours. We are going to grind you and your appalling party into the dust. How's the German citizenship application going?"
Mr Chapman worked as Mr Osborne's director of communications as the ex-Chancellor campaigned to keep Britain in the EU.
In a bizarre twist he then became top aide to Mr Davis last summer, taking up a key role in the Whitehall department responsible for overseeing Brexit.
Shortly after leaving his role at the Department for Exiting the European Union ahead of the general election, Mr Chapman said his former boss Mr Davis had been "hamstrung" by Theresa May's red-line on ending the jurisdiction of the European Court of Justice.
He addressed several of his posts this week to ministers, highlighting the difficulties of the UK leaving the EU and hinting at discontent among senior Conservative MPs.
He tweeted Business Secretary Greg Clark: "I know you don't agree with this nonsense, but can you confirm it'll take 7 years to implement alternative Euratom regime?"
He also asked Karen Bradley, the Culture Secretary, whether she could "confirm all US broadcasters are moving out of London because of the PM's deranged hard Brexit" and asked Health Secretary Jeremy Hunt how "millions of UK tourists will maintain [the] right to emergency healthcare".
Register for free to continue reading
Registration is a free and easy way to support our truly independent journalism
By registering, you will also enjoy limited access to Premium articles, exclusive newsletters, commenting, and virtual events with our leading journalists
Already have an account? sign in
Join our new commenting forum
Join thought-provoking conversations, follow other Independent readers and see their replies