Boris Johnson faces calls to be sacked after 'breaking Ministerial Code' with hard Brexit event
Exclusive: Foreign Secretary accused of using government resources to host party political events
Benjamin Kentish
Friday 29 September 2017 09:52 Comments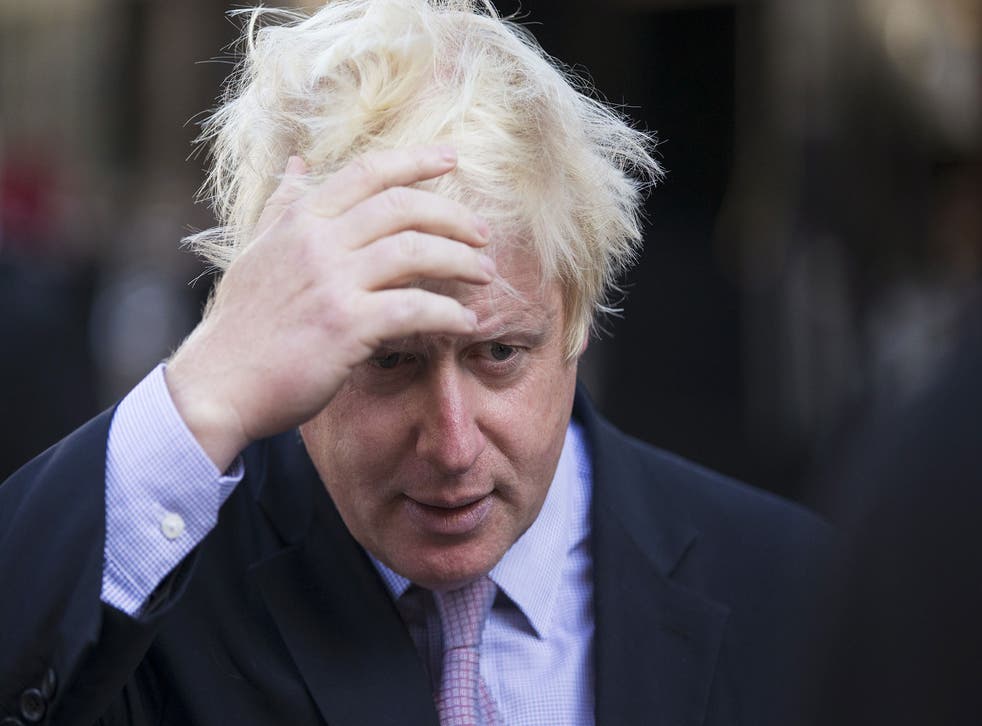 Boris Johnson is facing calls to be sacked over allegations he abused his position by using government resources to host a hard Brexit event at the Foreign Office.
The Foreign Secretary is accused of breaching the Ministerial Code by arranging a launch event on government property for the Institute for Free Trade – a new eurosceptic think tank being led by Conservative MEP Daniel Hannan.
Mr Hannan was a prominent figure in the Vote Leave campaign. He has previously called the NHS a "mistake" and said the minimum wage should be scrapped.
Emily Thornberry rips into Boris Johnson with Brexit joke
The event was held in the Map Room of the Foreign and Commonwealth Office, which, as state property, is supposed to be used only for ministers' official duties. Mr Johnson and Liam Fox, the International Trade Secretary, both spoke at the launch.
The Institute for Free Trade wants to roll back EU regulations, including on safety standards and workers' rights, and unilaterally scrap all import tariffs, even if other countries do not reciprocate. It also believes that foreign aid should be slashed and supports allowing chlorine-washed chicken and hormone-injected beef to be sold in the UK.
Several elements of its agenda contradict official Government policy.
In a move likely to pile pressure on the beleaguered Foreign Secretary, Labour and Liberal Democrat MPs have written to Theresa May and Jeremy Heywood, the Cabinet Secretary, demanding an official investigation into whether Mr Johnson and Mr Fox broke the Ministerial Code.
The code states: "Ministers are provided with facilities at Government expense to enable them to carry out their official duties. These facilities should not generally be used for Party or constituency activities.
"Government property should not generally be used for constituency work or party political activities."
In a letter to Sir Jeremy seen by The Independent, Labour MP and former Shadow Business Secretary Chuka Umunna wrote: "I believe that launching think-tanks, especially a think-tank that is at variance with publicly stated Government policy, does not count as an official duty.
"Given the involvement of Mr Hannan in particular, who is a serving Conservative Party politician with no role at all in Her Majesty's Government, it seems that this event should count as party political activity."
He added: "In your capacity as the watchdog of the British Constitution and the ethical conduct of ministers and officials, I understand you have a duty to investigate this matter for any breach of the Ministerial Code by the Foreign Secretary and the Secretary of State for International Trade."
UK news in pictures

Show all 50
Labour MPs Ben Bradshaw, Chris Bryant and Stephen Doughty also signed the letter.
In a separate letter to Mr Johnson, Mr Umunna said it was "extremely hard to see how launching partisan think-tanks counts as one of your official duties" and demanded the Foreign Secretary answer a series of questions about the extent to which Government resources were used to host the event.
Mr Umunna, who is a supporter of the Open Britain campaign against a hard Brexit, told Mr Johnson: "I know that you have become accustomed to the freedom you have been accorded in the past as a newspaper columnist. But you are now the Foreign Secretary.
"You are not a polemicist free to act as you like, but a senior member of the Government. That important role brings with it certain obligations and responsibilities.
"You give the impression of having fallen short of the high standards that are rightly expected of Cabinet ministers. "
The potential involvement of civil servants and special advisers in organising the event could be a further breach of the rules, he added.
Separately, Liberal Democrat MP Tom Brake has written to Theresa May alleging that Mr Johnson may have broken the Ministerial Code on three separate fronts.
He accused the Foreign Secretary of breaching cabinet collective responsibility, having a conflict of interest by promoting a hard Brexit and allegedly campaigning to be Tory leader, and writing a newspaper article that criticised Government policy.
Mr Brake claimed Mr Johnson had also broken the sixth principle of the Seven Principles of Public Life, which relates to being honest, over his claim that £350m per week will be available for investment in the NHS after Brexit.
Mr Brake said: "It is time the Prime Minister called time on Johnson's antics and gave him the sack.
"He has repeatedly been dishonest to the British public, and has flouted both the spirit and the letter of the Ministerial Code, time and again.
"It is an affront to the office of Foreign Secretary for the role to be used as little more than a platform for the office holder's leadership ambitions. And it is an insult to the British people for their foreign secretary to be peddling mistruths to them on the biggest foreign policy issue of the day, Brexit."
The row comes a week after Mr Johnson was criticised by the UK's statistics chief for "misusing" statistics.
Sir David Norgrove, head of the UK Statistics Authority, said he was "surprised and disappointed" that the Foreign Secretary had repeated the £350m figure, which has been debunked by experts.
A Government spokesperson said: "The Cabinet Secretary has received a letter of complaint and he will reply in due course."
The Foreign Office and Department for International Trade have been contacted for comment.
Register for free to continue reading
Registration is a free and easy way to support our truly independent journalism
By registering, you will also enjoy limited access to Premium articles, exclusive newsletters, commenting, and virtual events with our leading journalists
Already have an account? sign in
Join our new commenting forum
Join thought-provoking conversations, follow other Independent readers and see their replies