Boris Johnson calls for 'Dignitas-style euthanasia plan' to cut size of House of Lords
Mayor of London says the number of peers in the upper chamber has got 'completely out of control' and urges 'radical' reform
Matt Dathan
Tuesday 01 September 2015 13:26 Comments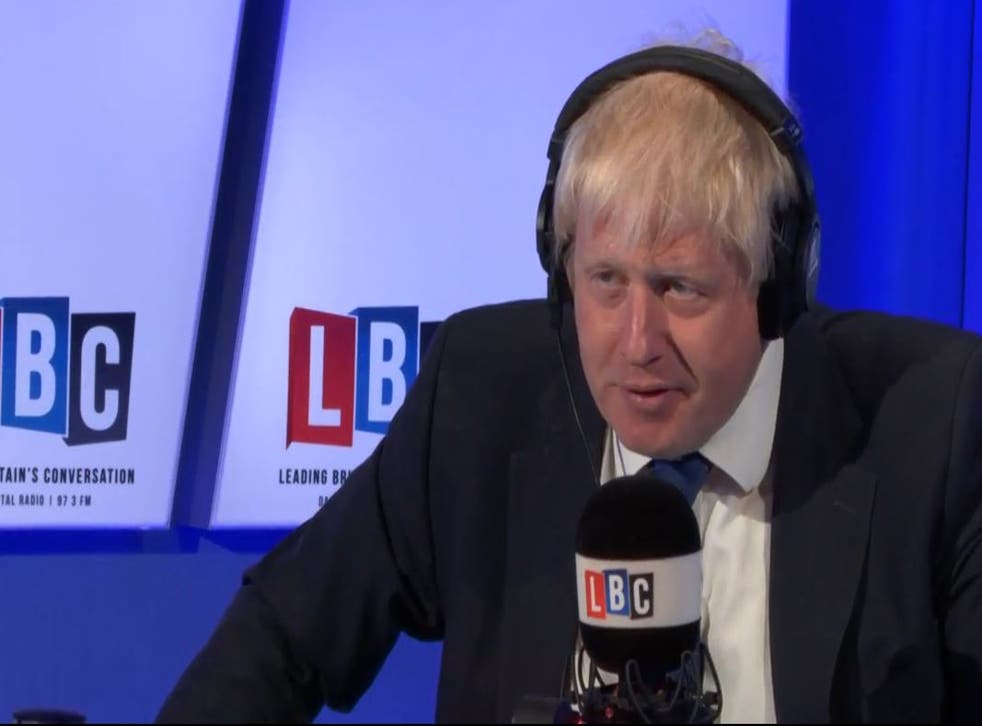 Boris Johnson has called for a "Dignitas approach" to reducing the number of peers in the House of Lords, condemning the "completely out of control" size of the upper chamber.
But he refused to say whether he himself would turn down a seat in the Lords and defended David Cameron over his decision to stack the House with 45 new peers last week.
Speaking to LBC listeners during his monthly phone-in, Mr Johnson said a "radical" solution was needed to reduce the size and subsequent cost, before suggesting a "voluntary euthanasia plan" could be pursued whereby the elder members of the institution stand down on their own volition.
The Mayor of London, describing peers as "geezers" who "take the money and they don't do much," said he would like to see the number of legislators in the Lords more than halved to around 400.
The Prime Minister was widely criticised last week after he approved a further 45 peers to be sent to the Lords in the dissolution honours list. More than half of the new intake he appointed are Conservative peers - a move designed to balance the political make-up of the House after years of Labour-bias.
Asked for his opinion on the over-populated House of Lords, which has now swelled to more than 800, Mr Johnson said: "I think the whole thing has got completely out of control...something radical needs to happen there... in the sense of pruning.
"I think they had a voluntary euthanasia plan or voluntary exit plan - a Dignitas approach to the Lords. You were told that you could step down. Some have exercised that option
"There are a great many of these geezers who don't actually do anything very much at all. They take the money and they don't do much.
"It seems to me that we should make them an offer they can't refuse. If they don't turn up and are not really interested - if they are just interested in the glory of being in the House of Lords - then I say 'stuff that'. That's absolutely absurd.
"We probably need about 400 legislators to scrutinise bills, to amend, to improve them. We don't need all these people."
However, defending Mr Cameron's decision to appoint another 45 peers, The Mayor of London said: "One of the political difficulties that Dave faces is clearly that in the House of Lords, after a long period of Labour rule, I think there is quite a big anti-Tory majority.
"It's itself absurd and the Government has got to get its business through, it would be completely undemocratic if the unelected House of Lords could block it and I think it's the only option the Prime Minister has; I think in the current circumstances he's doing the only thing he can really do and I completely defend and support him on that. But this thing needs reform."
Quizzed by a listener as to whether he would accept a peerage himself, Mr Johnson replied: "I certainly don't think it would be right to sit in the House of Lords as it is currently constituted."
What does five more years of the Tories mean for Britain?

Show all 8
Register for free to continue reading
Registration is a free and easy way to support our truly independent journalism
By registering, you will also enjoy limited access to Premium articles, exclusive newsletters, commenting, and virtual events with our leading journalists
Already have an account? sign in
Join our new commenting forum
Join thought-provoking conversations, follow other Independent readers and see their replies