Boris Johnson backs EU exit: London mayor announces Brexit support
Speaking outside his home, the London Mayor says the 'political project' of Europe is out of control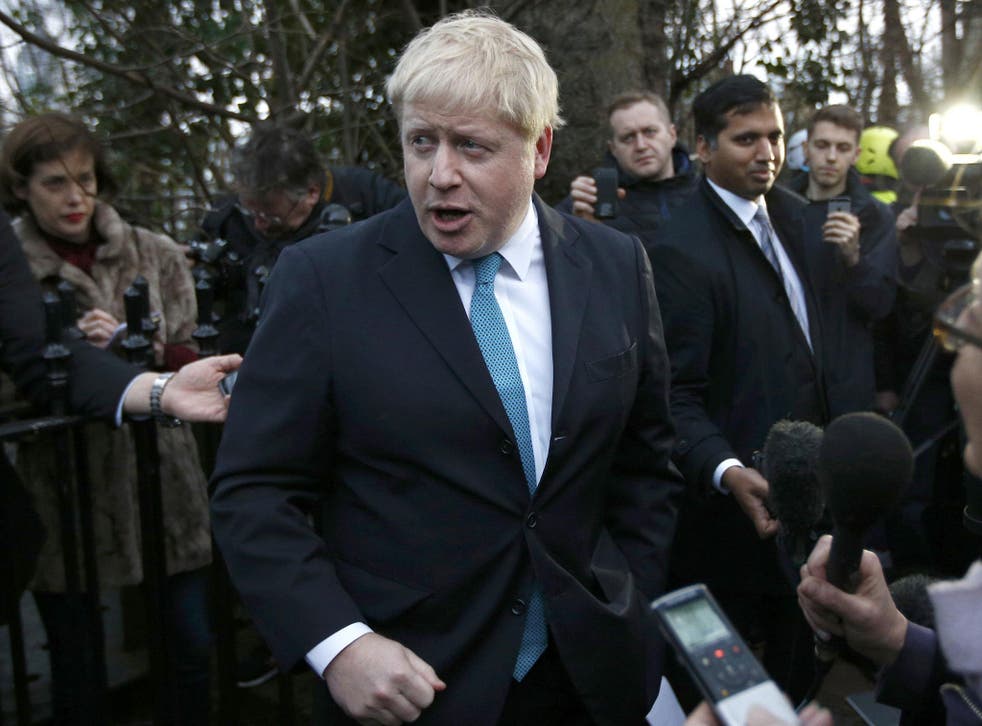 Boris Johnson has gambled his long-standing ambition to become Britain's next Prime Minister on winning the referendum to pull the country out of the European Union as he became the most significant Tory to come out in favour of Brexit.
In a statement Mr Johnson said that after a "huge amount of heartache" he had made the "agonisingly difficult" decision to go against David Cameron and "advocate Vote Leave".
But significantly he suggested that a no vote might not necessarily result in the UK pulling out of the EU altogether instead, creating a "new relationship based upon trade and cooperation".
Speaking outside his home, Mr Johnson said the EU was "a political project that has been going on for decades, and is now in real danger of getting out of proper democratic control".
Mr Johnson said he couldn't "pass up the only chance any of us have in our lifetimes to put an alternative point of view".
He asked: "Is it better for Britain to remain in Europe as it currently is, or is there a way that we could actually get a better deal that did more for Britain, and restored some control to the people in this country?"
Congratulating David Cameron on doing "fantastically well" in the time he had to negotiate a new deal with Brussels, Mr Johnson addressed comments the Prime Minister made earlier by saying he would not be standing on a podium with "the likes of" George Galloway or Nigel Farage or speaking against members of his own party in TV debates.
His decision nonetheless makes him the natural leader of the leave campaign, and the natural front-runner to become Prime Minister should the country vote "out" in June's referendum.
While David Cameron has insisted he would stay on whatever the result most senior Conservatives believe he would have no choice but to resign immediately if there is a 'leave' vote.
That would place Mr Johnson in poll position to succeed him in a vote of Tory MPs and activists.
However, should the country back the Prime Minister and vote to stay Mr Johnson will be associated with the failed campaign – damaging his reputation as an electoral asset to the Tories.
He can also expect few favours from Mr Cameron who is said to be "furious" both at Mr Johnson's decision and the manner in which he has strung it out.
"I can't understand why Boris, as leader of the great financial capital, won't support the city," he is said to have aides.
One minister said: "I think Boris has done himself quite a lot of damage. He's been all over the place. Saying to people in the Commons, 'I'm not an outer,' but flirting with Brexit. People are left thinking that it's not a point of principle."
Sir Nicholas Soames, the former defence minister who is a Cameron loyalist, highlighted the Tory leadership's suspicions about Johnson when he tweeted: "Whatever my great friend Boris decides to do I know that he is NOT an outer."
The London Mayor denied his decision had anything to do with his ambition and said he had agonised about going against the Prime Minister, whom he informed of his decision in an email on Saturday.
"The last thing I wanted was to go against David Cameron or the Government but after a great deal of heartache I don't think there is anything else I can do," he said.
"I will be advocating Vote Leave ... because I want a better deal for the people of this country to save them money and to take back control."
He claimed he had told Mr Cameron that he wanted him to stay as Prime Minister even if there was a vote to leave. However, many believe that Mr Johnson would ideally like to take over as Prime Minister and then attempt to renegotiate a new deal with the EU on the basis of the Out vote. Other European leaders have already dismissed this idea.
Many believe Mr Johnson has calculated that he would have had little chance of winning the Tory leadership over George Osborne or Theresa May if he had decided to join the In campaign.
Instead he is gambling that his popularity will help sway voters to 'leave' cause and reassure them that Britain can thrive outside the European Union.
A source in the "remain" campaign was scathing about Mr Johnson's announcement. "This is the most nakedly self-serving piece of political positioning in years," they said. "Everybody in Westminster knows that Boris doesn't really believe in Out. He's putting his personal ambition before the national interest.
Mr Johnson's declaration also drew a scathing response from the former Conservative Deputy Prime Minister Lord Heseltine, who branded it "illogical". "If it takes you this long to make up your mind about something so fundamental and you still have questions, then surely the right option is to stay with what you know rather than risk our economy and security with a leap in the dark," he said.
What has the EU ever done for us?

Show all 7
His would-be successor as Mayor of London, the Tory candidate Zac Goldsmith, has also confirmed he will vote to leave the EU.
Mr Johnson laid out his reasons for backing Brexit in an article for The Daily Telegraph, for which he works as £274,000-a-year columnist on top of his job as Mayor of London. In it, he said federalism had been born "of the highest motives" and added: "They [federalists] just have a different view of the way Europe should be constructed."
Friends said he had been genuinely conflicted about the right thing to do and denied that leadership calculations played a part in his decision.
"He genuinely thinks Britain should not turn its back on Europe at a time like this. He feels that very deeply, but he genuinely thinks the deal is pretty hopeless, that Cameron should have asked for more and that what they have come up with on sovereignty doesn't do what he wants it to do."
Mr Johnson is said to have told one person he met recently: "I'm veering all over the place like a shopping trolley."
EU referendum timeline - What happens if Britain gets the deal
Earlier in the day Mr Cameron issued a last-ditch appeal to Boris Johnson not to join the campaign for Britain to leave the European Union.
"I would say to Boris what I say to everybody else, which is that we will be safer, we will be stronger, we will be better off inside the EU," the Prime Minister told BBC1's The Andrew Marr Show.
"I think the prospect of linking arms with Nigel Farage and George Galloway and taking a leap into the dark is the wrong step for our country.
"If Boris and if others really care about being able to get things done in our world, then the EU is one of the ways in which we get them done."
Labour's shadow foreign secretary Hilary Benn said that declaring for the out side could backfire on Mr Johnson.
"I'm surprised really because Boris Johnson in the past has written a lot about the importance of staying in the European Union and if he is actually thinking about putting his personal leadership ambitions above the national interest I don't think it's going to do him any good," he told Sky News's Murnaghan programme.
Join our new commenting forum
Join thought-provoking conversations, follow other Independent readers and see their replies