Coronavirus: Boris Johnson encourages people to get tested before meeting with elderly relatives at Christmas
Community testing boss says it will be 'January or beyond' before programme rolled out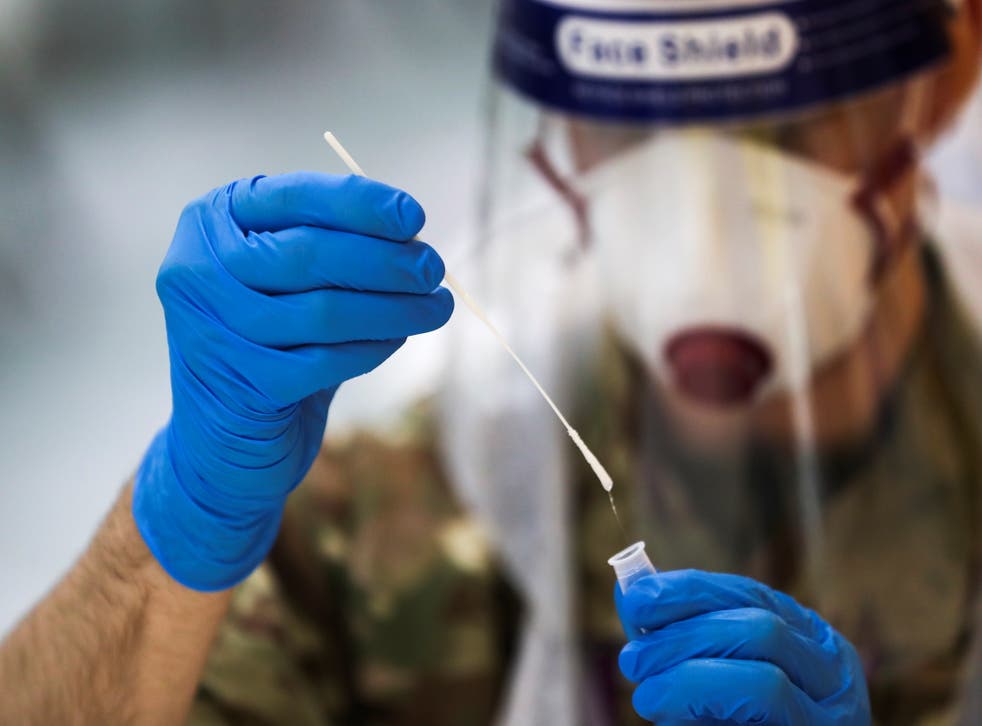 Boris Johnson has encouraged people planning to celebrate Christmas with elderly relatives to get a coronavirus test over the coming weeks, despite the fact that testing is not available for people without symptoms in much of the country.
The prime minister was speaking as the government set out plans to extend community testing to all local authorities under the tightest level of Covid-19 restrictions, using "lateral flow" kits to identify asymptomatic carriers of the virus.
Tier 3 councils were invited to draw up proposals for the implementation of six-week programmes of Liverpool-style mass-testing in their areas.
But the programme's head of operations, General Sir Gordon Messenger, warned earlier this week that it would take until "January and beyond" before the scheme was fully rolled out. Gen Messenger warned that the armed forces do not have the capacity to deliver mass testing across the country, as they have in Liverpool.
During the House of Commons debate on the Government's new controls for England, Mr Johnson was asked by Liberal Democrat leader Sir Ed Davey whether tests would be available to anyone visiting family members over Christmas.
The PM responded: "It is open for people to get a lateral flow test.
"In general, the testing system is available at the moment for people who have symptoms.
"But I would urge people who are worried that they may need to be in the company of those who are elderly or vulnerable to seek to get a rapid turnaround test."
Community testing of 200,000 people in Liverpool and Merthyr Tydfil has included asymptomatic people, while students without symptoms have also been offered tests before travelling home for Christmas and smaller numbers of lateral flow kits have been provided to 67 areas with high incidence of the disease.
But in other parts of the country, free NHS tests are available only for those showing symptoms of coronavirus, asked to get tested by doctors or taking part in a pilot scheme.
There were concerns when schools reopened in September that the testing system risked being overwhelmed by a surge of parents checking that their children had not picked up the virus from classmates.
Speaking at a 10 Downing Street press conference on Monday, Gen Messenger stressed that it would take time for community testing to be rolled out in tier 3 areas, which include Greater Manchester, the northeast, Humberside, South and West Yorkshire, the West and East Midlands, Lancashire, Kent, Slough, Bristol and parts of Gloucestershire and Somerset.
The nature of the scheme would vary "from region to region and from area to area" depending on local readiness, he said.
"We are alive to the possibility that we will not be able to do this all at once, but we assess that local authorities are at varying levels of preparedness and readiness to do this," said Gen Messenger.
"And therefore I can see this as an offer that will sequence over time and into January and beyond."
Decisions on which areas to prioritise would be based on infection rates and at how long they had been under tougher restrictions as well has how mature their plans for delivering the tests were.
Launching the community testing plans today, health secretary Matt Hancock said it was "incredibly important to be testing those who could be infecting others unknowingly".
He said: "I know people in the top tiers are facing a particularly difficult time, which is why we are supporting them with mass community testing to provide a route towards lowering the level of restrictions they face.
"We are committed to working with local areas to make this work for their communities and I encourage all those living in areas where community testing is offered to come forward and get tested."
Applications for testing programmes will be carefully assessed at both a local and national level and signed off by the Chief Medical Officer to ensure they are appropriate and safe and learning can be shared across the country, he said.
Join our new commenting forum
Join thought-provoking conversations, follow other Independent readers and see their replies