Senior Tory accuses government of 'ripping out' goalposts on Covid restrictions
'It is just not acceptable behaviour,' says vice-chair of 1922 Committee of Tory backbenchers
Ashley Cowburn
Political Correspondent
Wednesday 10 February 2021 15:43 Comments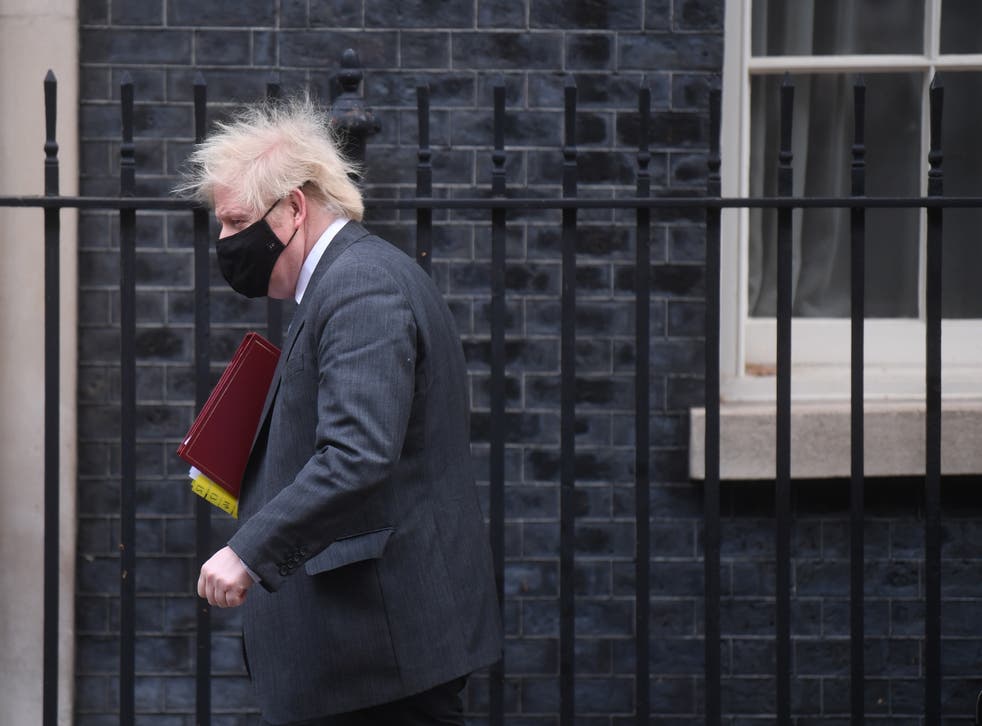 Boris Johnson has been urged to "get a grip" of his cabinet ministers as a senior Conservative MP accused them of "ripping out" the goalposts on the timetable for easing coronavirus restrictions.
Expressing frustration at recent announcements regarding travel, the vice-chair of the 1922 Committee of Tory backbenchers Sir Charles Walker accused both Matt Hancock and Grant Shapps of unacceptable behaviour.
His comments came after the health secretary unveiled new punishments for those who conceal the fact they have been to a high-risk country when re-entering the UK, including a maximum 10-year prison sentence.
Grant Shapps also told the public it was "too soon" to book either domestic or overseas holidays, saying it was not clear whether travel would included in the prime minister's "roadmap" to easing restrictions on 22 February.
The transport secretary stressed easing measures for those wishing to travel abroad would depend on both the success of the UK's vaccination programme, but also "the vaccination programme internationally because people will be going outside of our borders".
Lashing out at the comments, Sir Charles, who has been critical of lockdown policies, told the BBC's World at One programme he was "very disappointed" adding: "The prime minister seems to have had a good few weeks where he seems to have been on top of things and then he is somewhat let down by both the secretary of state for health and the secretary of state for transport.
"First of all, the secretary of state for health threatening to lock people up for 10 years if they are not truthful about where they have been for example coming back from Portugal. That's not a good thing to do to, to be honest — 10 years for crying out loud.
"Then we have the secretary of state for transport urging people not even to book domestic holidays. Now there's a lot of people who will have seen a lot of hope evaporate at that — mostly those who have deposits paid so they can continue to make a living and ensure their businesses remain viable until the holiday season starts. So, two really depressing interventions from two senior secretaries of state."
Pressed on whether the comments on travel were a suggestion that the "goalposts were moving", Sir Charles replied: "They've not so much moved as been ripped out and carried off to another playing field.
"It is just not acceptable behaviour. This is becoming an extended exercise in almost studied and deliberate cruelty for a nation now that is increasingly anxious and under pressure.
"People need to see their children, they need to see their parents, they need to see the people that they love, they need to have something to look forward too and we are conducting a massive experiment in creating high levels of anxiety in a population."
"If the government is going to set out its route map on 22 February why on earth are we getting interventions like the one we've just had from the secretary of state for transport about booking holidays. 
Earlier, Mr Johnson reiterated the lockdown will be reviewed on the 15 February, as he told MPs the government would reveal its "roadmap" for the route out if it — including the way forward for schools — in the week of 22 February.
"We have got to make sure we keep this virus under control," he told the Commons during prime minister's questions. "It is coming down, but we cannot take our foot of its throat."
During a briefing, the prime minister's official spokesperson was also pressed on whether summer holidays in Britain or abroad would be possible this year. "We will publish our plan for reopening the economy and society during the week of 22 February," they said.
"That will allow us to set out in a bit more detail the easements we are looking to allow for."
Questioned on whether families should hold back from booking holidays in the UK, the spokesman said: "That is a choice for individuals. Of course it remains our hope and our belief that the vaccination programme will allow for greater easements."
Register for free to continue reading
Registration is a free and easy way to support our truly independent journalism
By registering, you will also enjoy limited access to Premium articles, exclusive newsletters, commenting, and virtual events with our leading journalists
Already have an account? sign in
Join our new commenting forum
Join thought-provoking conversations, follow other Independent readers and see their replies