Labour accuses Boris Johnson of 'tin pot dictatorship' behaviour over alleged secret donation plan
Former Tory legal chief says PM is 'vacuum of integrity' running No.10 'lie machine'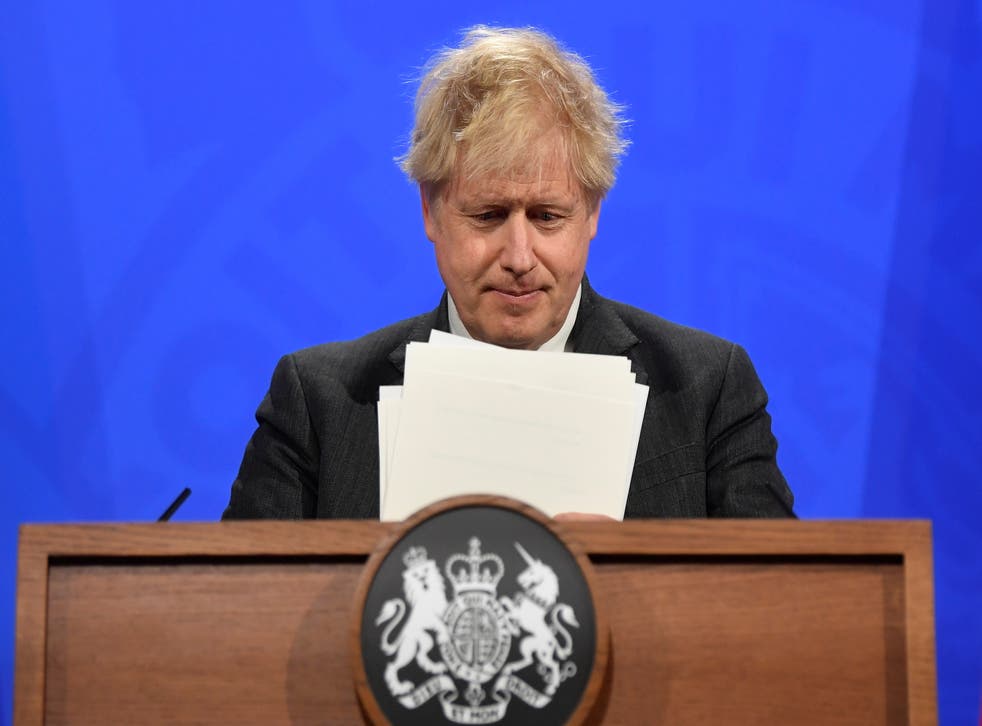 Labour has accused Boris Johnson of behaving like the head of a "tin pot dictatorship" amid allegations that he was planning to solicit secret donations to refurbish his flat in Downing Street.
Shadow communities minster Steve Reed said on Saturday morning that the government should publish any correspondence relating to payments or donations about the refurbishment.
The opposition says this will help determine whether any favours were done for donors who put up cash.
It comes after former top government aide Dominic Cummings claimed the prime minister had a "possibly illegal" plan to fund a renovation of his home using secret donations from big money backers.
Describing the approach as "unethical" and "foolish" Mr Cummings said he refused to help Mr Johnson organise the payments. Leaked emails released earlier this year appear to show Tory donors had put money up for the project.
Mr Johnson denies this version of events and also denies any wrongdoing.
It comes amid claims of cronyism and corruption in the government after a spate of revelations that contracts related to Covid-19 have gone to people with links to the prime minister or Conservative party.
Former Tory attorney general Dominic Grieve took to the airwaves on Saturday morning to accuse Mr Johnson of having turned the Downing Street media operation into a "lie machine".
He accused the prime minister of being a "vacuum of integrity" at the head of a "cronyistic cabal" for "self-enrichment".
"There's been a constant wriggling about the source of the money for this refurbishment and that's just one illustration of the chaos that Mr Johnson seems to bring in his wake.
"And the reason for that is because he is a vacuum of integrity, and this has been apparent for a very long time: apparent to my colleagues who I regret to say elected him or caused him to be elected as leader of the Conservative Party.
"And if you have somebody who's a vacuum of integrity, you're going to get this sort of story coming up over and over again. And some people may say it doesn't matter, but I think in the context of trying to ensure good governance and people's faith in democratic institutions, it's really an extraordinary way to conduct oneself."
Mr Grieve added: "I have no particular respect for Mr Cummings: both Mr Cummings and Mr Johnson smeared me in September 2019 when they turned the number 10 Press Office into a sort of lie machine."
"I was a member of the Conservative Party for over 44 years I think. And I look at the political party which seems to me to be spiralling into something significantly different in terms of its integrity from anything I can ever remember."
Opposition shadow minister Mr Reed told the same programme: "We are calling for the Government to publish any correspondence relating to payments or donations around the refurbishment.
UK news in pictures

Show all 50
"We need to know the full amount that was spent and we need to know who paid for the work in the first place who the Prime Minister now proposes to reimburse."
The shadow minister added: "If people are making significant donations to the Conservative Party, to the Government, we need to know who they are so that we can make sure the Government isn't doing favours for them in return.
"That is what sleaze is all about. That is the behaviour of a tin pot dictatorship. Britain, frankly, deserves a lot better than that."
Register for free to continue reading
Registration is a free and easy way to support our truly independent journalism
By registering, you will also enjoy limited access to Premium articles, exclusive newsletters, commenting, and virtual events with our leading journalists
Already have an account? sign in
Register for free to continue reading
Registration is a free and easy way to support our truly independent journalism
By registering, you will also enjoy limited access to Premium articles, exclusive newsletters, commenting, and virtual events with our leading journalists
Already have an account? sign in
Join our new commenting forum
Join thought-provoking conversations, follow other Independent readers and see their replies