Boris Johnson made Foreign Secretary to give Theresa May 'someone to blame' in Brexit talks, says Yvette Cooper
Former Labour Cabinet minister claims former London Mayor has been set up as a scapegoat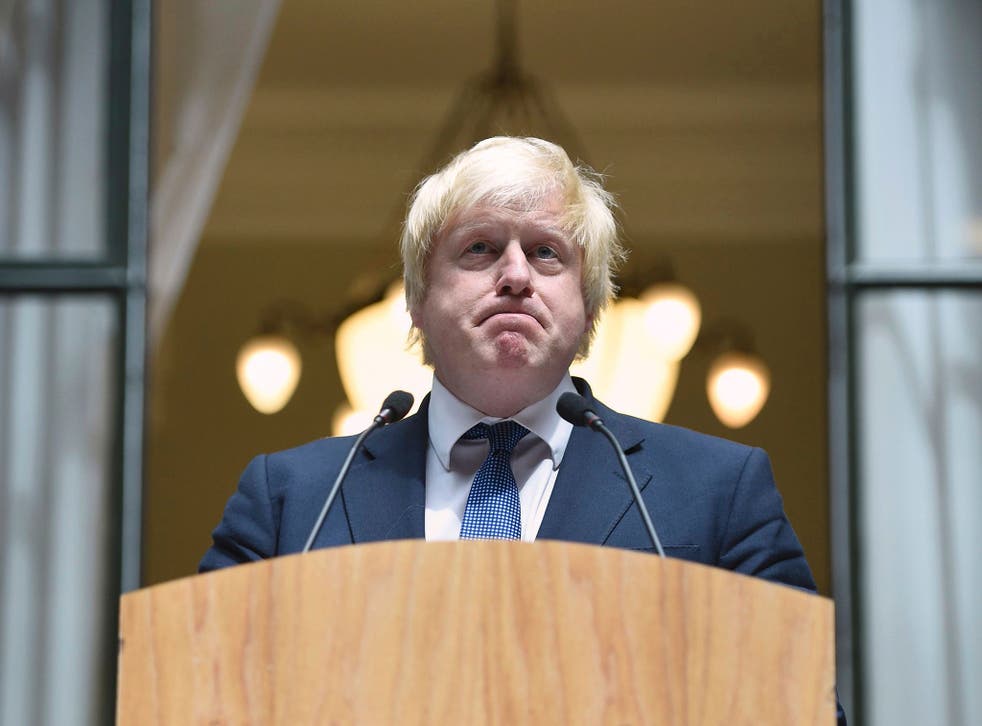 Yvette Cooper, the former Labour Cabinet minister, has suggested that Boris Johnson has been sent to the Foreign Office so that Theresa May will have "someone to blame" if the Brexit negotiations hit the rocks.
That is one explanation for the new Prime Minister's decision to hand this sensitive job to such an unsafe choice.
Of Johnson's many indiscretions, the worst arguably, was deliberate and gratuitous. When The Spectator ran a competition inviting readers to write poems insulting Turkey's President Recip Erdogan, the then Mayor of London could not resist submitting a contribution which included a made up word beginning with 'w' that rhymed with the Turkish capital, Ankara.
Boris Johnson says Brexit vote does not mean leaving Europe 'in any sense'
On other occasions, Johnson has insulted Barack Obama, Hillary Clinton, Donald Trump, George W. Bush, Nicola Sturgeon, Papua New Guinea, black inhabitants of the Commonwealth, and Liverpool. During the referendum, he drew a parallel between EU politicians with ambitions to unite Europe with Adolf Hitler.
In a Facebook post just before Johnson's appointment, the vice president of the European Commission, Frans Timmermans, complained: "To accuse people who believe in (the EU) of trying to finish where Hitler left off is, to say the least, a bit rich… How did hatred become an integral part of all this? Why is it necessary?"
The German foreign minister, Franz Walter Steinmeier, did not mention Johnson by name but it was clear enough who he had in mind when he expressed sympathy for the misled British voter. He said: "People are experiencing a rude awakening after irresponsible politicians first lured the country into a Brexit to then, once the decision was made, bolt and not take responsibility. Instead they went to play cricket. To be honest, I find this outrageous but it's not just bitter for Great Britain. It's also bitter for the European Union."
France's foreign secretary, Jean-Marc Ayrault,was equally scathing. Asked about Johnson's appointment, he said: "You know very well what his style and methods are. During the campaign, you know he told a lot of lies to the British people."
The former Swedish prime minister Carl Bildt tweeted: "I wish it was a joke, but I fear it isn't."
On other hand, the former Australian prime minister Tony Abbott tweeted: "Good to see @BorisJohnson as the new UK foreign secretary. He's a good friend of Australia."
And official reaction from the USA was restrained, considering that Johnson has in the past described Barack Obama as 'half Kenyan', Hillary Clinton as having "a steely blue stare, like a sadistic nurse in a mental hospital", Donald Trump of showing "stupifying ignorance", and George W. Bush as "a cross-eyed Texan warmonger, unelected, inarticulate, who epitomizes the arrogance of American foreign policy."
Theresa May's Cabinet: Who's in – and who's out?

Show all 27
The spokesman for the US State department, Mark Toner, chuckled when asked about Johnson's appointment, but recovered his self control to say: "We look forward to engaging with Boris Johnson as the new foreign secretary. This is something, frankly, a relationship that goes beyond personalities."
However, Wikileaks once provided an insight into what US diplomats actually think of Johnson, by leaking a cable reacting to his election as Mayor of London: "Johnson is best known as a mistake-prone former journalist twice exposed for committing adultery, now a Conservative MP.
"Johnson is also well known for apologizing: to the people of Liverpool for accusing them of mawkish sentimentality following the beheading of a resident of the city in Iraq; to the people of Portsmouth after describing the town as 'too full of drugs, (and) obesity'; to the people of Papua New Guinea for associating them 'with orgies of cannibalism and chief-killing,' and to the people of Africa after remarking on their 'watermelon smiles'.
"He was also sacked as a member of the Shadow Cabinet for lying about an extra-marital affair."
Perhaps the most scathing verdict ever passed on Boris Johnson was in a tirade written three months ago by a fellow Tory and journalist colleague, Matthew Parris, who accused him of incompetence, vacuity, cynicism, administrative sloth, a careless disregard for truth, sexual impropriety and "casual dishonesty, the cruelty, the betrayal; and, beneath the betrayal, the emptiness of real ambition: the ambition to do anything useful with office once it is attained."
If Yvette Cooper is right that Johnson has been set up by Theresa May to be the scapegoat when Brexit negotiations go wrong, then Johnson's 'administrative sloth' and his alleged lack of 'ambition to do anything useful' may be just what the new Prime Minister wants.
Join our new commenting forum
Join thought-provoking conversations, follow other Independent readers and see their replies