Boris Johnson gaffe: Why do women go to university? To find men to marry...
London mayor accused of sexism for comment made alongside Malaysian prime minister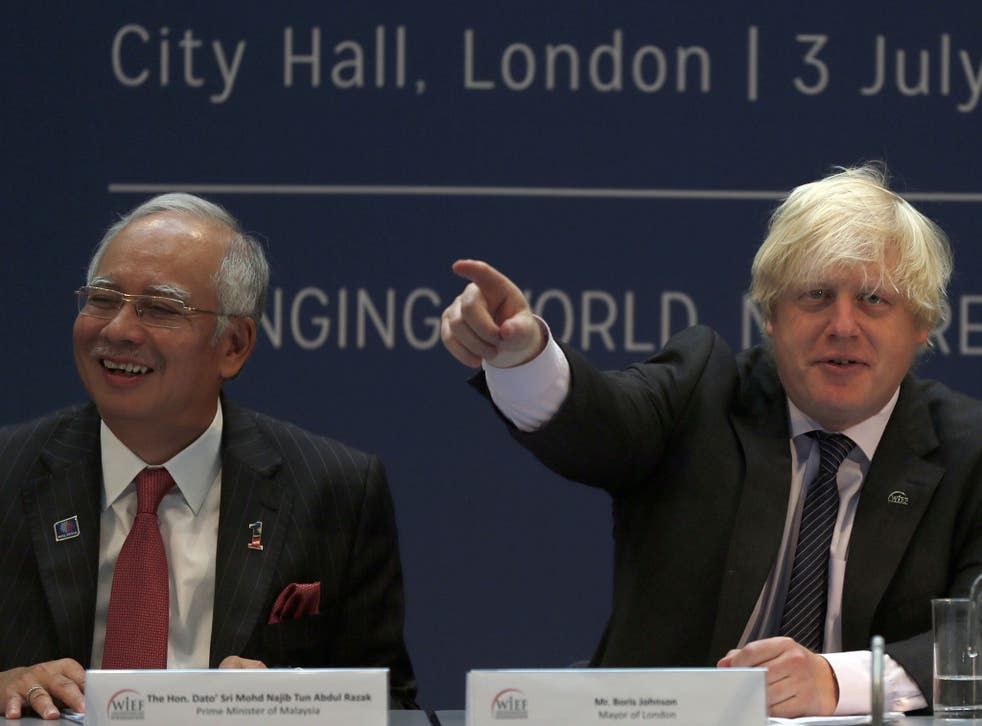 For a man known to have a wandering eye - both for the opposite sex and the top job in politics - it was perhaps an inadvisable thing to say.
But that doesn't stop Boris Johnson.
The London Mayor today came under attack for suggesting that women only go to university to find a man to marry.
Mr Johnson was answering questions at the launch of the Islamic Economic Forum alongside the Malaysian Prime Minister Najib Razak.
Asked about boosting female education in the Muslim world, Mr Razak told reporters: "Before coming here, my officials have told me that the latest university intake in Malaysia, a Muslim country, 68 per cent will be women entering our universities."
Mr Johnson, who is known to have had two extra-marital affairs, then interjected: "They've got to find men to marry."
At the time his risqué joke did nothing more than elicit groans from the audience.
But when it was reported on Twitter a number of female graduates - and political opponents went on the attack.
Ally Crockford wrote: "I have a B.A.Hons, M.Litt, and PhD, but no husband! I seem to have gone about this education thing all wrong.
Katie Gray added: "I've done an art foundation year, an English degree, and am halfway through an art degree. How many husbands does that get me?"
Labour's equality spokeswoman Kate Green didn't see the funny side denouncing his remarks as "insulting" to women who have been to university and urged the mayor to apologise.
Ms Green said: "Boris Johnson may think his buffoonery allows him to get away with his outdated opinions but this isn't funny. These comments are insulting to the women across the country and across the world who have gone to university, worked hard and used their talents to get on. He should apologise."
In a statement, Boris Johnson said: "Some people seem to have misconstrued something I said at a press conference 5 days ago, about relative male underachievement in university entrance. It is utterly ludicrous and infuriating to suggest that I think women go to University to find a husband. I was merely pointing out something that I've said several times before - that with a graduate cohort 68 per cent female you intensify the phenomenon sociologists identify as assortative mating."
BORIS BLUNDERS
by Rose Troup Buchanan
In October 2003 he took a swipe at Jamie Oliver, just as Cameron was heaping praise on Oliver's school dinner reforms, saying: "If I was in charge I would get rid of Jamie Oliver and tell people to eat what they like." He later claimed he had been misquoted.
Also in 2003 Boris was less than flattering of George W. Bush, in an unsigned editorial of The Spectator, he said: "The President is a cross-eyed Texan warmonger, unelected, inarticulate, who epitomises the arrogance of American foreign policy."
Two years later he put his foot in it again, when in his conference diary for the Independent on the 2005 Conservative leadership contest, Boris wrote: "I am supporting David Cameron purely out of self-interest."
In an earlier example of casual sexism, during the following campaign trail, Boris came out with the following: "Voting Tory will cause your wife to have bigger breasts and increase your chances of owing a BMW M3."
Then in 2006 Boris wrote: "For ten years we in the Tory party have become used to Papua New Guinea-style orgies of cannibalism and chief-killing." After apologise, Boris couldn't resist a final joke, promising to "add Papua new Guinea to my global itinerary of apology."
Boris' opinions on Portsmouth did not go down well, after they were published in GQ magazine in 2007: "Here we are in one of the most depressed downs in southern England, a place that is arguably too full of drugs, obesity, underachievement and Labour MPs."
In the run-up to the London Olympics, in 2008, at a ceremonial passing of the Olympic flag from China to the UK, Boris said: "Virtually every single one of our international sports were invented or codified by the British. And I say this respectfully to our Chinese hosts, who have excelled so magnificently at Ping-pong. Ping-pong was invented on the dining tables of England in the 19th century and it was called Wiff-waff!"
Boris doesn't show any signs of learning. In the summer 2012, he refused to be weighed by staff manning the Victoria Park zip-wire. Unfortunately, this resulted in Boris dangling, mid-air, until he was eventually rescued by staff.
Later in the summer Boris continued, writing for the Daily Telegraph 20 reasons to be positive about the Olympic Games. Boris' article lavished praise on the Olympic volleyball players, as he said: "As I write these words there are semi-naked women playing beach volleyball in the middle of the Horse Guards Parade immortalised by Canaletto. They are glistening like wet otters and the water is plashing off the brims of the spectators' sou'westers."
In June 2012 Boris declared, in an interview with the New Yorker, among the reasons he loved London was because "there is a greater range of girls" to choose from. He went to say that "reproductive choice" was one of the reasons people moved to big cities. He later added in the interview: "For God's sake don't quote me on that", after declaring he eventually wants to assume supreme power in England.
Join our new commenting forum
Join thought-provoking conversations, follow other Independent readers and see their replies