Boris Johnson on the campaign trail in Salisbury
Boris Johnson says general election result could be 'very tight' as Tory poll lead narrows
Prime minister's comment appears to be bid to fend off Tory complacency
This month's election is going to "go to the wire" and the final result could be "very, very tight", Boris Johnson has predicted.
The prime minister's comments came after the double-digit leads recorded by his Conservatives in the early weeks of the campaign dwindled to single figures as Labour gained ground.
The remark is likely to be seen largely as an attempt to counter Conservative complacency and persuade voters that the result is not in the bag.
But it may also encourage tactical voting among anti-Brexit voters who hope that a hung parliament will lead the way to a second EU referendum in 2020.
Opinion poll leads as high as 19 points recorded by the Tories in mid-November would have been enough, if repeated on 12 December, to deliver Mr Johnson a landslide victory and an overwhelming majority in the House of Commons.
General election: On the campaign trail

Show all 114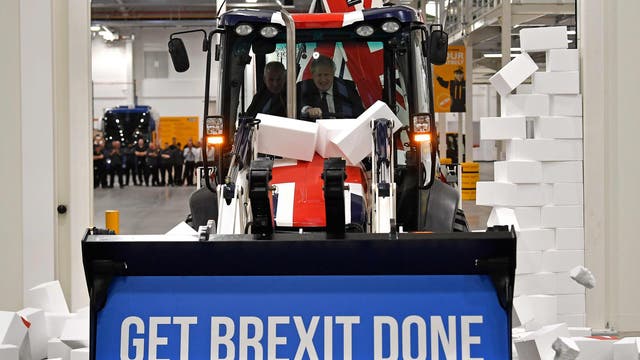 But more recent surveys – such as a BMG poll for The Independent last week which put Tories just six points ahead of Labour – have left him perilously close to the 6 or 7 per cent margin that polling guru Sir John Curtice says he must clear to avoid a hung parliament.
Speaking during a campaign visit to Salisbury, Mr Johnson told reporters it would be a "very very tight election, and the choice is critical for the country".
He said: "Of course this election is going to go to the wire.
"It's very important everyone recognises the starkness of the choice.
"We can either go forward get Brexit done and unleash the potential of this country, or else we can have Groundhog Day with two more referendums and chaos and paralysis in parliament."
Mr Johnson visited a centre offering accommodation and retraining opportunities for homeless armed forces veterans in the Wiltshire city, before touring a Christmas market close to the spot where former spy Sergei Skripal was poisoned in 2018.
He won a broadly warm reception from passers-by as he took his place behind the counter of stalls selling Turkish delight and chocolate brownies to shoppers. But Remain supporter Joyce Smale, 67, heckled him with cries of "Shame on you! Absolute shame! Ruining the country!"
In another sign of his determination to avoid complacency, Mr Johnson refused to say whether close lieutenants Priti Patel, Dominic Raab and Ben Wallace would keep their cabinet posts if he is re-elected.
"All these types of questions come firmly in the category of measuring up the curtains," he said. "There are nine days to go, it is a very very tight election and the choice is critical."
Asked what he was doing to wind down after a hard day's campaigning, Mr Johnson joked: "Apart from a few quadratic equations and a little pre-Socratic philosophy?"
He insisted the election battle was not wearing him out: "I'm working very hard the whole time to secure a working majority... I'm like a steel spring, I'm as fit as a butcher's dog. I'm like a coiled spring."
Mr Johnson said he was still "in discussions" with the BBC over a potential interview with Andrew Neil, following opposition claims he was running scared of the fearsome interrogator.
He denied he was attempting to evade scrutiny by being the only leader of a major Westminster party yet to fix a date with Neil.
"I'm going to be doing all sorts of media engagements in the course of the next few days," he said.
"I think I'm the first prime minister to have done a head-to-head TV debate, I did Question Time, I've done hours and hours of phone-ins, I think I've fielded more questions at press conferences than any other leader. I don't think I've been unscrutinised."
Mr Johnson's caution over the election result echoes a blogpost by his close aide Dominic Cummings, in which the former Vote Leave supremo warned: "Things are much tighter than they seem and there is a very real possibility of a hung parliament."
After Mr Johnson alienated the Tories' former allies in the Democratic Unionist Party with a Brexit deal which puts a customs border down the Irish Sea, it is thought highly unlikely that he would be able to form a coalition government if he fails to win an overall majority this month.
Anything short of a clear Tory victory is therefore likely to lead to a second Brexit referendum at some point in 2020.
Join our new commenting forum
Join thought-provoking conversations, follow other Independent readers and see their replies