LGBT+ representation in government stalling under Boris Johnson, says first openly gay MP
'Glass ceiling in cabinet has been broken over the years ... sadly at present they seem to want to put it back in again,' says Lord Chris Smith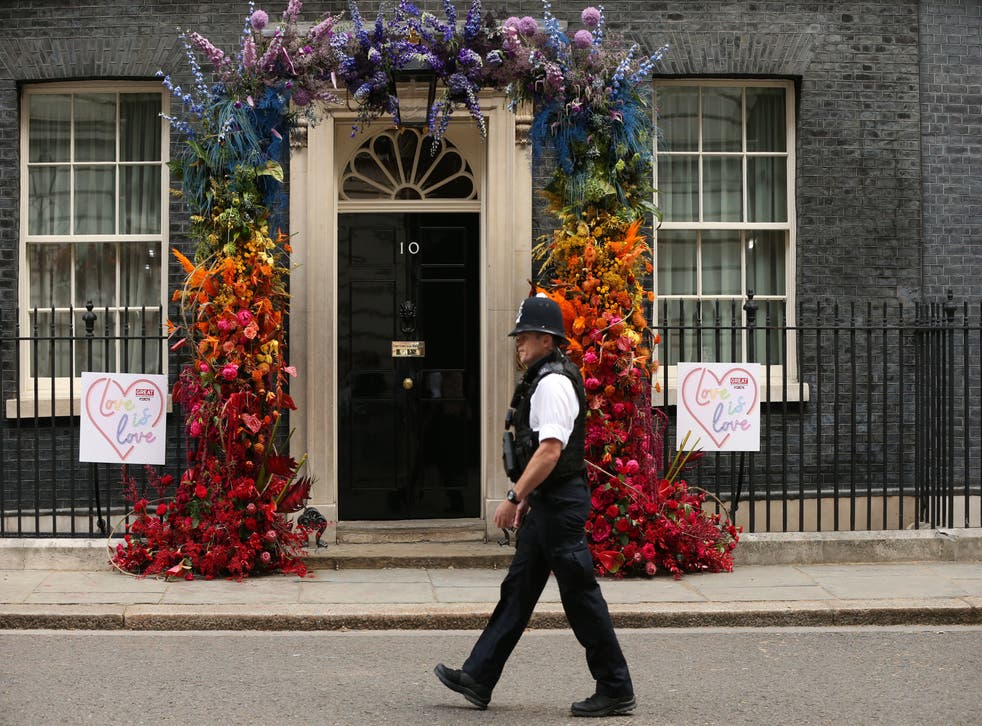 Efforts to ensure LGBT+ people are represented at the highest levels of government have stalled under Boris Johnson, according to the UK's first openly gay male MP.
Lord Chris Smith said the glass ceiling in parliament had "well and truly been broken" in terms of gay and lesbian members of the Lords and Commons – but claimed progress had since slowed.
"The glass ceiling in the cabinet has been broken by quite a number of us over the years," he said.
"Sadly at present they seem to want to put it back in again."
Lord Smith, a former Labour cabinet minister, who revealed in 2005 he was HIV positive before standing down the same year, told the BBC in an interview to mark LGBT+ History Month that the prime minister had a "blind spot" on the issue.
He encouraged Mr Johnson to "look to the greater talent that is out there", saying it would "include some people who happen to be lesbian or gay".
He described the lack of openly LGBT+ cabinet ministers as a "matter of great regret" and urged the prime minister to bring in a more diverse team in "the next year or two".
A government spokesperson told the BBC the prime minister was "committed to doing more to make sure the government fully represents the people it serves".
Lord Smith of Finsbury, who as culture secretary introduced free admission to British museums and galleries, spent 12 years as the only openly gay MP in the Commons after his election in 1984.
Labour's 1997 victory made him the first known gay man to hold office in the cabinet. There had been other gay MPs and cabinet ministers, but they had all kept their sexuality secret.
A trailblazer who has long campaigned on LGBT+ rights, Lord Smith broke another social barrier when he induced the Commons authorities to recognise his partner, Dorian Jabri, who was granted privileges previously only offered to the legal wives or husbands of MPs.
Speaking to The Independent in 2005 after revealing his HIV diagnosis, he said there was still "quite a lot of prejudice around" even though it was "just like any other illness".
In a 2013 debate on whether to allow same-sex marriage in England and Wales, he said: "My Lords, I happen to be gay. I was made this way. It is something I share with hundreds of thousands of our fellow citizens who are worthwhile, virtuous, hard-working, responsible, loving members of society.
"I was proud to be part of the government who brought in so many changes for the better for lesbians and gay men and eliminated so many discriminations and inequalities. Some hurdles remain, however, and this is the highest of them."
At least 45 openly gay, lesbian or bisexual MPs were elected to parliament in the 2019 election.
The Scottish National Party has the highest proportion, with nine of its 47 MPs identifying as LGB.
However there is not a single openly transgender MP. Lord Smith said that was a "glass ceiling" which still needed to be broken.
The first openly lesbian MP, Maureen Colquhoun, died earlier this month at the age of 92.
The former Labour MP had her relationship with Barbara Todd exposed by the Daily Mail in 1975.
She faced the threat of deselection by her local constituency party and then lost her seat in the general election four years later.
The Independent contacted the government for further comment.
Join our new commenting forum
Join thought-provoking conversations, follow other Independent readers and see their replies