Boris Johnson accused of 'pandering to the far right' and making 'inflammatory and divisive comments' about Muslims
Exclusive: Mohammed Amin, chairman of the Conservative Muslim Forum, says the government is failing to crackdown on the former foreign secretary because of upcoming Brexit votes
Tuesday 07 August 2018 19:00 Comments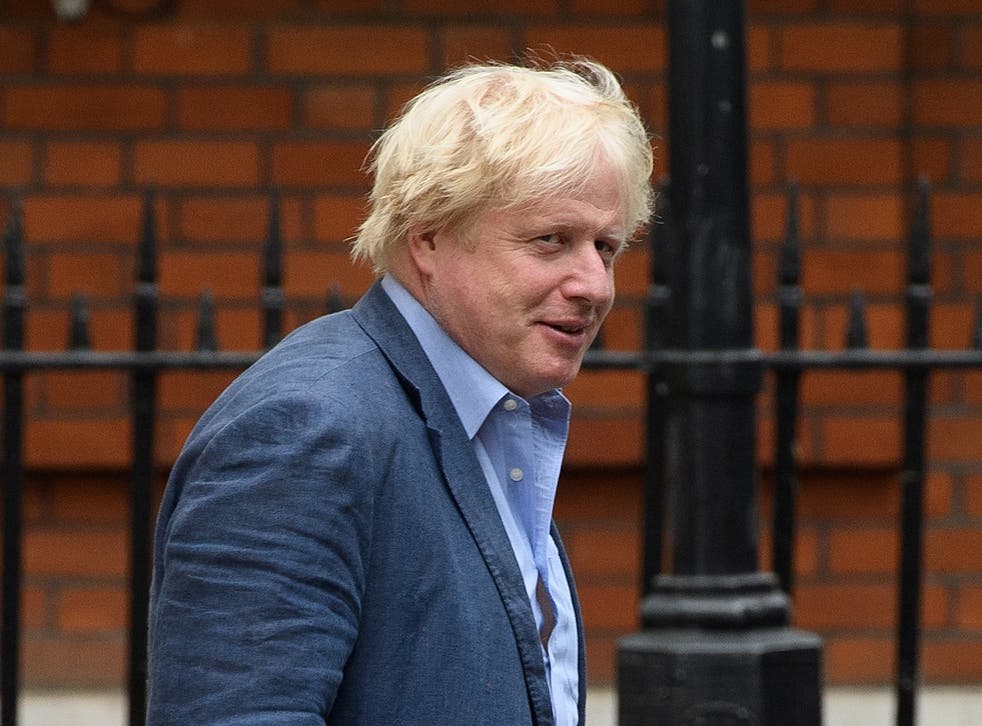 Boris Johnson is "pandering to the far right" by making inflammatory comments about Muslim women, the chairman of the Conservative Party's own Muslim forum has said.
Mohammed Amin said the government was failing to take sufficiently tough action on Mr Johnson, who described Muslim women who choose to wear the niqab as resembling "letter boxes" and "bank robbers", because it does not want to antagonise MPs ahead of critical Brexit votes.
The chairman of the Conservative Muslim Forum (CMF) said mocking women who chose to wear the niqab was not acceptable.
"Boris Johnson's comments are very divisive and extremely unfortunate. He is free to say that he feels uncomfortable with people wearing burqas, but when he mocks women who wear it and compares them to 'letter boxes' and 'bank robbers', that it is wrong," Mr Amin told The Independent.
"His words were inflammatory and pander to the far-right narrative that Muslims do not belong in this country. These comments divide our country at a time when we are under so much stress already."
The criticism came as Brandon Lewis, the Tory party chairman, agreed the former foreign secretary's comments were "offensive" and called on him to publicly apologise. Theresa May said she agreed with Mr Lewis's comments.
"I assume that more is not being said or done because of the long series of critical Brexit votes that are coming in the House of Commons and the government's lack of a majority," Mr Amin said.
Alistair Burt, a Foreign Office minister, criticised his former boss, saying: "I would never have made such a comment – I think there's a degree of offence in that, absolutely right."
Baroness Warsi, the former Tory party chair, accused Mr Johnson of adopting the "dog whistle" tactics of former Donald Trump aide Steve Bannon in the hope of attracting support from right-wing Tories for an eventual leadership bid.
"Muslim women should not be a useful political battleground for Old Etonians," she told Channel 4 News.
"It is crass and it must stop, and it must be condemned by the leadership right from the prime minister down."
This view was not shared by all Tory MPs, however. Nadine Dorries said Mr Johnson "did not go far enough".
"France, Denmark, Holland, Belgium – they aren't on their knees in apology. Look to the bravery of Iranian women and learn," Ms Dorries tweeted.
She also criticised Heidi Allen, the Tory MP for South Cambridgeshire, after she responded to Mr Johnson's comments by saying: "About as suitable to be prime minister as he was foreign secretary."
Ms Dorries tweeted Ms Allen and said: "Boris who was elected as mayor twice? Delivered the Olympics, Boris bikes, kept Londoners safe, banished bendy buses, reinvigorated the city, that Boris? You have achieved what, exactly?"
World news in pictures

Show all 50
The Muslim Council of Britain, which has repeatedly called on the Conservative Party to launch an official inquiry into allegations of Islamophobia within the party, said Mr Johnson would not have made similar remarks about any other religion.
"His comments are particularly regrettable in this current climate, where Islamophobia and anti-Muslim hatred is becoming worryingly pervasive with disappointingly little action from this current government," a spokesperson for the MCB said.
"Muslim women bear the brunt of hate on the streets. Just this week, two people were jailed for torturing a Muslim convert and a bookshop was attacked by Islamophobes.
"Mr Johnson's comments come at a time when he reportedly met Donald Trump's former right-hand man Steve Bannon.
"We need responsibility and action from our politicians, not pandering to the far-right. Mr Johnson's comments also underscores the Muslim Council of Britain's call for an inquiry into Islamophobia in the Conservative Party. Such crass commentary should have no place in our political discourse."
The Independent contacted the Conservative Party for a response but it declined to comment.
Register for free to continue reading
Registration is a free and easy way to support our truly independent journalism
By registering, you will also enjoy limited access to Premium articles, exclusive newsletters, commenting, and virtual events with our leading journalists
Already have an account? sign in
Join our new commenting forum
Join thought-provoking conversations, follow other Independent readers and see their replies