Boris Johnson: Of course I could see myself voting to quit the EU
Mayor of London says he was 'very disappointed' to read reports that David Cameron has dropped plans to win an opt-out from employment laws
Matt Dathan
Tuesday 01 September 2015 15:10 Comments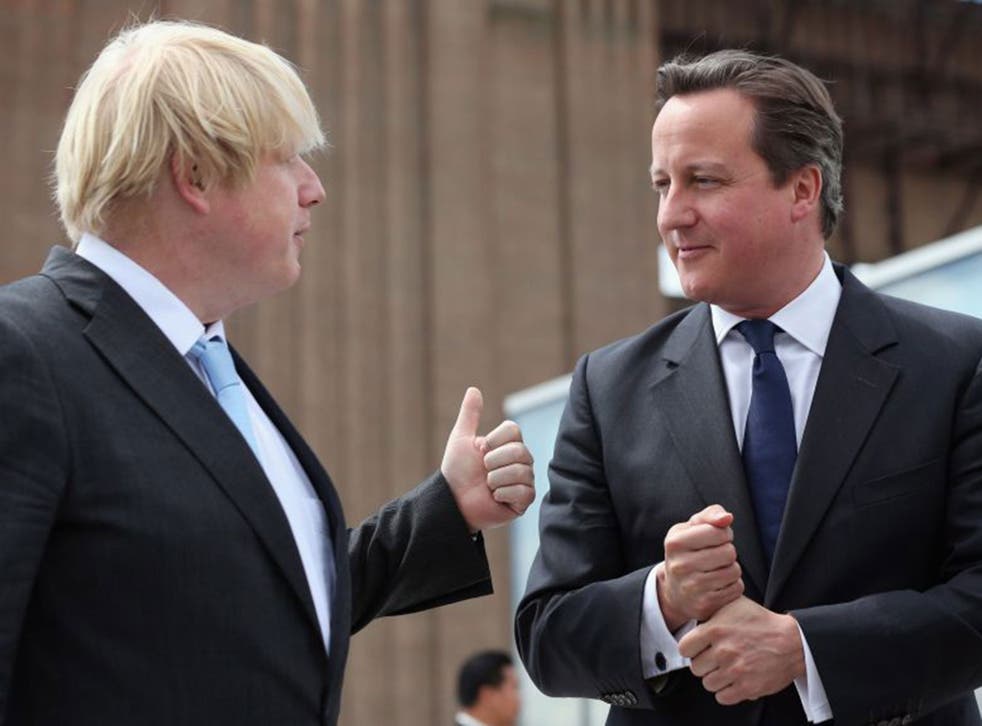 Boris Johnson has said he can see himself voting for Britain to leave the European Union, opening up the possibility of him heading the 'Out' campaign that would pit him directly against David Cameron and George Osborne.
The Mayor of London described reports that the Prime Minister had ditched plans to exclude Britain from a wide range of EU employment and social laws as "very disappointing".
He said it was very important that Mr Cameron won opt-outs for the UK's flexible labour markets from what he described as the EU's over-regulated employment laws.
Asked whether there was a set of circumstances in which he could see himself voting for the UK to quit the EU, Mr Johnson replied "Yes of course... of course, I think it is important."
He was speaking after the Financial Times reported that Downing street had scrapped demands for Britain to be fully excluded from the EU Social Chapter, which Sir John Major opted out of in 1993 but Tony Blair abandoned the opt-out after winning his landslide election in 1997.
It is not the latest concession the Prime Minister has been forced to make, however. This morning Downing Street said it had accepted the recommendation from the elections watchdog that the EU referendum question be amended in order to avoid bias.
The referendum, to be held before the end of 2017, will now ask voters whether they want to remain in the EU or leave it, replacing the 'Yes' or 'No' format previously proposed.
Asked on his monthly phone-in with LBC listeners what would be the deal breaker when it came to him deciding which side he would vote for, Mr Johnson said: "I think that we've got to hold out, we've got to hang very tough.
"But I think, I looked at the headlines this morning, about the possibility of Britain dropping its insistence on changes to employment law.
"And I thought that was very disappointing, I think we need to move forward on that. I think one of the reasons we've got low growth in Europe is not just the travails of the Eurozone, but also because we've got too much regulation, too much stuff coming from Brussels, too many laws that are promulgated by Brussels that make it hard for business.
"I think we need to weigh in on all that stuff, all that social chapter stuff. And, you know, I've got every confidence that the Prime Minister will do that."
Eurosceptic Tory MPs

Show all 7
Register for free to continue reading
Registration is a free and easy way to support our truly independent journalism
By registering, you will also enjoy limited access to Premium articles, exclusive newsletters, commenting, and virtual events with our leading journalists
Already have an account? sign in
Join our new commenting forum
Join thought-provoking conversations, follow other Independent readers and see their replies