Downing Street insists Boris Johnson has 'full support' of cabinet after party apology
Key ministers delayed hours before voicing backing for PM following statement
Andrew Woodcock
Political Editor
Thursday 13 January 2022 14:44 Comments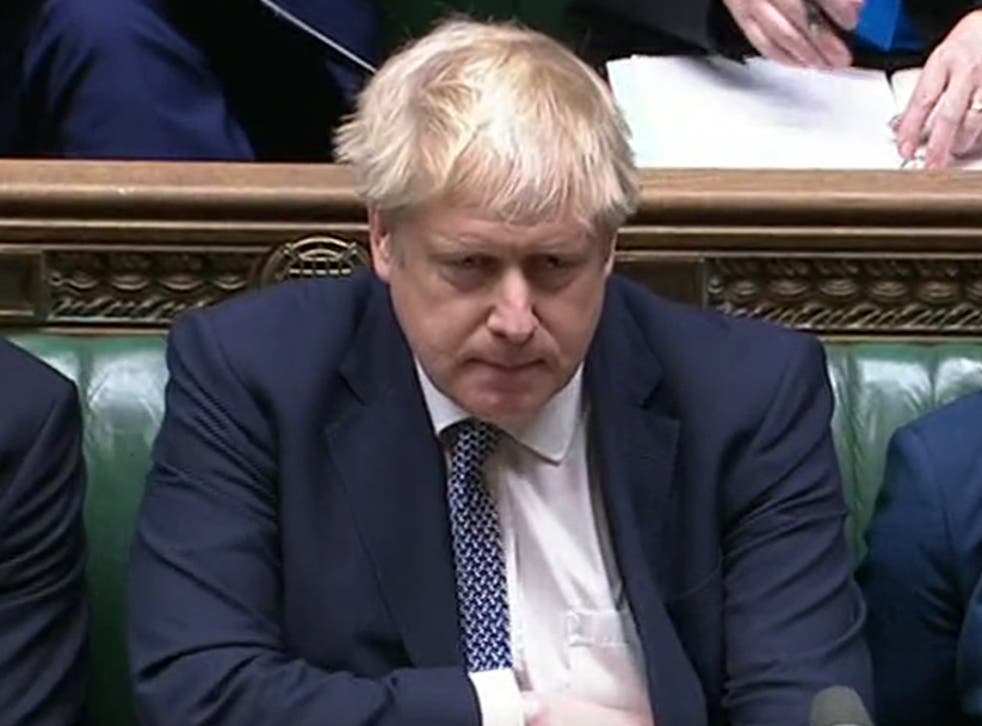 Downing Street has insisted that Boris Johnson has the "full support" of his cabinet, despite the long delay on Wednesday before Rishi Sunak and Liz Truss publicly voiced their backing following his dramatic apology over Downing Street parties.
Mr Sunak's absence from the House of Commons for prime minister's questions sparked speculation in Westminster that he was distancing himself from Mr Johnson, fuelled by the far from full-throated wording of his eventual tweet.
Mr Johnson's official spokesperson today insisted that the prime minister took responsibility for mistakes made by Downing Street over the holding of a "socially distanced drinks" event in the No 10 rose garden during lockdown in May 2020.
The assurance came after BBC reports that the PM told Tory MPs in the Commons tea room that - despite his public apology - the scandal was "not his fault and he's bravely taking the blame for others".
Responding to the reports, Labour deputy leader Angela Rayner said: "Failing to take responsibility is in this prime minister's DNA. He'll always try to shift the blame, it's always someone else's fault. He's not sorry, he's sorry he got caught out."
The PM's spokesperson said he was unable to comment on the tea-room conversations, but told reporters: "These are unsourced claims. What is clear is what the prime minister said repeatedly in the House, which is his view.
"The prime minister made clear repeatedly that there were things we didn't get right and he must take responsibility."
Questions were raised over the level of cabinet support for Mr Johnson when only a handful of senior ministers made public expressions of loyalty in the immediate aftermath of his noon statement.
UK news in pictures

Show all 50
Culture secretary Nadine Dorries and levelling up secretary Michael Gove were quick to issue supportive tweets, but it was not until more than eight hours later that the chancellor and foreign secretary commented.
Mr Sunak's decision to spend the day in Devon discussing a government jobs initiative had already raised eyebrows at Westminster.
And his eventual tweet at 8.11pm appeared to suggest that he was withholding a final decision on his attitude towards the PM until after the report by civil servant Sue Gray into the parties.
"I've been on a visit all day today continuing work on our #PlanforJobs as well as meeting MPs to discuss the energy situation," rote the chancellor. "The PM was right to apologise and I support his request for patience while Sue Gray carries out her enquiry."
Ms Truss's tweet did not come until 9.14pm, but was more unequivocal in its backing for Johnson: "The Prime Minister is delivering for Britain - from Brexit to the booster programme to economic growth. I stand behind the Prime Minister 100% as he takes our country forward."
Asked if Mr Johnson enjoyed the full support of his cabinet, the PM's official spokesperson told a regular Westminster media briefing: "Yes, and you can see they continue to deliver on the public's priorities."
The spokesperson declined to say whether Mr Johnson was concerned at the prospect of no-confidence letters going in from MPs to the 1922 Committee, saying only that the PM was "focused on the public's priorities".
Asked whether Mr Johnson believed he was a good prime minister, the spokesperson replied: "I don't think self-reflection is his priority, I think his focus is on delivering for the public."
He rejected Tory MP Sir Roger Gale's assessment of the Prime Minister as a "dead man walking" but added: "We very much appreciate, as the prime minister made clear yesterday, there are strong views on this issue.
"That's why the prime minister came to the House to apologise, to make clear we did not get things right and he takes responsibility for that."
Mr Sunak's deputy, chief secretary to the Treasury Simon Clarke, denied that the chancellor's support for the PM was lukewarm.
Mr Clarke told the BBC that his boss was "absolutely" behind Mr Johnson.
He said: "The chancellor was clear in his statement yesterday that he thinks it was right – as I do – that the prime minister should apologise and take responsibility for what happened in Downing Street, but also that this inquiry needs to be completed before we move forward. I think our positions are absolutely as one on that.
"This is a prime minister who has been leading this country through the teeth of the pandemic providing us with a world-leading vaccination programme, making brave decisions, not once but twice, to keep our economy and society as open as possible despite the challenges that we face.
"He is also the man who has honoured Brexit and made sure we have got a clear programme of levelling up across this country. Both the chancellor and I are fully in support of that important work."
Register for free to continue reading
Registration is a free and easy way to support our truly independent journalism
By registering, you will also enjoy limited access to Premium articles, exclusive newsletters, commenting, and virtual events with our leading journalists
Already have an account? sign in
Join our new commenting forum
Join thought-provoking conversations, follow other Independent readers and see their replies