Boris Johnson praises India tax regime as he urges cut in UK top rate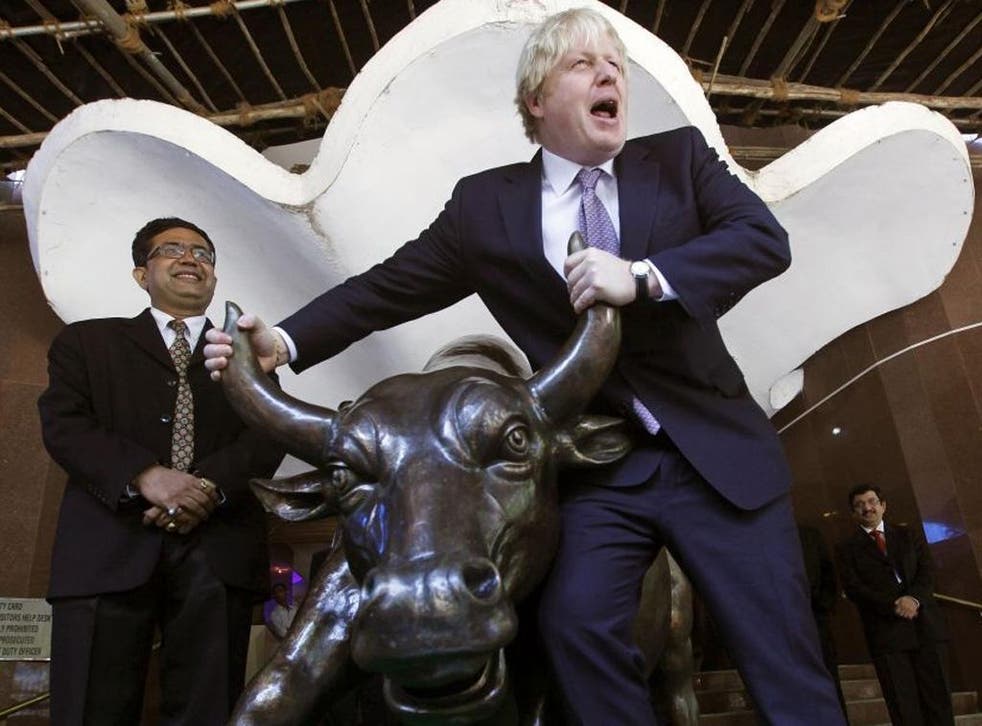 The Chancellor George Osborne should think about cutting the top rate of income tax, Boris Johnson said today as he praised India for having a more attractive regime for entrepreneurs.
The London Mayor said the Chancellor should "brood" on whether the top rate of tax - which currently stands at 45% - should be cut.
He said he met Mumbai-based businessmen this morning, who asked him whether London could be made more attractive to foreign investors through lower rates of tax and less regulation.
In reply, Mr Johnson said the tax regime "needed to be looked at".
Speaking at the Bombay Stock Exchange on the final day of his tour of India. Mr Johnson said: "You've got tax rates here of only 30% - a point George Osborne might like to brood on.
"It's 10% for freelance income, and of course you have a market of about 600 million people under 25."
In interviews with reporters afterwards, he added: "One businessman said to me this morning that he loved London, he loved the quality of life in London. There are so many attractions of living in London that you can't find anywhere else. That is a very high card.
"But another businessman asked about making London more attractive in terms of tax and regulation and certainly the tax regime. As I have said many times before, that needs to be looked at."
After an hour and a half of speeches at the stock exchange, Mr Johnson posed with the bull statue at its main entrance, gripping its horns as if he was a rodeo rider desperately clinging on.
He then headed to the Gateway of India, an 85ft (26m) basalt arch which stands in Mumbai's harbour, to pose for pictures with a British-made Brompton bike.
He tried somewhat unsuccessfully to pedal through the large crowds of tourists and hawkers in the midday heat as photographers tried to keep up.
After just missing a couple of street vendors, Mr Johnson rode into a cordoned-off section of promenade in front of the arch.
But a group of soldiers with large sticks said filming was banned in the area and ordered the cameramen to stop taking pictures immediately, bringing an abrupt end to the photocall.
This afternoon, Mr Johnson heads to a television studio for an interview with India's equivalent of David Letterman when he appears on Times Now with Arnab Goswami.
PA
Register for free to continue reading
Registration is a free and easy way to support our truly independent journalism
By registering, you will also enjoy limited access to Premium articles, exclusive newsletters, commenting, and virtual events with our leading journalists
Already have an account? sign in
Register for free to continue reading
Registration is a free and easy way to support our truly independent journalism
By registering, you will also enjoy limited access to Premium articles, exclusive newsletters, commenting, and virtual events with our leading journalists
Already have an account? sign in
Join our new commenting forum
Join thought-provoking conversations, follow other Independent readers and see their replies