Boris Johnson poised to wield axe on cabinet under-performers in reshuffle
Williamson and Raab among ministers thought to be at risk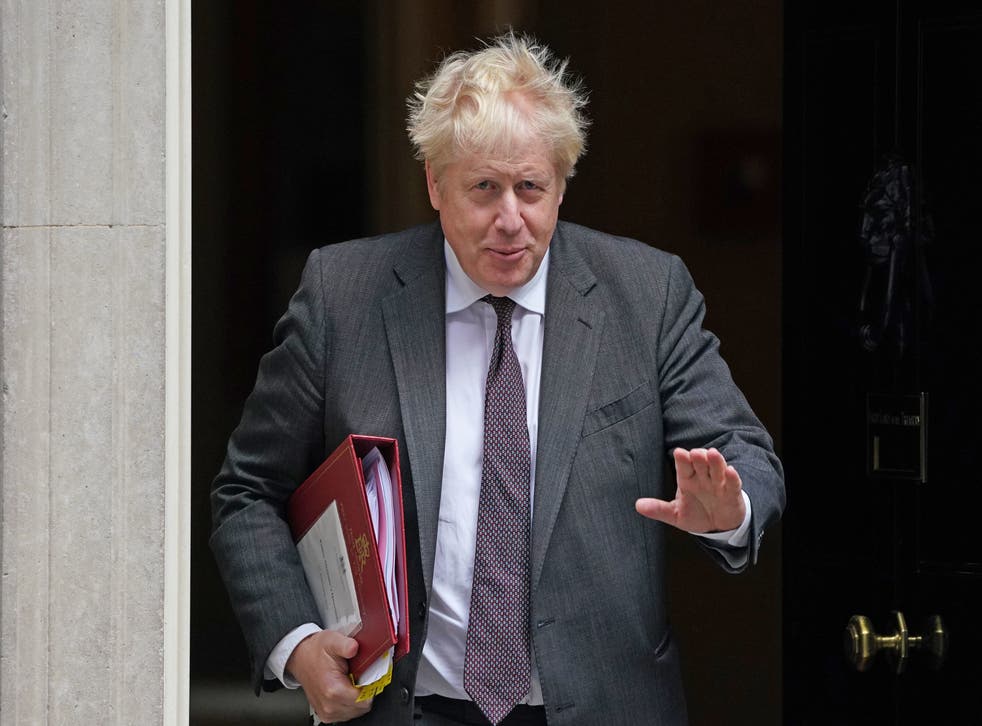 Boris Johnson is poised to take the axe to his cabinet, as Downing Street sources confirmed he will conduct a reshuffle of ministers this afternoon.
Senior figures thought to be at risk in the first major reshuffle of Mr Johnson's premiership include education secretary Gavin Williamson and foreign secretary Dominic Raab.
And home secretary Priti Patel has been tipped by some in Westminster as a candidate for the chop, after her failure to stop the growing numbers of small boats bringing refugees across the Channel from France.
Mr Johnson has only days to complete the reshaping of his top team before he heads to the US for a speech at the United Nations General Assembly early next week. This week was effectively his last chance to carry out the widely-anticipated reshuffle in order to give new ministers time to prepare for high-profile speeches at next month's Conservative annual conference in Manchester.
And he will be pleased to be able to distract attention from the Commons debate and vote called by Labour this afternoon on the upcoming £1,000-a-year cut in Universal Credit payments.
A Downing Street source said: "The prime minister will today conduct a reshuffle to put in plac a strong and united team to build back better from the pandemic."
The source added: "Yesterday, the PM set out his plan for managing Covid during the autumn and winter.
"But the government must also redouble our efforts to deliver on the people's priorities. The PM will be appointing ministers this afternoon with a focus on uniting and levelling up the whole country."
It is expected that Mr Johnson will call ministers facing the sack to his private office in the House of Commons following the weekly session of prime minister's questions, sparing them the ordeal of walking up Downing Street in front of TV cameras.
Senior appointments are expected to be made this afternoon, with more junior ranks filled on Thursday.
Mr Williamson's position has long been under threat after a series of calamities over exams and school reopening.
UK news in pictures

Show all 50
And Mr Raab has been put at risk by his decision to remain on holiday as Afghanistan fell to the Taliban.
But it would be a virtually unprecedented development for a prime minister to sack his effective deputy - a position which Raab holds as First Secretary of State.
Ministers thought to be under consideration for promotion including grassroots darling Liz Truss, chief whip Mark Spencer and Anne-Marie Trevelyan, who lost her cabinet rank when her Department for International Development was merged with the Foreign Office.
Mr Johnson has so far been reluctant to sack senior colleagues, many of whom have been allies since the Brexit referendum campaign. He held on to housing secretary Robert Jenrick when his position was questioned over links with developer Richard Desmond.
His biggest government shake-up since entering Downing Street - the post-election revamp of February 2020 - became a major reshuffle only as a result of then chancellor Sajid Javid quitting rather than see his advisers fall under the control of Dominic Cummings in No 10.
Register for free to continue reading
Registration is a free and easy way to support our truly independent journalism
By registering, you will also enjoy limited access to Premium articles, exclusive newsletters, commenting, and virtual events with our leading journalists
Already have an account? sign in
Register for free to continue reading
Registration is a free and easy way to support our truly independent journalism
By registering, you will also enjoy limited access to Premium articles, exclusive newsletters, commenting, and virtual events with our leading journalists
Already have an account? sign in
Join our new commenting forum
Join thought-provoking conversations, follow other Independent readers and see their replies