Did Boris Johnson make false statements about Russia being responsible for Salisbury nerve agent attack?
Benjamin Kentish
Political Correspondent
Thursday 05 April 2018 17:47 Comments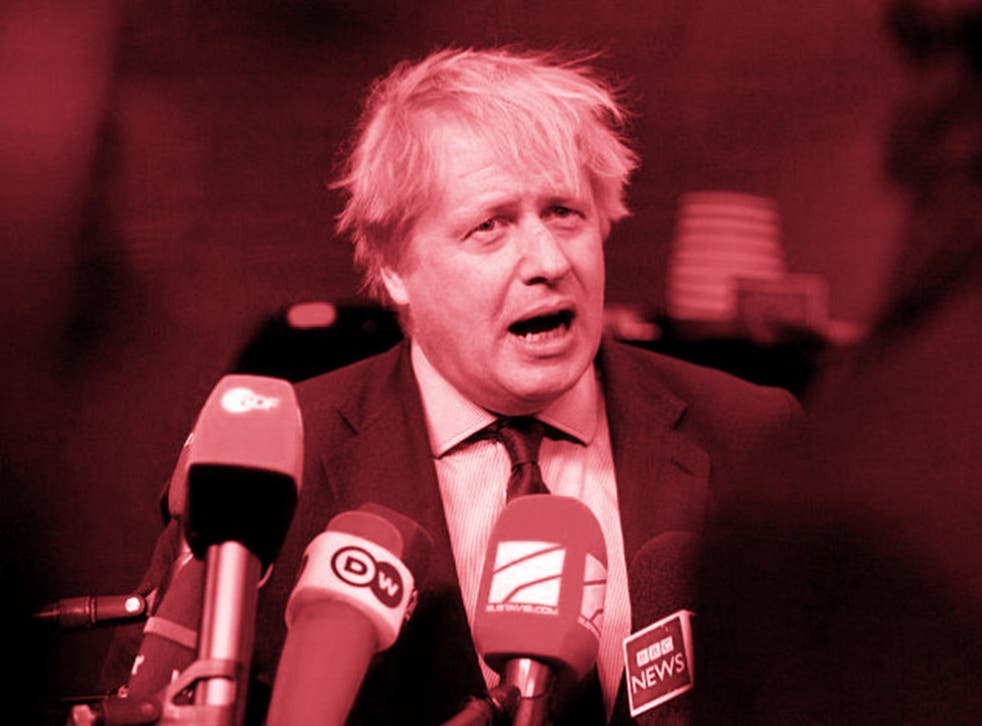 Boris Johnson is facing calls for an inquiry into whether he broke the ministerial code
Boris Johnson is under pressure over allegations he made misleading comments about the evidence suggesting Russia was responsible for the attack on Sergei and Yulia Skripal in Salisbury.
The foreign secretary had said scientists at the government's Porton Down laboratory told him there was "no doubt" the novichok nerve agent used in the attack originated in Russia – a claim that appeared to be contradicted by the head of the facility this week.
How did the row develop? And did Mr Johnson really make false statements about what expert scientists had told him?
What did Boris Johnson say?

On 25 March, Boris Johnson claimed scientists at the UK's military research laboratory at Porton Down had been "absolutely categorical" in telling him there was "no doubt" the novichok nerve agent used in the Salisbury attack was manufactured in Russia.

In an interview with German broadcaster Deutsche Welle, Mr Johnson was asked: "You argue that the source of this nerve agent – novichok – is Russia. How did you manage to find it out so quickly? Does Britain possess samples of this?"

Mr Johnson replied: "When I look at the evidence, the people from Porton Down, the laboratory… they were absolutely categorical, I mean, I asked the guy myself, I said, 'are you sure?' and he said 'there's no doubt.' And so, we have very little alternative but to take the action that we have taken."

What does Porton Down say?

Experts at Porton Down say they have been unable to prove the novichok used in the attack on the Skripals was manufactured in Russia – casting doubts over Mr Johnson's claim they had earlier told him there was "no doubt" on the matter.

Gary Aitkenhead, the chief executive of the facility, which is officially known as the Defence Science and Technology Laboratory (DSTL), told Sky News on Wednesday: "We were able to identify it as novichok, to identify that it was military-grade nerve agent.

"We have not identified the precise source, but we have provided the scientific info to government, who have then used a number of other sources to piece together the conclusions you have come to."

He added: "It is our job to provide the scientific evidence of what this particular nerve agent is, we identified that it is from this particular family and that it is a military grade, but it is not our job to say where it was manufactured."

However, Mr Aitkenhead did suggest the nerve agent was almost certainly produced by a state, saying: "It's a military-grade nerve agent, which requires extremely sophisticated methods in order to create – something that's probably only within the capabilities of a state actor."

In a tweet that raised further doubts over Mr Johnson's claims, the DSTL said: "Our experts have precisely identified the nerve agent as a novichok. It is not, and never has been, our responsibility to confirm the source of the agent."

How did the Government respond?

By insisting the scientific analysis of the nerve agent is "only one part of the intelligence picture" that led ministers to blame Russia for the attack, and that Mr Johnson's claims about the origin of the novichok have been consistent.

A Foreign Office spokesperson said: "We have been clear from the very beginning that our world leading experts at Porton Down identified the substance used in Salisbury as a novichok, a military grade nerve agent.

"This is only one part of the intelligence picture. As the prime minister has set out in a number of statements to the Commons since 12 March, this includes our knowledge that within the last decade, Russia has investigated ways of delivering nerve agents probably for assassination – and as part of this programme has produced and stockpiled small quantities of novichoks; Russia's record of conducting state-sponsored assassinations; and our assessment that Russia views former intelligence officers as targets.

"It is our assessment that Russia was responsible for this brazen and reckless act and, as the international community agrees, there is no other plausible explanation."

Boris Johnson says Porton Down told him 'categorically' the Novichok nerve agent used in Salisbury came from Russia

Defending Mr Johnson, Ben Wallace, the security minister, told the BBC: "Scientists are scientists. I, as well as national security, have organised crime [and] terrorism under my portfolio, and when we work with forensic scientists, the scientists tell us what something is. They tell me a gun and a type of gun was used, but the attribution of who used it, exactly how it was used, is a matter for the broader investigation.

"That includes intelligence, detectives if it's a police investigation, and the scientists as well, and that's perfectly understandable."

He added: "Porton Down will be able to tell you there are very, very, very few people in the world who, first of all, did design novichok – and that was the Russians – and who have developed and stockpiled it. In fact, the task of that is reduced to one."

What about the deleted tweet?

Suggestions that the Foreign Office misled people over the evidence suggesting Russia was responsible for the Salisbury attack were fuelled when it emerged that, on 22 March, the department's official Twitter account had posted a tweet claiming Porton Down had "made clear" the novichok was produced in Russia.

The post read: "'Analysis by world-leading experts at the Defence Science and Technology Laboratory (DSTL) at Porton Down made clear that this was a military-grade Novichok nerve agent produced in Russia. Porton Down is an OPCW-accredited and designated laboratory.'"

The post was deleted on Wednesday, the same day as Mr Aitkenhead's interview - a fact that was swiftly highlighted by the Russian embassy in the UK.

Responding to accusations the department had tweeted misleading claims about Porton Down having identified the source of the nerve agent, a Foreign Office spokesman said: "An HMA Moscow [British ambassador to Russia, Laurie Bristow] briefing on 22 March was tweeted in real time by @UKinRussia and amplified by @foreignoffice to explain what happened in Salisbury to as wide an audience as possible.

"One of the tweets was truncated and did not accurately report our ambassador's words. We have removed this tweet."

They added: "None of this changes the fact that it is our assessment that Russia was responsible for this brazen and reckless act and, as the international community agrees, there is no other plausible explanation.

"No other country has a combination of the capability, the intent, and the motive to carry out such an act."

According to an official transcript of the speech in question, Mr Bristow had said: "The analysts at Porton Down, the Defence Science and Technology Laboratory in the UK, established and made clear that this was a military-grade chemical weapon. One of the novichok series; a nerve agent as I said produced in Russia."

Did Boris Johnson make misleading statements about the source of the novichok?

It seems clear Porton Down's finding that the nerve agent used was one that had previously been developed by Russia, and would have required a state apparatus, was a key part of evidence that led the government to blame Moscow for the attack. As ministers have said, this would have been one element of an intelligence picture that would also have included a range of other pieces of information.

However, in his Deutsche Welle interview, Mr Johnson was asked not just about overall responsibility for attack, but specifically about the "source" of the novichok used. He clearly stated that, on this specific detail, he had been told there was "no doubt" the nerve agent originated in Russia.

Given the recent statements from Porton Down confirming that scientists had been unable to confirm the origin of the nerve agent, this claim now seems unlikely to be true.

It is possible – if somewhat unlikely, given the role of the laboratory - that someone at Porton Down did express a view to Mr Johnson that, when all the evidence is considered, there is "no doubt" that Russia was behind the attack. It seems much less likely that such a statement would have been made specifically about the origin of the nerve agent, given that scientists have been unable to prove this. As such, doubts over the accuracy of Mr Johnson's claims appear well-founded.

Jeremy Corbyn says Boris Johnson has 'questions to answer' over Porton Down Novichok claims

As government officials now accept, the Foreign Office tweet paraphrasing the UK's ambassador to Russia was also misleading.

What are the consequences?

Labour has called for an inquiry into Mr Johnson's comments and whether they were misleading.

Jeremy Corbyn claimed the foreign secretary had been left with "egg on his face".

He said: "He claimed categorically – and I think he used the words 101 per cent – that it had come from Russia.

"Boris Johnson seems to have completely exceeded the information that he had been given and told the world in categorical terms what he believed had happened. And it's not backed up by the evidence he claimed to have got from Porton Down in the first place. Boris Johnson needs to answer some questions."

The party called on Theresa May to urgently investigate whether Mr Johnson had broken the ministerial code.

Skripal attack aftermath – in pictures

Show all 15

The row is unlikely to have major consequences, although it does undermine confidence in the government's case against Russia, and strengthens the argument made by Mr Corbyn, who was heavily criticised for questioning the evidence Moscow was responsible for the attack.

It is unlikely anything will happen to Mr Johnson, who is seen as unsackable because of his role as a leading Brexiteer in Ms May's Cabinet.

However, the foreign secretary's reputation has taken another hit, especially given this is not the first time he has been accused of making misleading or inappropriate claims. After his gaffe about British citizen Nazanin Zaghari-Ratcliffe "training journalists" in Iran and his apparently light-hearted suggestion the Libyan city of Sirte could become "the next Dubai" if they "clear the dead bodies away", this week's row has led to further criticism of his performance at the Foreign Office.

The latest episode will have done little to erase the perception that Mr Johnson is unreliable. For a man widely considered to still harbour hopes of becoming prime minister, the furore over his comments on Russia could mark another nail in the coffin of his ambitions.
Register for free to continue reading
Registration is a free and easy way to support our truly independent journalism
By registering, you will also enjoy limited access to Premium articles, exclusive newsletters, commenting, and virtual events with our leading journalists
Already have an account? sign in
Join our new commenting forum
Join thought-provoking conversations, follow other Independent readers and see their replies