Boris Johnson stresses 'friendship' with Saudi Arabia after being slapped down by Downing Street over criticism
Foreign Secretary accused Saudi Arabia and Iran of stoking proxy wars across the Middle East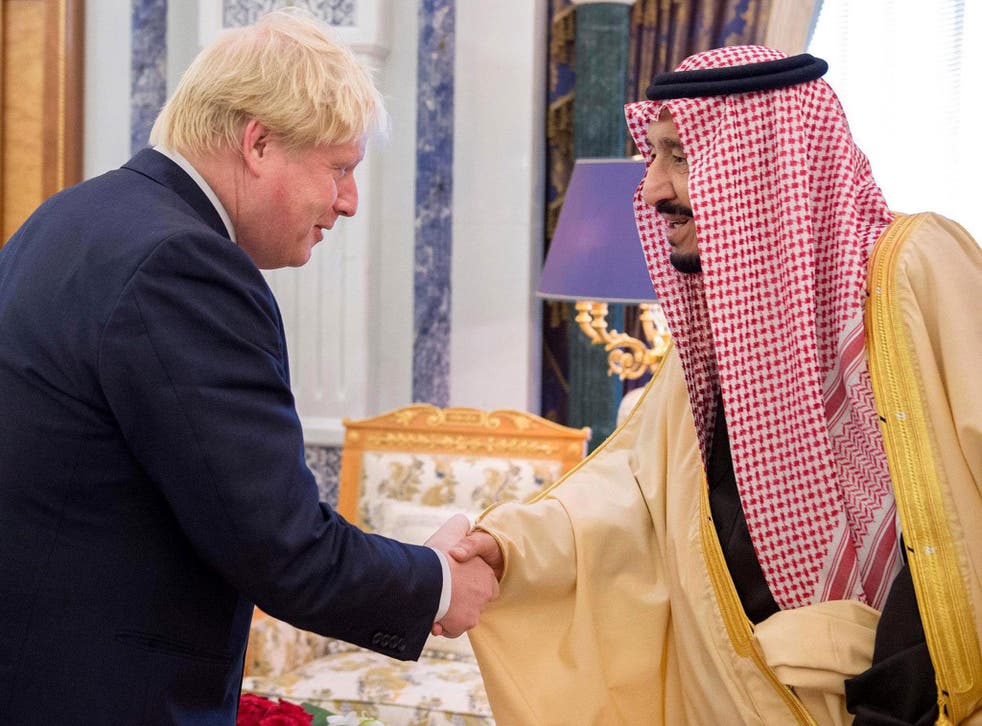 Foreign Secretary Boris Johnson has stressed Britain's close ties with Saudi Arabia, days after he was rebuked by Downing Street for accusing the kingdom of being behind "proxy wars".
"I'm here to emphasise the friendship that exists between the UK and Saudi Arabia, and that is something that is developing and expanding," Mr Johnson said at a joint news conference in Riyadh with Saudi foreign minister Adel al-Jubeir.
"And it's also fair to say that we believe in candour in our relationship," he added. "Now is the time for us to talk about the positive things that we are doing together."
Mr Johnson was slapped down by Downing Street over comments he made last week at a conference in Rome, where he accused Saudi Arabia and Iran of stoking proxy wars across the Middle East.
Boris Johnson: Saudi Arabia is playing proxy wars
Prime Minister Theresa May's official spokesperson said the Foreign Secretary's comments were his own views and did not reflect Government policy.
However, Mr Johnson said he recognised Saudi Arabia faced a grave threat from the conflict in Yemen, where the kingdom is leading a coalition of Arab forces in support of the internationally recognised government against Iran-backed Houthi rebels.
He added: "Of course, we continue, like everybody in this room and around the world to have a deep concern for the suffering of the people of Yemen."
Mr Jubeir said Riyadh was "absolutely not" getting mixed messages from Britain.
"We don't have any doubt in where Britain stands and Britain has no doubt where we stand," he added.
He said Mr Johnson's comments had been misconstrued, and Britain and Saudi Arabia had enjoyed a long strategic relationship extending over 100 years.
10 examples of Saudi Arabia's human rights abuses

Show all 10
Defence Secretary Michael Fallon also attempted to play down No 10's rebuke on Sunday morning.
He told BBC One's Andrew Marr Show: "The media, with great respect, are now starting to over-textualise every remark he makes in answer to every question.
"Downing Street was asked whether this misreporting of what Boris had said, whether that was Government policy. Downing Street simply answered the question."
British military personnel have been involved with advising the Saudi-led coalition as it pursues a campaign against the Iranian-backed Houthis in Yemen's civil war.
The war has killed more than 10,000 people, half of them civilians, and unleashed a humanitarian crisis in the poorest country in the Middle East.
Register for free to continue reading
Registration is a free and easy way to support our truly independent journalism
By registering, you will also enjoy limited access to Premium articles, exclusive newsletters, commenting, and virtual events with our leading journalists
Already have an account? sign in
Register for free to continue reading
Registration is a free and easy way to support our truly independent journalism
By registering, you will also enjoy limited access to Premium articles, exclusive newsletters, commenting, and virtual events with our leading journalists
Already have an account? sign in
Join our new commenting forum
Join thought-provoking conversations, follow other Independent readers and see their replies