Boris Johnson refuses to apologise for joke about Thatcher closing coal mines
PM 'recognises impact and pain' caused to former pit communities, says spokesperson
Andrew Woodcock
Political Editor
Friday 06 August 2021 19:11 Comments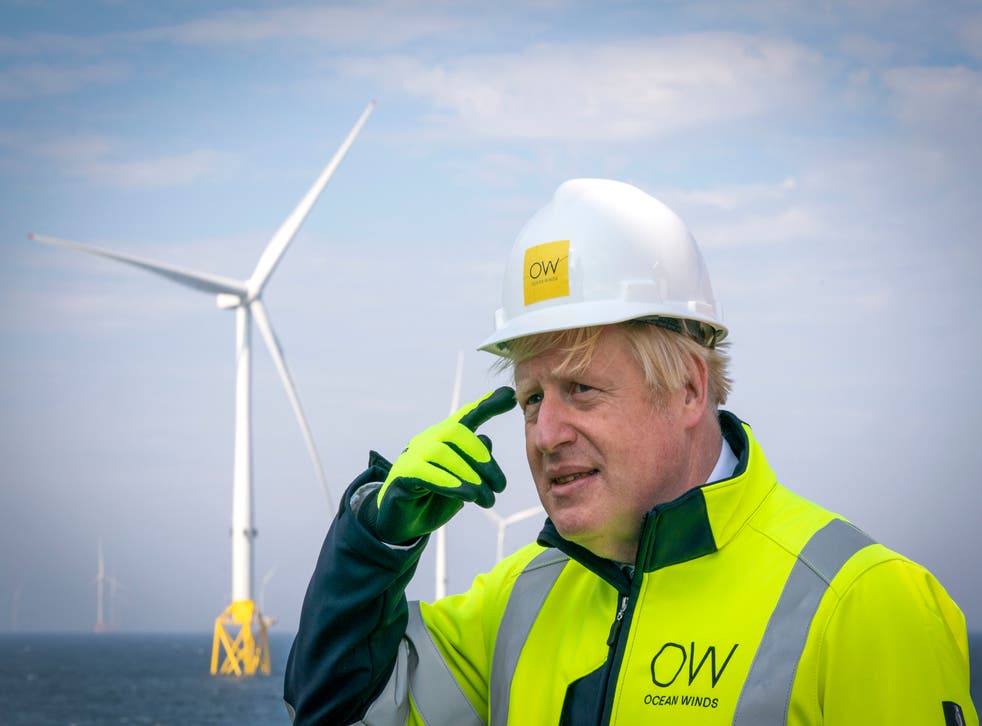 Boris Johnson has refused to apologise for remarks making light of Margaret Thatcher's closure of coal mines, as his spokesman said that the prime minister "recognises the huge impact and pain" it caused to communities across the UK.
Mr Johnson sparked fury in former coal-mining communities on Thursday when he joked that the UK had been given a head-start in moving away from polluting fossil fuels by his Tory predecessor's decision to shut pits.
He faced demands to apologise from Labour leader Sir Keir Starmer, who described his comment as a "slap in the face for communitites still suffering from the devasatating effects of Margaret Thatcher's callous actions", and from Scottish first minister Nicola Sturgeon, who branded it "crass and deeply offensive".
Sir Keir said: "The prime minister has shown his true colours yet again.
"I'm proud to have always stood with our coalfield communities. I represented the miners in court as the Tories tried to close the pits. These communities contributed so much to the success of our country, and then were abandoned.
UK news in pictures

Show all 50
"The Tories didn't care then, and they don't care now. For Boris Johnson to treat the pain and suffering caused to our coalfield communities as a punchline shows just how out of touch with working people he is. The prime minister must apologise immediately."
But asked if the PM would apologise , Mr Johnson's official spokesman said only: "The prime minister recognises the huge impact and pain closing coal-mines had in communities across the UK."
Mr Johnson made the off-the-cuff remarks to reporters as he was pressed during a visit to a wind farm in Scotland on whether he would set a deadline for ending fossil fuel extraction.
He hailed existing action to move to greener forms of power, stating that when he was a child 70 to 80 per cent of all electricity had been coal-generated.
"Since then, it's gone right down to 1 per cent, or sometimes less," he said. "We've transitioned away from coal in my lifetime.
"Thanks to Margaret Thatcher, who closed so many coal mines across the country, we had a big early start and we're now moving rapidly away from coal altogether."
Mrs Thatcher's decision to shut down dozens of pits with little support for their communities prompted the bitterly divisive miners' strike of 1984-85.
One former miner, interviewed on BBC Radio 4's Today programme, invited the prime minister to visit some of the communities affected to view the long-term damage inflicted during the Thatcher years.
Asked whether the PM would take up the invitation, his spokesperson said: "We're investing significantly to support those working in these industries as they transition away from that work so they can move into green jobs.
"That's the focus, and we think that's the right thing to do."
Ms Sturgeon said: "Lives and communities in Scotland were utterly devastated by Thatcher's destruction of the coal industry which had zero to do with any concern she had for the planet," she tweeted.
"To treat that as something to laugh about is crass and deeply insensitive."
And Welsh first minister Mark Drakeford told the Today programme: "Those remarks are both crass and offensive. The damage done to Welsh coal-mining areas 30 years ago was incalculable, and here we are, 30 years later, the Tories are still celebrating what they did."
Chris Kitchen, the general secretary of the National Union of Mineworkers, said: "It was insensitive, and it showed just how out of touch Boris Johnson is with real people – to make fun of the pit closure programme that devastated mining communities and put tens of thousands of people out of work."
The Orgreave Truth and Justice Campaign added: "The recent boorish, insensitive and ignorant comments made by Boris Johnson, laughingly implying that the 1980s and 90s Tory pit closure programme was about protecting the environment, comes as no surprise.
"The Thatcher government's destruction of the British coal industry without any alternative industrial strategy to follow resulted in enormous consequences and suffering for miners, their families and mining communities."
Register for free to continue reading
Registration is a free and easy way to support our truly independent journalism
By registering, you will also enjoy limited access to Premium articles, exclusive newsletters, commenting, and virtual events with our leading journalists
Already have an account? sign in
Join our new commenting forum
Join thought-provoking conversations, follow other Independent readers and see their replies