Boris Johnson to make move from zip wire to high finance in effort to boost economic credentials
Mayor of London planning trips this year to China, the Gulf and South America to "sell" London as a place to do business
Oliver Wright
Wednesday 16 January 2013 19:06 Comments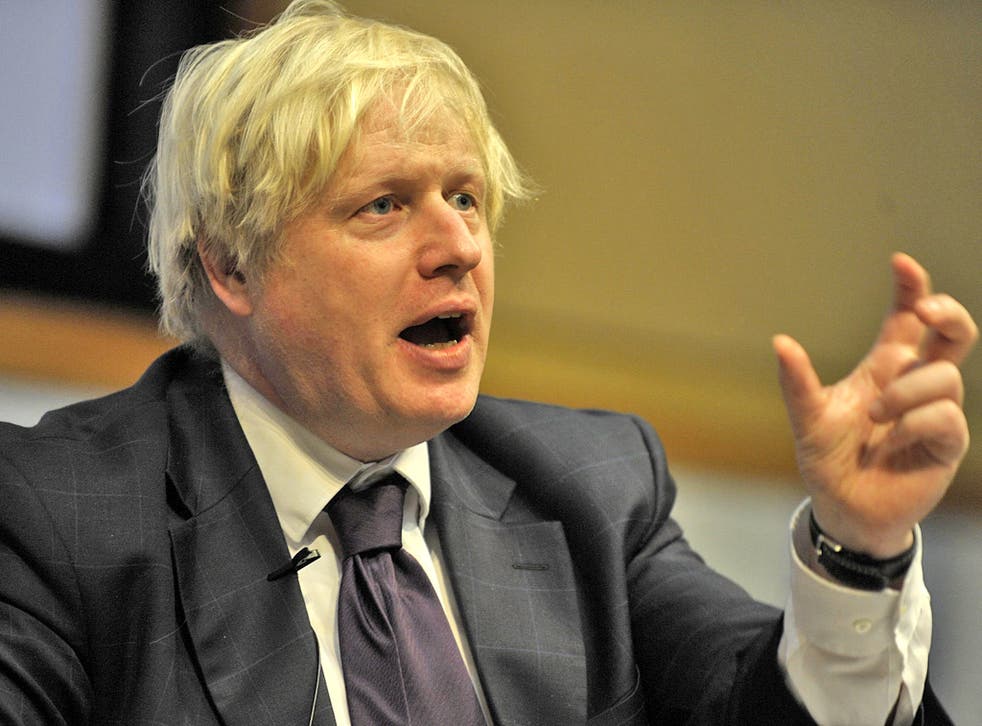 His credentials for self-publicity have never been in doubt. But his grasp of macro-economics is, perhaps, less assured.
Now Boris Johnson, the Mayor of London, is to spend less time on zip wires and more time on high finance to burnish his economic credentials as a serious politician on the international stage.
With a possible eye on life after City Hall, Mr Johnson will later this month travel to Davos – to make a keynote address at the prestigious World Economic Forum in the same slot previously filled by David Cameron and George Osborne.
He is also planning trips this year to China, the Gulf and South America to "sell" London as a place to do business and perhaps to sell Boris, the economic heavyweight, to a British audience.
Most intriguingly he has appointed Gerard Lyons, former chief economist at Standard Chartered Bank, as his chief economic adviser. Mr Lyons, a well-known and respected City figure who predicted the problems of the Eurozone as far back as 1999, will be paid an annual salary of £127,000 and advise Mr Johnson on how to ensure London remains globally competitive and a financial hub.
The new post will inevitably be seen as an attempt by Mr Johnson to burnish his economic credentials should he want to swap London for the national stage.
In his first interview since taking up the post Mr Lyons made clear that City Hall and Mayor would increasingly speak out on national economic issues which face the capital. He suggested there could be benefits to the UK economy if Britain were to withdraw from the EU and called for London to be allowed to keep more of the tax revenue raised in the capital.
He was also critical of national politicians who did not always recognise the challenges of changes to a global economy which was increasingly focused on Asia.
"Sometimes I think that Whitehall and Westminster people don't really appreciate the pace and scale of the (economic) change – and the catch-up potential around the rest of the world," he said.
"It is vital for the UK economy – for London – that it continues to be up to speed with global developments and ahead of them if possible.
"The danger is that when you've got a world economy where much of the growth is in the east where the west is still coming to terms with the financial crisis that if you don't get the regulatory framework right you could see the city of London stagnating or suffering. If it were to shrink then that would be a big problem."
City Hall observers believe part of Mr Lyons' remit is to help the Mayor become more assured on economic issues – not just within the context of London – but on the national stage as well.
Ahead of Mr Cameron's key note speech on Europe Mr Lyon's echoed his new boss's markedly more euro-sceptic stance – arguing that leaving the EU might not necessarily be bad for the wider UK economy.
"The same people who told us twelve or thirteen years ago that if we didn't join the euro it would be a complete economic disaster for the UK are now seen as experts as to whether Britain should stay in the EU or not," he said.
"That seems to be completely forgotten in the current debate. London would do well within the EU if we see a change within the overall relationship.
"But even if London was outside – would it really start to be penalised? I could construct a scenario where London suffers if we're outside the EU. But at the same time I could construct you an equally believable, maybe more plausible scenario, where London would do well outside the EU.
"I don't see being outside the EU being the big damaging environment that people say."
Controversially Mr Lyons also suggested that following devolution in Scotland and Wales London should be allowed to keep and spend more of the revenue raised from the people who live there.
"The UK is a very centralised economy. In dealing with that issue there is the political reality of what Whitehall and Westminster will allow you to do. But at the same time it's about the overall public debate about what's the right thing.
"If London could have more of its own revenues to spend then I think that would be a very positive development for the London economy. Stamp duty would be an easy quick win."
Mr Johnson himself is due to make a speech tonight to highlight his vision for London in 2020 – coincidentally the year of the election after next. His vision for London may not be the only one on show.
Register for free to continue reading
Registration is a free and easy way to support our truly independent journalism
By registering, you will also enjoy limited access to Premium articles, exclusive newsletters, commenting, and virtual events with our leading journalists
Already have an account? sign in
Join our new commenting forum
Join thought-provoking conversations, follow other Independent readers and see their replies