Boris Johnson urges Conservatives to live up to David Cameron's 'One Nation' label
Landmark speech sought to revive Mayor of London's leadership aspirations
Andrew Grice
Friday 07 August 2015 18:58 Comments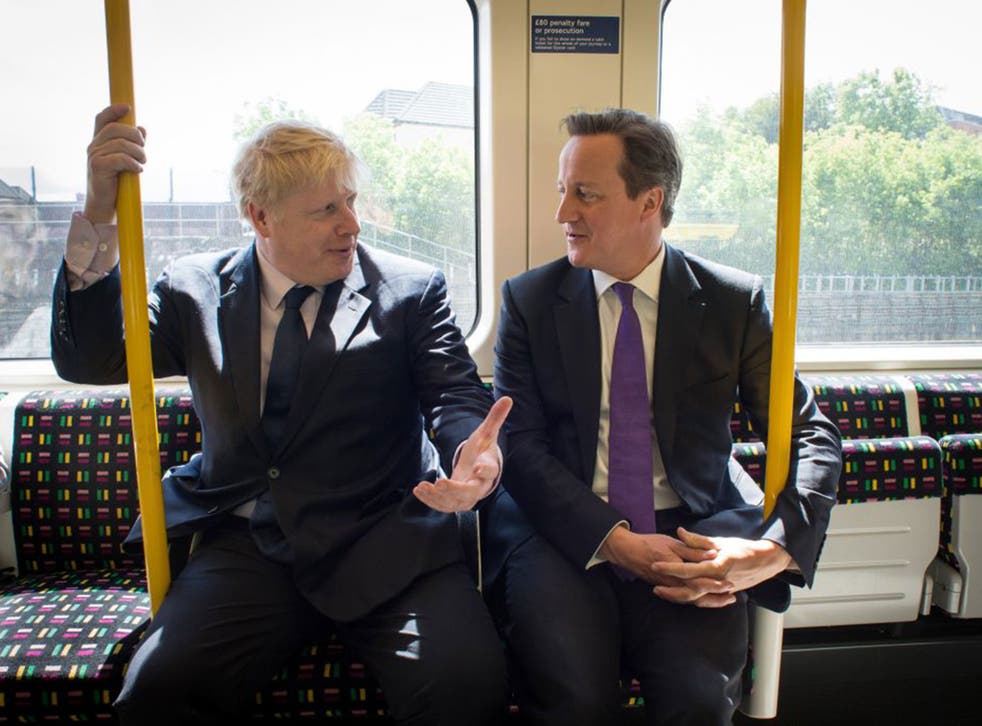 Boris Johnson has urged the Conservatives to live up to David Cameron's "One Nation" label by demolishing barriers excluding poor people from top jobs and to reject "trickle down" Thatcherite economics.
In a landmark speech, the Mayor of London sought to revive his prospects of succeeding Mr Cameron, who will stand down before the 2020 election, after losing ground to George Osborne, the Prime Minister's preferred successor.
Tory MPs say Mr Johnson has made little impact since returning to the Commons as MP for Uxbridge and South Ruislip in May.
The Chancellor overtook Mr Johnson as the favoured next Tory leader of party members in a ConservativeHome poll this week after a summer Budget which delighted Tory MPs. But Mr Johnson's allies insist he can bounce back, claiming Mr Osborne's Budget "stole" a policy championed by the London Mayor – a national living wage.
Mr Johnson was more diplomatic, congratulating the Chancellor on bringing in a compulsory £9-an-hour living wage by 2020. But the mayor added: "There are still millions in this city who can be and should be paid the [voluntary] London living wage of £9.15 an hour… I think it outrageous that there are executives earning about 450 times the average pay of their employees and yet whose firms are mainlining hundreds of millions in in-work benefits – taxpayer-funded subsidies that allow them to get away with low pay."
Setting out his approach to the Centre for Social Justice, Mr Johnson said it was "decades since we had a culture of bright kids from poor backgrounds who exuberantly burst down the doors of the establishment". He went on: "It is the job of One Nation Tories to be the door-bursters of society. We should be smashing down those barriers. We should be giving the poorest a chance to compete on an equal footing with the affluent bourgeoisie."
The mayor argued: "I believe one nation Tories need to go further. We need to go beyond trickle-down, and we need to ensure that in a dynamic market economy there is a real cohesion, a real sense of shared interest."
He said the "wealth gap" in Britain today could be tolerated only on three conditions – that the wealthy, including large companies, pay their fair share of tax; that people who work hard on low incomes are properly rewarded by firms that can afford to do so and that there must be social mobility.
In pictures: David Cameron and Boris Johnson visit a Crossrail construction site

Show all 5
Mr Johnson said: "One Nation Tories know that for all the triumphs of the London economy, for all our success in creating wealth, it is still a lamentable fact that in the last 30 years the gap has opened yet further between rich and poor."
In 1980, he said, the average salary of FTSE top 100 company employees would have to be multiplied 25 times to get the salary of their best-paid executive. Today the figure is 130 times.
The mayor outlined his "three great equalisers" for London – 100,000 new homes, a programme of transport investment and a schools revolution.
Register for free to continue reading
Registration is a free and easy way to support our truly independent journalism
By registering, you will also enjoy limited access to Premium articles, exclusive newsletters, commenting, and virtual events with our leading journalists
Already have an account? sign in
Register for free to continue reading
Registration is a free and easy way to support our truly independent journalism
By registering, you will also enjoy limited access to Premium articles, exclusive newsletters, commenting, and virtual events with our leading journalists
Already have an account? sign in
Join our new commenting forum
Join thought-provoking conversations, follow other Independent readers and see their replies