British public thinks Boris Johnson would be worse prime minister than Theresa May, poll finds
Former foreign secretary more popular than current prime minister, but voters think he would do a worse job, according to survey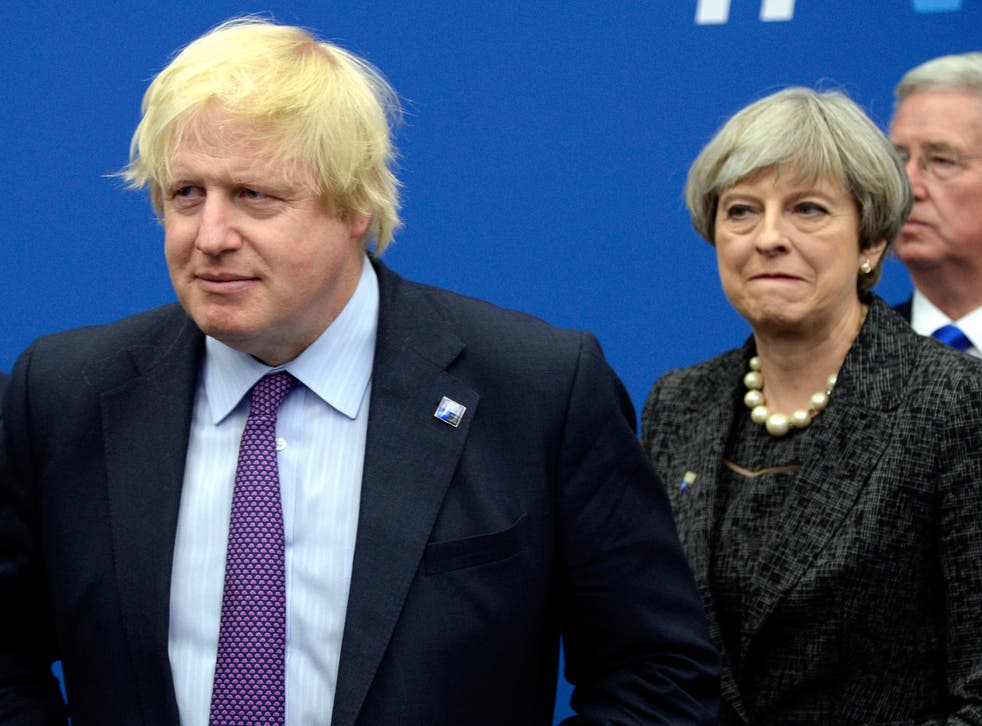 Boris Johnson's hopes of entering Downing Street have been dealt a blow after a new poll found voters think he would make a worse prime minister than Theresa May.
The former foreign secretary is currently the bookmakers' favourite to be the next prime minister, but the YouGov survey concluded that the public does not see him as a significant improvement on the incumbent.
31 per cent of voters think Ms May is a good prime minister, while only 29 per cent say Mr Johnson would be.
Significantly, the gap was even wider among Conservative voters, with 69 per cent thinking Ms May is a good fit for the job compared to just 42 per cent who say her potential rival would be.
On the different question of how favourable voters feel towards the two figures, however, Mr Johnson has a slight advantage. His favourability rating is -22, compared to the prime minister's -26.
31 per cent of people have a favourable view of the prime minister, while 57 per cent do not, giving her an favourability rating of-26.
For Mr Johnson, 33 per cent hold a positive view while 55 express a negative perception, meaning his net rating is slightly better, at -22.
The survey was conducted for The Times Red Box.
YouGov's international politics research executive, Chris Curtis, said: "Many inside the Conservative Party now believe that once Brexit has been delivered there will need to be a change in leadership for the Conservatives to secure an election victory.
"This survey shows that, in the minds of the public, Boris doesn't seem to be well suited to fill that role."
The results are significantly affected by how people feel about Brexit. Mr Johnson has a favourability rating of +25 about Leave voters, whereas Ms May's is -2.
But Mr Johnson is likely to take hope from the fact that voters like him more than Ms May. 35 per cent say they like the current foreign secretary, compared to 29 per cent for the current prime minister.
Boris Johnson's resignation letter

Show all 2
Mr Johnson is widely believed to be planning to succeed Ms May.
He will reportedly address a 1000-person rally at the Conservatives' annual conference in Birmingham later this month, where he is likely to double down on his criticism of the prime minister's Chequers plan.
The former London mayor used a newspaper column earlier this week to attack the proposals, saying they had left Britain "lying flat on the canvas"
It comes as Mr Johnson and his wife, Marina, confirmed they are in the process of divorcing.
In a joint statement, the former couple said: "Several months ago, after 25 years of marriage, we decided it was in our best interests to separate.
"We have subsequently agreed to divorce and that process is under way.
"As friends we will continue to support our four children in the years ahead. We will not be commenting further".
Register for free to continue reading
Registration is a free and easy way to support our truly independent journalism
By registering, you will also enjoy limited access to Premium articles, exclusive newsletters, commenting, and virtual events with our leading journalists
Already have an account? sign in
Register for free to continue reading
Registration is a free and easy way to support our truly independent journalism
By registering, you will also enjoy limited access to Premium articles, exclusive newsletters, commenting, and virtual events with our leading journalists
Already have an account? sign in
Join our new commenting forum
Join thought-provoking conversations, follow other Independent readers and see their replies