Government borrowing comes in higher than expected as Brexit 'shadow' looms
Economists had only expected UK to borrow £11.6 billion in November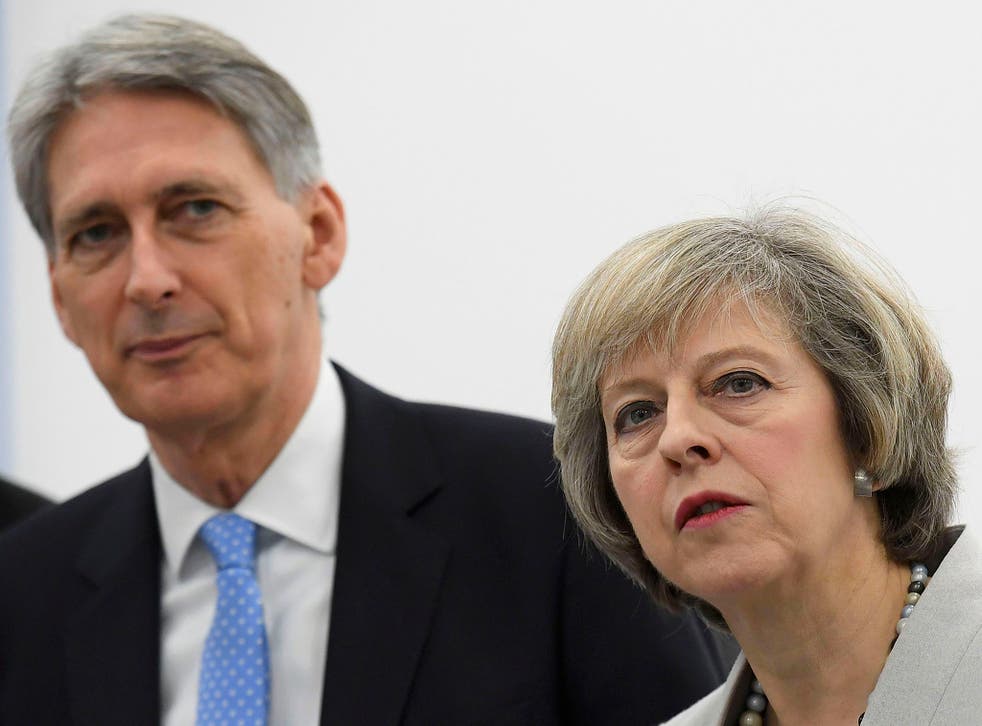 The Government borrowed a higher-than-expected £12.6bn in November, leading to fears that Brexit is having an impact on the UK's public finances.
Economists had thought the UK would only borrow £11.6bn during the month, though the confirmed figure was still a fall compared to the same time last year.
The data shows Chancellor Philip Hammond is on track with his new less-ambitious deficit forecast, set out last month after he ditched George Osborne's more stringent targets ahead of what is expected to be a bumpy 2017.
But political opponents leapt on the higher-than-expected borrowing, with shadow chancellor John McDonnell claiming it revealed "six wasted years" of economic failure, while the Liberal Democrats said it showed Brexit is "casting a dark shadow".
The Office for National Statistics (ONS) said public sector net borrowing in November, excluding state-owned banks, fell by £0.6bn compared with the same month last year.
Government borrowing, excluding banks, for the financial year to date – April to November – fell by £7.7bn to £59.5bn, compared with the same eight months in 2015.
A Treasury spokesperson said: "The Government has made significant progress in bringing the public finances under control, but our debt and deficit remain too high.
"That is why the Chancellor set out new fiscal rules to return the budget to balance, while creating the space to support the economy and raise productivity through a new £23bn National Productivity Investment Fund."
Mr Hammond dumped his predecessor's target of balancing the books by 2020, vowing instead to put the public finances back in the black "as early as possible" in the next Parliament as part of a new draft Charter for Budget Responsibility outlined in the Autumn Statement.
Suren Thiru, head of economics at the British Chamber of Commerce, said 2017 was likely to be a challenging year for the UK's public finances as slowing economic growth hits tax receipts.
"The more flexible approach to deficit reduction announced in the Autumn Statement is a sensible step given the broader uncertainty," he added.
"However, the acid test for the Chancellor's new fiscal rules will be whether they are able to reverse the ongoing shortfall in tax revenue, which has persistently hampered previous attempts to reduce the deficit."
The Office for Budget Responsibility (OBR) – the Government's fiscal referee – said in November that it expects Mr Hammond to overshoot previous borrowing targets for this year, revising its outlook from £55.5bn to £68.2bn for 2016/17.
The OBR has also predicted debt to rise from 84.2 per cent of GDP last year to 87.3 per cent for 2016/17.
The ONS said public sector net debt excluding banks climbed by £58.6bn to £1,655.1bn in November, equivalent to 84.5 per cent of GDP.
Brexit Concerns

Show all 26
Mr McDonnell said: "After six wasted years of Tory economic failure, supported by both Philip Hammond and Theresa May, the deficit has not been cleared as they promised, and the national debt continues to rise.
"Yet despite their broken promises on the public finances they continue to hand out huge tax giveaways to big business and a wealthy few, while enforcing spending cuts on everyone else; under funding our NHS and leaving our care system in crisis for the most vulnerable this Christmas."
Liberal Democrat economics spokesperson Susan Kramer said: "The threat of a hard Brexit is casting a dark shadow over the country's finances.
"The Government must urgently reassure businesses and investors that it will fight to protect the economy by remaining in the single market. Otherwise we risk seeing a Brexit black hole with increased debt, higher borrowing costs and cuts to vital public services."
Join our new commenting forum
Join thought-provoking conversations, follow other Independent readers and see their replies