Brexit: Angela Merkel warns Theresa May over slashing taxes to undercut the EU
'We need tax revenues, we need a fair tax system, in order to make necessary investments in our society,' said the German Chancellor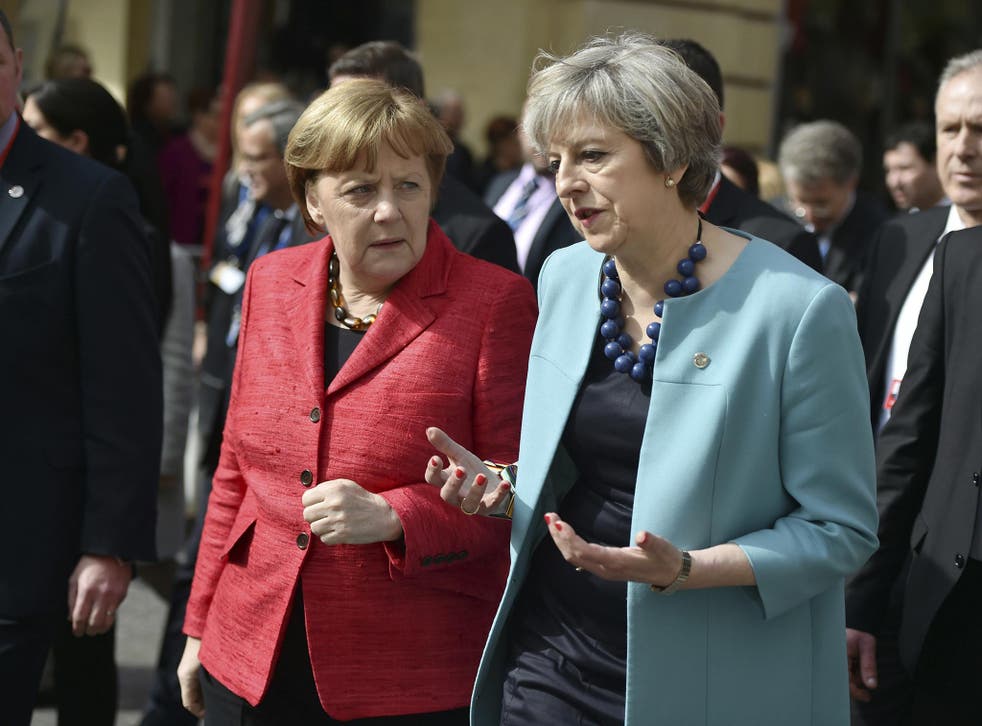 Angela Merkel has hit back at Theresa May's threat to slash taxes to undercut the EU if it blocks a Brexit deal, warning taxes are the price paid for a just society.
The German Chancellor insisted her country had no intention of joining a race to the bottom, by following in the footsteps of Britain and Donald Trump.
"We have a tax system in Germany that has weathered challenges well. I see no reason for entering a race for who has the lowest corporation tax," she said.
"We need tax revenues, we need a fair tax system, in order to make necessary investments in our society."
Her rebuke came as EU leaders, angered by the new US President's outright hostility to the bloc, made clear that the Prime Minister's pitch to be a "bridge to Trump" – particularly over bolstering Nato – was not welcome.
The controversy over tax blew up at the EU summit in Malta after the Prime Minister said she would "change the basis of Britain's economic model" if she failed to get her way in the withdrawal negotiations.
The comment was widely seen as a threat to turn the UK into an offshore rival to the EU, slashing taxes and regulations in order to lure reluctant foreign investment.
But the UK's corporate tax rate is already set to fall to 17 per cent – below the EU average – raising accusations that it would have to become a fully-fledged tax haven to offset the damage from Brexit.
Revenues would plunge, critics say, at a time when the NHS is already in crisis and schools are facing spending cuts.
At a press conference in Malta, Ms Merkel was asked if Germany would "follow suit" if Britain and America carried on cutting business taxes – making clear it would not.
MPs vote in favour of the Government's Brexit bill
Ms Merkel did not answer when asked if Ms May had become "too close" to Mr Trump, after visiting the White House within one week of his inauguration.
The two leaders had not discussed the US President, she said – despite chatting on a lengthy walkabout during a break in the summit talks.
Downing Street was forced to deny a snub after formal post-lunch talks between the pair – tipped to be a highlight of the summit – were mysteriously cancelled, insisting all issues were covered in their short walkabout.
Ms Merkel said she was "gratified" that the Prime Minister had said she wanted to see a "strong EU", even after Britain had left.
And she backed Ms May's call for EU countries to spend more on defence, in return for what the Prime Minister has claimed is Mr Trump's "100 per cent" commitment to Nato.
"We need to invest more in our defensive capabilities," Ms Merkel said.
"There was a very clear commitment around the table towards Nato – and the American administration, meanwhile, has also come out with this commitment."
Downing Street said the Prime Minister had, over lunch in Malta, raised her recent talks with Mr Trump, "urging other EU leaders to work patiently and constructively with a friend and ally".
A spokeswoman said: "She said that the alternative – division and confrontation – would only embolden those who would do us harm, wherever they may be."
Earlier in the day, other EU leaders had rebuffed the Prime Minister's offer to be a "bridge" to the President, with French President François Hollande saying: "It is not about asking one particular country, be it the UK or any other, to represent Europe in its relationship with the United States."
Angela Merkel's senior economic adviser says May's Brexit plan is impossible
Meanwhile, Dalia Grybauskaite, the Lithuanian President, gave a sarcastic verdict, saying: "I don't think there is a necessity for a bridge – we communicate with the Americans on Twitter."
However, European Council President Donald Tusk was conciliatory about Mr Trump, saying: "What we need is as strong transatlantic friendship and relations as possible, and the UK can, inside Europe or outside Europe, the EU not Europe, can be very helpful."
Ms May's hopes for an early deal on the rights of British citizens living in the EU after Brexit were also given a boost, when Spain's Prime Minister Mariano Rajoy agreed one was needed.
Nevertheless, Ms May's strategy to go to the summit brandishing her coup in meeting Mr Trump first – apparently hoping to strengthen her hand in the Brexit talks – appeared to have backfired.
She carried the message from the new President that Europe must increase its defence spending in return for his "100 per cent" commitment to Nato.
But other EU leaders view the American leader with horror because of his hostility to the EU, his protectionism and controversial policies such as the travel ban from seven mainly Muslim countries.
Mr Hollande openly dismissed the idea of Britain as a bridge, pointing to Mr Trump's welcoming of Brexit and insisting he should "not get involved".
He said: "He may have his own views, but it is up to Europe to decide how many members there should be, and who should leave."
And Joseph Muscat, the Prime Minister of Malta – which holds the six-month presidency of the European Council – said it was time for the EU to "lead at a global level".
"We cannot stay silent where there are principles involved. As in any good relationship, we will speak very clearly where we think that those principles are being trampled on," he said.
Tim Farron, the Liberal Democrat leader, ridiculed Downing Street's insistence that Ms May and Ms Merkel had discussed all they needed to.
"I cannot imagine Theresa May seriously thinks a bit of polite chit-chat through the streets of Valletta replaces a serious bilateral meeting," he said.
To add to the sense of her isolation – and in a signpost to the future – Ms May left the Maltese capital early, leaving the other leaders to continue the summit without her.
Join our new commenting forum
Join thought-provoking conversations, follow other Independent readers and see their replies