Arlene Foster's 'sensible' Brexit is a chimpanzee's tea party. There is cake absolutely everywhere
The DUP leader wants a 'sensible' Brexit, yet offers absolutely no possibility of anything sensible ever happening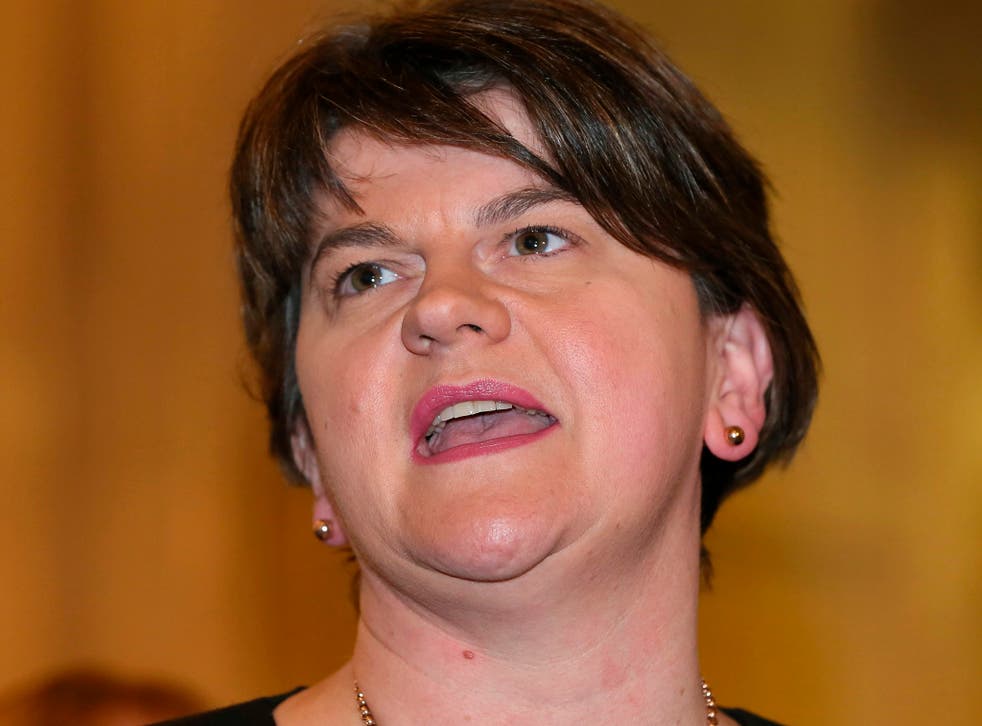 The last time I went to the British Chamber of Commerce Annual Conference was in 2016, when its Director General John Longworth got the day off to a flying start by publicly resigning from the British Chamber of Commerce in order to campaign for Brexit.
Perhaps we should have foreseen then just how deep the Brexit rabbit hole might go.
Fast forward two years and this is a summary, roughly, of where we are:
The International Trade Secretary, Dr Liam Fox, a free market Conservative, was told he "made no sense" by a questioner from the audience - who are all, of course, business people.
Then the Shadow Chancellor John McDonnell appeared, a lifelong Marxist who for years who lists his hobbies in Who's Who as "generally fomenting the throw of international capitalism."
He's the business community's preferred choice these days, because despite wanting to bring down capitalism, he also wants to keep the UK in some sort of customs union with the EU. Which means as far as they're concerned he does at least have an outstretched toe still in contact with reality.
It being International Womens' Day, he began by commending the assembled small businessmen and one or two women for everything they had done in "breaking the glass seagull."
Then he went into his usual shtick about the "fourth industrial revolution", and the rise of the robots, and how Labour was going to take a "different approach" with a "meaningful industrial strategy", a phrase that would ordinarily scare the living daylights out of small business people, but not ones that have just heard from Liam Fox.
Liam Fox, by the way, had yet again explained how, in the future "90 per cent of growth is going to come from outside Europe." He said these words a couple of hours after the Department of Exiting the European Union formally published its own assessments on the UK's "growth" prospects outside the European Union, the ones that were leaked a few weeks ago. They conclude that there is absolutely no scenario under which UK growth will be higher after it has left the European Union than if it didn't.
"Having led the world in previous industrial revolutions, we're now lagging behind," McDonnell warned. It is essentially rather sweet that any mainstream politician, Conservative or Labour, whose time in government is going to come within touching distance of the UK's exit from the European Union, still likes to think that they will be called upon to do anything other than patiently clearing up the mess.
By this point, we'd also heard from a chap called Drax, sharing exciting visions of the fully electrified, fully renewable, driverless future. He explained how the future of energy belonged to "pro-sumers." Pro-sumers, we learned, are not consumers. Pro-sumers will have solar powers on their roofs. "Pro-sumers don't just consume power," he said. "They share it."
And naturally, who should be on next after this bold vision of a power-sharing future, but the nation's favourite power-sharer Arlene Foster.
And it's here that things got particularly strange. The DUP leader told shocking stories of growing up on the Irish border during the troubles. Of her father stumbling into the family home having been shot by the IRA. Of the IRA bomb attack on her school bus.
And then, in remarks that have been widely understood to be aimed at John Major and Tony Blair, she said that those warning that the Good Friday Agreement could be in jeopardy were "an insult to the people of Northern Ireland who worked hard to bring peace to the country".
"I object," she said, "in the strongest terms, to people who have limited experience of the Troubles in Northern Ireland, throwing threats of violence around as some kind of bargaining chip in this negotiating process."
Is it acceptable to point out at this juncture that Arlene Foster leads the DUP, whose then leader the Revd Ian Paisley walked out of the Good Friday agreement?
Ms Foster again stated that she wants a "sensible Brexit", but has been a hard Brexiteer since before the referendum. Her party props up a Remain-voting Prime Minister. She won't countenance any regulatory divergence between Northern Ireland and the rest of the UK whatsoever, yet nor will she tolerate the return of a hard border.
To extend the nation's favourite cake-based Brexit metaphor even further beyond its breaking point, this can only be described as chimpanzee's tea party Brexit. There is cake everywhere. It's been had, it's been eaten eaten, it's been smeared up walls. It's had pots of hot tea smashed over the top of it. It's been scooped on to the end of long hairy fingers and violently jammed into ears.
And yet, this is the Brexit the government actively pursues. This is how deep the rabbit hole goes.
Register for free to continue reading
Registration is a free and easy way to support our truly independent journalism
By registering, you will also enjoy limited access to Premium articles, exclusive newsletters, commenting, and virtual events with our leading journalists
Already have an account? sign in
Register for free to continue reading
Registration is a free and easy way to support our truly independent journalism
By registering, you will also enjoy limited access to Premium articles, exclusive newsletters, commenting, and virtual events with our leading journalists
Already have an account? sign in
Join our new commenting forum
Join thought-provoking conversations, follow other Independent readers and see their replies