Brexit: Article 50 could be triggered early in the new year, Iain Duncan Smith says
'When they do that [trigger Article 50] we will be bound on a course that Britain will leave the EU'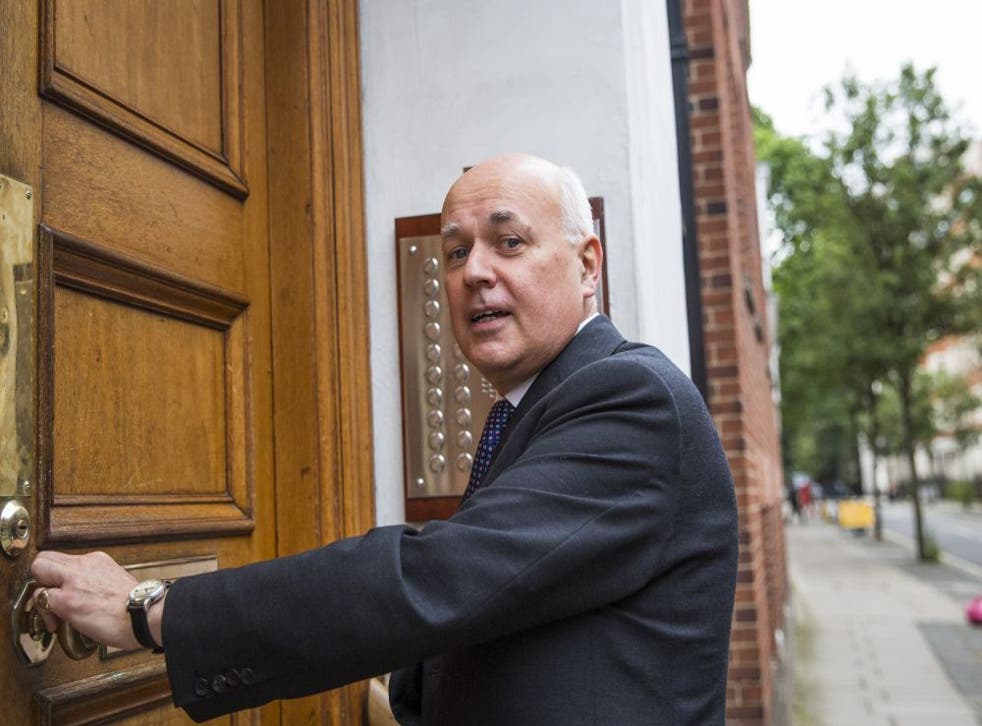 Article 50, the untested protocol for leaving the European Union, could be triggered early in 2017, Iain Duncan Smith has said.
The former work and pensions secretary, who was a prominent voice in the campaign to leave the EU, revealed he had spoken to those at the top of the government and was "certain" these senior figures, including the Prime Minister Theresa May, "are very clear that they need to get on with triggering Article 50 as soon as possible".
His intervention comes after reports, earlier this month, suggested that ministers were in discussion over a delay in triggering the two-year process of leaving the bloc. It was suggested Ms May could push back the timetable because her new Brexit and International Trade departments will not be ready in time for negotiations in early 2017.
But, Mr Duncan Smith said: "I have spoken to them and I am definitely certain that these characters - David Davis, Liam Fox, Boris Johnson and the Prime Minister - are very clear that they need to get on with triggering Article 50 as soon as possible, early in the new year. When they do that we will be bound on a course that Britain will leave and I believe they are all very positive about the outcome that will entail. We will be out and we will do incredibly well.
Mr Duncan Smith, a former leader of the Conservative party, also suggested on BBC's Radio 4 Today programme that Britain could rely on World Trade Organisation (WTO) rules to trade with the EU following Brexit.
He added that European countries including Germany are eager to negotiate a trade agreement with the UK. He said: "I think we would like to have, and I think it would be in the interests of the European Union even more than it might be for the UK, to maintain a trading relationship with the UK.
"Bearing in mind that we will anyway have access to the marketplace under WTO rules, so the question really is - do we want more preferential arrangements than that?" Asked if he would be happy with WTO rules, he said: "I'm saying that's the extent of where you could be and you'd still get access to the marketplace.
"I've already made it clear that my personal view is we should not seek to remain a member of the customs union nor necessarily remain a full member of the single market, because that would entail putting yourself yet again under the rule of European law.
"And that was one of the key areas that the British public voted for in the process of taking back control."
If Britain fails to negotiate a separate deal after the two-year period allowed under the terms of Article 50 then trade with the EU will revert to WTO rules. Mr Duncan Smith said: "Actually, if you look across the European Union, many of those countries now are quite desperate to sort out the relationship with the UK.
"For example, Germany is going through quite a difficult period right now, their manufacturers are deeply worried about what will happen afterwards, and they want to find a way to make sure that they don't end up having tariff barriers imposed on them as they export.
"That, of course, is possible to arrange even under the WTO process.
"What they want is, and we want, the bottom line is tariff-free access to the market and for them to do the same for us."
Join our new commenting forum
Join thought-provoking conversations, follow other Independent readers and see their replies