Brexit Bill: 12 Tory MPs warn Theresa May they will rebel unless EU withdrawal legislation changed
Tories scramble to put their names to amendments – some demanding a written guarantee that final Brexit deal must be approved by MPs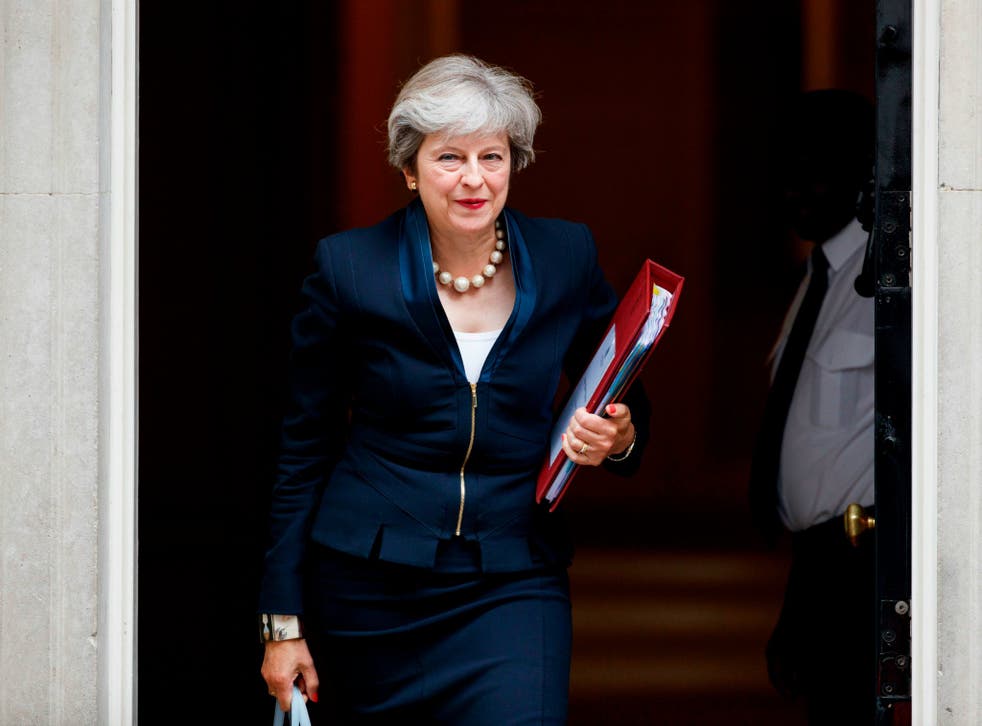 Twelve Conservative MPs warned Theresa May they are ready to rebel over the Brexit Bill, within minutes of the legislation clearing its first Commons hurdle.
The dozen, mostly pro-EU, Tories scrambled to put their names to amendments – telling the Prime Minister she faces trouble if she refuses to cave in on so-called "Henry VIII powers".
Some are demanding a written guarantee that any final Brexit deal must first be approved by MPs, an assurance given only verbally so far.
Other amendments tabled in the early hours of this morning aim to keep Britain in the EU single market and customs union, at least during a lengthy transitional period.
Labour is demanding that Parliament – not Downing Street - should not only shape the terms of a transition after EU departure in March 2019, but also determine how long it lasts.
It also wants to secure protections on human rights, workers' rights, environmental standards and devolution to Scotland and Wales.
Keir Starmer, the Shadow Brexit Secretary, said Ms May had brought months of parliamentary trench warfare on herself, by refusing to listen to criticism of the EU Withdrawal Bill.
"Instead, she has adopted her normal blinkered approach and forced through a Bill that will need extensive amendment and improvement in a whole range of areas," he said.
MPs vote on Brexit Bill after 13-hour debate
"This is likely to cause delays and division in Parliament, and the Prime Minister has nobody to blame but herself."
The blizzard of amendments was allowed immediately after second reading the Bill, which was achieved just after midnight with a Government majority of 36.
The size of that majority was bolstered by seven pro-Brexit Labour rebels who defied Jeremy Corbyn to vote with the Tories and by a further six Labour abstentions.
Without abstentions, the Government has an effective Brexit majority in the Commons of between 25 and 30 – so more than 12 Tory rebels would threaten defeat in future votes.
Dominic Grieve, the former Conservative attorney general, said he would demand a further Bill once the nature of the Brexit deal is known, before the Withdrawal Bill can be enacted.
"I shall be doing my best to ensure the Bill is functional," he said.
There will be eight days of line-by-line debate at committee stage of the Bill this autumn, each guaranteed to last for eight hours.
However, Justice Secretary David Lidington said the Government was "willing to consider" giving more time if there is "good reason".
Thousands join anti-Brexit march in Westminster
In the Lords – where peers could amend the Bill to secure a further referendum on the eventual deal - there is no time limit, so the legislation will be bogged down deep into 2018.
Tom Brake, the Liberal Democrat Brexit spokesman, turned his fire on the seven Labour rebels who helped hand the Government "sweeping anti-democratic powers".
"A significant number walked hand in hand with the Tories and have given the Government extreme powers not seen since the Middle Ages," he said.
The seven were Ronnie Campbell, Frank Field, Kate Hoey, Kelvin Hopkins, John Mann, Dennis Skinner and Graham Stringer.
Ms May said, in a statement, said backing for the bill "gives certainty and clarity ahead of our withdrawal from the European Union".
"Although there is more to do, this decision means we can move on with negotiations with solid foundations and we continue to encourage MPs from all parts of the UK to work together in support of this vital piece of legislation," she said.
Register for free to continue reading
Registration is a free and easy way to support our truly independent journalism
By registering, you will also enjoy limited access to Premium articles, exclusive newsletters, commenting, and virtual events with our leading journalists
Already have an account? sign in
Register for free to continue reading
Registration is a free and easy way to support our truly independent journalism
By registering, you will also enjoy limited access to Premium articles, exclusive newsletters, commenting, and virtual events with our leading journalists
Already have an account? sign in
Join our new commenting forum
Join thought-provoking conversations, follow other Independent readers and see their replies