Brexit blamed for £100 billion budget black hole
Weak growth and big fall in sterling after EU vote mean government economic targets likely to be scrapped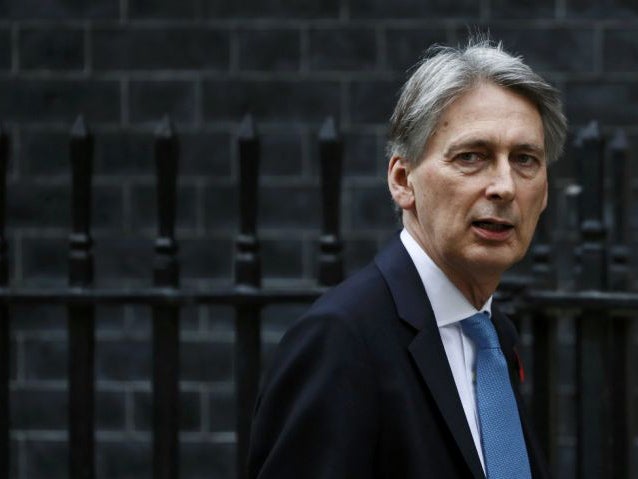 Britain faces a £100 billion black hole in its finances because of Brexit, Chancellor Philip Hammond will reportedly tell MPs in next week's Autumn Statement.
Official forecasts produced by the Office for Budget Responsibility suggest low tax revenues, slower growth and reduced investment after Britain's vote to leave the EU mean the UK's budget deficit will soar in the next five years, according to reports in the Financial Times.
Mr Hammond's predecessor as chancellor, George Osborne, had promised the UK would be in surplus by 2019-20 and made this a core part of his economic policy. But a combination of Brexit, weak growth and recent government pledges to scrap or delay some planned spending reductions mean this is now almost certain to be missed.
Instead, the UK is on course to be running a significant deficit in 2019-20 – and things are likely to get worse still. New forecasts are believed to show the gap between the borrowing estimates outlined in last year's Budget and the actual borrowing now required getting bigger every year.
Despite the negative outlook, Mr Hammond is still expected to announce new tax cuts for what ministers are calling 'JAMs' - people who are "just about managing".
Brexit Concerns
Show all 26
The Conservatives' 2015 manifesto committed the government to increasing the tax free allowance to £12,500, raising the 40p income tax threshold to £50,000 and introducing a new law to ensure nobody working 30 hours on the Minimum Wage pays income tax. These changes are expected to cost around £6 billion, while a cut to inheritance tax will cost another £1 billion.
The manifesto also ruled out raising VAT, Income Tax or National Insurance – limiting Mr Hammond's option of using tax rises to fill the budget black hole.
Independent economic forecasts also paint a negative picture. The Institute for Fiscal Studies warned low growth and rising inflation caused by a fall in the value of sterling after Brexit mean trouble ahead for the UK economy.
Brexit: Corbyn accuses May of having 'no plan'
It said: "This would leave us on course to miss the now abandoned, but still legislated, commitment to eliminate the budget deficit from 2019–20 onwards.
"This is in addition to the Conservative Government having managed, in just months following the general election, to break both the other two fiscal targets that it set itself."
As government ministers prepare to restrict freedom of movement to the UK, the IFS added: "Any reduction in future immigration…would make the fiscal arithmetic harder still".
The pessimistic forecasts appear to be a vindication of Treasury warnings, made before the EU referendum, about the likely economic impact of Brexit on the UK economy.
Then Chancellor George Osborne warned in June that Brexit would lead to £30 billion of further spending cuts and tax rises – a claim that was heavily criticised at the time by the Leave campaign and many Conservative MPs.
Mr Osborne said. "Far from freeing up money to spend on public services as the Leave campaign would like you to believe, quitting the EU would mean less money. Billions less."
Mr Hammond will deliver his first Autumn Statement as Chancellor at 12.30pm next Wednesday (23 November).
Join our commenting forum
Join thought-provoking conversations, follow other Independent readers and see their replies