Brexit: Border trade plans for 1 January are 'unmanageable', leaked government document admits
Memo warns of 'critical gaps' in new IT systems – with just four months to go to end of transition
Rob Merrick
Deputy Political Editor
Friday 04 September 2020 14:52 Comments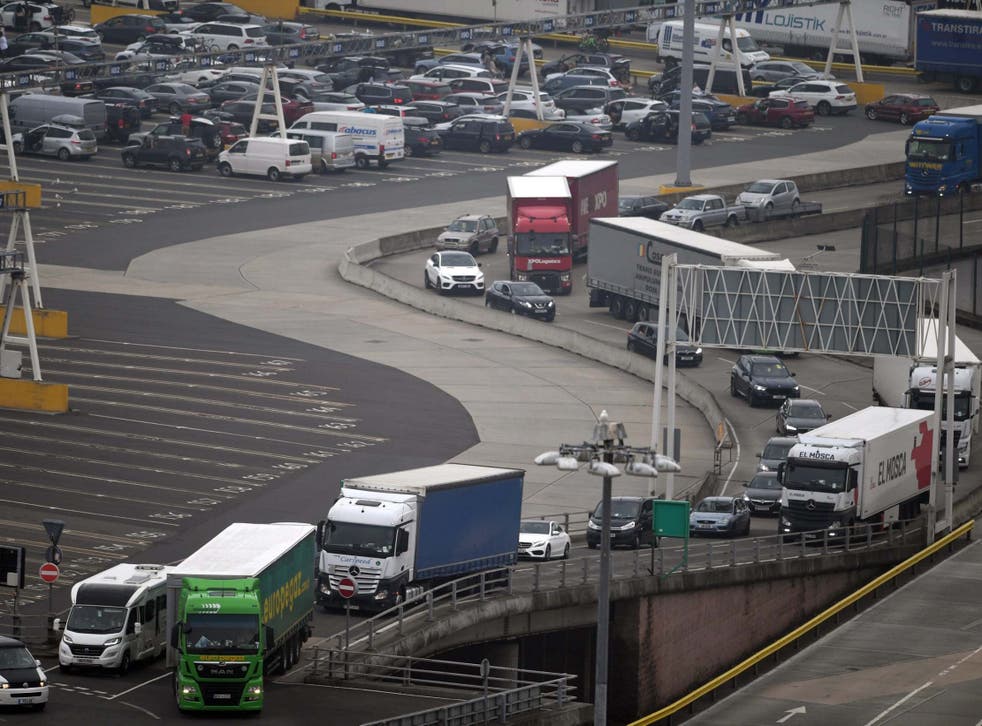 Attempts to get the UK's borders ready for trade after Brexit is completed on 1 January are "unmanageable", according to a leaked government document.
The memo warns of "critical gaps" in new IT systems – and asks hauliers and other industry groups for help to avoid chaos when the Brexit transition period expires in just four months' time.
Circulated by the Cabinet Office, it lists 13 key risks to be flagged to ministers, according to Bloomberg which obtained it, including a lack of back-up planning and inadequate time to prepare.
The crisis looms regardless of whether the UK avoids crashing out without a trade deal, because even an agreement will end the current free flow of goods with the EU.
But Boris Johnson said the UK would still "prosper mightily" whatever the outcome.
Logistics UK, which represents freight groups, accused the government of ignoring its repeated warnings that a new 'Smart Freight' system – needed by all exporters to the EU – will not be ready.
Ministers have already admitted to up to 10 months of border disruption, with emergency traffic control measures in Kent to last until "the end of October 2021".
Now the leaked document, penned by an official in the Border and Protocol Delivery Group, has laid bare the problems ahead when the UK leaves the single market and customs union.
"There are up to 10 new systems that haulage firms and freight forwarders will have to navigate from Jan 1, including at least three being designed now," the memo says.
"This is completely unnecessary and unmanageable with duplication and overlap."
Brexit timeline: How did we get here?

Show all 20
Sarah Laouadi, European policy manager at Logistics UK, said: "We are concerned that mass user testing of the software will not be possible until October – or maybe even November.
"This is far too late for the thousands of companies and tens of thousands of people who build our complex supply chains to redesign their own processes and contractual relations before the transition period ends."
A series of giant lorry parks are being built to house trucks travelling to the EU from the UK which are likely to be held up at ports, lacking key documents, or turned away by EU border staff.
Lorries risk "having their goods seized or destroyed", the earlier government report admitted, with hauliers lacking a required 'Kent access permit' to be fined £300.
Speaking later on Friday the prime minister said: "We're ready for any eventuality, of course.
"But we must make sure that people understand that at the end of the year, whatever happens, we are using the EU.
"We will get through this. It's vital that our partners understand that the UK is going to do what we need to do. If we need to have an Australia-style deal, an Australia-style solution, then that is what we will achieve and we will prosper mightily one way or the other.
"They could be sensible and give us a Canada-style solution, which after all they've given Canada, and I very much hope they will, but we're ready for either eventuality."
As many as 10,000 trucks a day pass through Dover and other ports, delivering goods fresh food, medicines and industrial goods such as automotive parts.
About four-fifths of the food reaching UK supermarkets import comes from the EU, according to the British Retail Consortium.
A government spokesperson did not dispute the existence of the document, but pointed to £705m being spent on "infrastructure and technology at the border".
"The border operating model sets out in significant detail the approach to UK border controls after the transition period," the spokesperson said.
"We worked closely with industry in its development and will continue to do so as we move towards the end of the transition period."
Register for free to continue reading
Registration is a free and easy way to support our truly independent journalism
By registering, you will also enjoy limited access to Premium articles, exclusive newsletters, commenting, and virtual events with our leading journalists
Already have an account? sign in
Join our new commenting forum
Join thought-provoking conversations, follow other Independent readers and see their replies